10 Problems Every Golfer Can Relate To
Here Joel Tadman looks at the 10 problems that every golfer can relate to.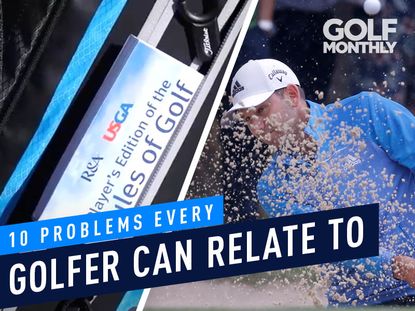 (Image credit: Golf Monthly YouTube/Getty Images)
Joel Tadman looks at the 10 problems that every golfer can relate to.
10 Problems Every Golfer Can Relate To
Whether it's temporary greens or leaving a club behind on the previous hole, we know how frustrating certain things can be to a golfer and we highlight them all here. Hopefully you haven't had to deal with too many yourself!
WATCH: 10 Problems Every Golfer Can Relate To
NEW FOR 2020 – FEATURED PRODUCTS
Golf Monthly is partnering with Titleist and FootJoy as our official golf ball, golf bag, footwear and apparel partners for this year.
Shop the featured FootJoy footwear and apparel worn in this video:
10 Problems Every Golfer Can Relate To
10. Playing partners offering advice
We all have a friend or playing partner who has watched one instructional video and suddenly think they are Butch Harmon. Whilst they might mean well, they are probably no better qualified than anyone else. Additionally, giving advice during the round isn't helpful in any way because the time to work on your swing is in practice.
We think if you feel compelled to offer advice, really think about whether it is necessary at that moment. Alternatively, if you are receiving it, maybe politely ask to speak to the person about the advice after the round.
9. Putting on temporary/hollow-tined greens
Both of these things are important to the integrity of the actual playing surfaces in winter conditions but it is still a frustrating problem.
The consistency of chipping and putting in particular goes out of the window on temporary greens and there is an argument to be made they neutralise the difference between low and high handicappers when playing in a match or competition because the course is shorter there is more luck involved.
8. Complicated Rule
Compared to every other sport out there golf really has some of the most complicated rules despite attempts from the USGA and R&A to simplify them.
Therefore it is pretty much impossible for golfers to know every single rule inside and out.
Our advice would be to learn the simplest rules, and the rules you are going to be experiencing the most. The Golf Monthly YouTube channel has lots of videos to help you out here so we recommend checking those out.
7. Lessons Making You Worse
The big problem golfers have in terms of lessons is often they make you play worse before you play better.
We are not for one moment suggesting you should not have lessons because they undeniably important to improving your golf games.
However, that phase of unfamiliarity with a swing change for example, can feel alien and strange which means golfers go back to their old ways because it feels comfortable.
Therefore the advice we give is to really stick with your lessons and maybe accept the fact that your results on the course could get worse before they get better. Also really think about the best time to have lessons too - try and get them in during the off-season rather than grappling with a change during the summer.
6. Leaving equipment behind
Every golfer has done this before whether it be leaving a wedge by a green or a piece of equipment falling out of the bag.
It not only impacts your performance because you might be lacking the piece of kit when you need it next, but you are also worrying about where that club or equipment is on the course.
Usually fellow golfers are pretty good at handing stuff in to the pro shop or finding you on the course to return kit but the moral of the story is to keep track of all your equipment.
5. Winter Mats
Like the temporary greens point above, we know the mats are there to preserve the integrity of the teeing area during the winter.
However they are always prone to wear and tear, whilst also getting dirty and slippery as a result. The difficulty in finding the right tee height is also a frustrating pastime.
We recommend using tee holes that have been previously used and investing in some tees that have a variety of heights so you can be prepared for any shot you have to play.
4. Dreaded Ankle Bash
We would not wish this on anyone. The putter head or any club for that matter hitting into the bone of your ankle causes excruciating pain. All we can say is to be more careful!
3. Bunker Sand Spray
We have all played a bunker shot in which the sand has popped into the air and the wind has buffeted it back into your face. Sand in your eyes and down your top is the result and both of those things are uncomfortable to say the least.
Again the best course of action here is to hit the shot and turn away as fast as possible and hope for the best.
2. Losing New Golf Balls
To get the best preforming golf balls you simply have to pay a premium price, often over £4 a ball, only for you to then snap hook one out of bounds off the first tee and that ball has literall lasted less than 10 seconds.
Of course there are other more cheaper options available, especially in the impressive Titleist range, but unless you are on Tour, you are going to lose brand new premium golf balls every now and again and it is not a nice feeling to have to endure.
1. Unwanted Items In Pockets
Golfers need pockets for tees, balls, ball markers and other golfing paraphernalia. As a result sometimes a lot of this kit gets left in them, for example we have all left a scorecard in a pocket, washed the trousers and then it has become a horrible papery mush in your hands! Top tip - take everything out of your pockets after your round has concluded.
Don't forget to follow Golf Monthly on Facebook, Twitter and Instagram for more golf content.
A golfer for most of his life, Sam is a Senior Staff Writer for Golf Monthly.
Working with golf gear and equipment over the last five years, Sam has quickly built outstanding knowledge and expertise on golf products ranging from drivers, to balls, to shoes.
He also loves to test golf apparel especially if it a piece that can be used just about anywhere!
As a result he has always been the one family and friends come to for buying advice and tips.

He is a graduate of Swansea University where he studied History and American Studies, and he has been a part of the Golf Monthly team since December 2017. He also previously worked for World Soccer and Rugby World magazines.
Sam now spends most of his time testing and looking after golf gear content for the website. He also oversees all Tour player content as well.
Unfortunately, Sam is not a member of any club at the moment but regularly gets out on the golf course to keep up the facade of having a handicap of five.