'The Ageing Population Of Plus-Size Female Golfers Need To Be Catered For'
Plus-size players are a growing market that's underserved by the golf industry, as Carly Frost finds out from PGA coach Nicola Stroud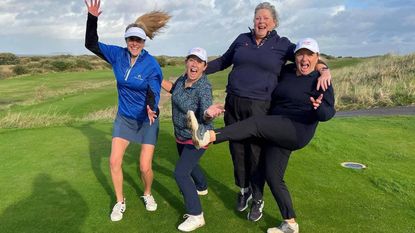 (Image credit: Nicola Stroud)
Over 10 million women in the UK are a size 16 or larger, that's 40 per cent of the population. It's a figure that's growing at a faster rate than any other category in the fashion market and yet it's one that, until recently, the golf apparel industry has virtually ignored.
The bubbly and vivacious PGA coach Nicola Stroud is among the many plus-size women who have been woefully underserved by the golf industry. The Burnham & Berrow head coach is a true role model for women, aspiring new golfers with her unique approach to coaching.
Stroud has just been awarded the PGA South West Region 'Coach of the Year Award', she's been nominated in two categories (Women and Girls Trailblazer and Participation & Development Coach of the Year) in the England Golf Awards, along with being short-listed for the Women In Golf 'Women's Initiative' award for her work with the forward-thinking Love.Golf coaching brand to introduce newcomers, particularly women from minorities, into the game. As a size 20 Stroud has many troubles finding functional, fashionable golf apparel that fits. "I don't want to wear boring clothes," she said. "I want to push the boundaries and wear clothing that looks stylish and fits great."
Stroud was born and brought up in a little village in Wales, learning to play golf on her local links of Dinas Powys from the age of eight. She had a stellar amateur career, competing for her home nation before turning professional and travelling the world on tour before deciding to return to her roots and focus on her main passion of coaching. In over 40 years in the industry she's always found plus-size golf fashion choices limited. "I remember having to wear horrible woolly jumpers when I played for Wales that were hot and itchy and just didn't fit."
According to Stroud, the emergence and acceptance of modern fashion trends such as golf leggings has been a Godsend. "I encourage all new players to turn up to their first golf lesson wearing comfortable clothing that they can swing freely in," she insists. "Leggings or joggers with stretch and lightweight sport tops you can move easily in are ideal."
While the majority of golf clubs have relaxed their dress codes to allow collarless t-shirts, leggings, and other sporty attire, it wasn't that long ago that wearing this style of clothing for golf was frowned upon and you could be banished from the course or clubhouse. "I used to travel to the USA with an empty suitcase to fill up," she recalls. "There was such a wonderful variety of styles and size choices compared to the limited selection at home. The country clubs were far more relaxed when it came to dress code rules."
Stroud is very much of the opinion that size is irrelevant in golf, it's how you move your body that matters. "I talk about boobs in the very first lesson because we all have them, even many men," she laughs. "So, it's important to work around them. Unfortunately, a lot of male coaches shy away from the subject yet I know that big-breasted women worry that their boobs will get in the way and don't take up golf through embarrassment."
Size, shape, age, disability - all these things go out of the window when Stroud coaches. As far as she is concerned, it's possible to make golf work for anybody. "The word 'inclusive' gets banded around in golf, but it truly is a game that anyone can play," she insists. "I'm currently teaching one inspirational lady who is missing half a leg." And it's not just the technical side of the game that Stroud addresses, there's the mental benefits of playing golf too, particularly for women going through the menopause.
"For one reason or another, often due to having more time, the majority of newcomers to the women's game I coach tend to be over 40," she explains. As we enter the peri-menopause and start to undergo some major hormonal changes it can affect our bodies and our confidence. "Going through these issues myself has given me first-hand experience of the challenges and made me even more determined to share the benefits of playing golf with other women to help them navigate their way through what can be a tricky time of our lives."
Stroud is running a 'menopause and mental health' golf day at Burnham & Berrow Golf Club on 14 May that's designed to give reluctant women their first positive experience in golf. "As a new player going to the range for your first lesson can be daunting and off-putting," she explains. "On the day we go straight out onto the course and play golf. Everyone finds something they can do, whether that's striking the ball, playing a chip or a putt. It's how I learned the game. We had no range when I was a kid."
New golfers get the joy of the fresh air and exercise, the challenge of learning the sport, camaraderie and emotional support of others doing the same thing, at the same age, the list of benefits is long. "Feeling good in your own skin is a big part of the battle," adds Stroud. "Finding flattering golf clothing that allows you to swing freely while still feeling feminine is part of the challenge."
Stroud references Rohnisch and Tail as two brands that have been pioneers for the plus-size woman seeking functional, fashionable and flattering attire. In particular, she recommends Rohnisch's Shape Curved long tights and says Tail is great for tall women.
A new women's golf brand for 2023 is FAIRMONDE, offering a wide range of sizes and fits, from 2XS to 4XL. "Our collection is designed with premium Italian-made materials in sporty and understated colour palettes to stand out from the sea of mass-produced women's golf wear," explains FAIRMONDE co-founder Jacqueline Lau."
Breaking into the British women's golf market won't be easy, as it can be a hard task to convince the male dominated shop-keepers to stock women's golf clothing. It's expensive to buy, often with poor margins and when you look at the numbers (the female-to-male participation ratio is low), it's a hard sell. Add to that there's the female trait of wanting to find a bargain - hands up who is guilty of waiting for the sale rail to appear before they get their purse out?
Then there's the average age-demographic of women golfers to consider. The majority are aged sixty plus and want a certain style and look and never want to be seen in the same outfit as one another! The poor club professional has all of this to consider before they even start to contemplate what selection of sizes to stock. It's no wonder the petite and plus sizes get left out.
One solution is for the manufacturers to offer women's apparel on a sale or return basis. Do this or risk losing their customer base entirely to online retailers. 'Pop-up' women's clearance shops at Open days also enjoy great success.
Ultimately there's no simple solution but one thing's for sure, we have an ageing population of female players with a growing number classified as plus-size, making this a mass market clientele that most certainly should be catered for in golf.
Carly Frost is one of the golf industry's best-known female writers, having worked for golf magazines for over 20 years. As a consistent three-handicapper who plays competitive club golf at Parkstone and the Isle of Purbeck courses in Dorset every week, Carly is well-versed in what lady golfers love. Her passion for golf and skill at writing combine to give her an unbeatable insight into the ladies game.
Carly's role at Golf Monthly is to help deliver thorough and accurate ladies equipment reviews, buying advice and comparisons to help you find exactly what you are looking for. So whether it's the latest driver, set of irons, golf ball, pair of shoes or even an outfit, Carly will help you decide what to buy.
Over the years Carly has been fortunate to play some of the greatest courses in the world. Her view 'from the ladies tee' is invaluable. She ranks Sea Island, Georgia, USA, where she met her husband, world-renowned golf coach Dan Frost, among her favourite golf resorts. Their aptly-named eight-year-old son Hogan is already hitting the ball as far as Mum and will undoubtedly be a name to watch out for in the future.
Carly is a keen competitor and her list of golfing achievements are vast. She is a former winner of the South West of England Ladies Intermediate Championship, a three-time winner of the European Media Masters and she once beat an entire start-sheet of men to the title of Times Corporate World Golf Champion. She has played for both the Dorset and Surrey County Ladies first teams and is known for her excellent track record at matchplay.
Carly holds the ladies course record (68) at her home club Parkstone and her lowest competition round (seven-under-par 65) was carded in the pro-am of the Irish Ladies Open at Killeen Castle, playing alongside Solheim Cup superstar Anna Nordqvist. Although her current handicap index has crept up to 3.7 since Covid she has her sights firmly set on achieving that elusive scratch handicap and hopefully playing for her country when she's 50.
Carly's current What's In The Bag?
Driver: Callaway Epic Max, 10.5°
Fairway wood: TaylorMade SIM2, 15°
Hybrids: Titleist TS2, 19°, 21°, 24°
Irons: Mizuno JPX900, 5-PW
Wedges: Cleveland RTX, 52°, 56° and 58°
Putter: Scotty Cameron Futura X5
Ball: 2021 Callaway Ladies SuperSoft