Why Sports Journalists Are As Important As Ever
In this era of instant access to information and platforms like Twitter connecting players with fans, has the importance of journalists diminished? Not at all, according to our editor-at-large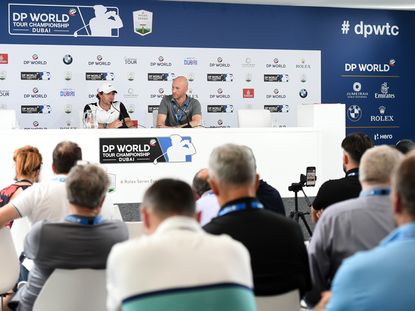 (Image credit: Getty Images)
Get the Golf Monthly Newsletter
Thank you for signing up to Golf Monthly. You will receive a verification email shortly.
There was a problem. Please refresh the page and try again.
In this era of instant access to information and platforms like Twitter connecting players with fans, has the importance of journalists diminished? Not at all, according to our editor-at-large
Why Sports Journalists Are As Important As Ever
Read our editor-at-large Bill Elliott's column, originally printed in the May 2019 issue of Golf Monthly
To London twice in a few days. Once to a glitzy awards dinner at which a talented platoon of the country's outstanding sportswriters and photographers were suitably rewarded for their efforts over the past year, and then 72 hours later to St Bride's Church, which is tucked away a few yards off Fleet Street and which has been the spiritual home of the media for many years.
Fleet Street, of course, is no longer headquarters for the nation's great newspapers. These days the one-time home of the old trade is a more mundane area, the former newspaper offices now filled with people who know about insurance and finance and other apparently important stuff.
This means the pubs are quieter, the lunchtimes shorter and the fun much harder to find.
Podcast: Bill Elliott - My Life in Golf
Those of us who spent important bits of our careers there still feel a thrill just walking down towards St Paul's from the law courts, but it is the thrill of remembering what was, not what is.
Anyway, I was there to join many others in celebrating the life of James Lawton, who I first met when we were both on the sports desk of the Daily Express in Manchester a couple of years before The Beatles split up.
Jim matured into a brilliant observer of the sports scene, his enthusiasm for the daft games we play and his effortless eloquence in describing the participants and the surroundings lifting him into the elite of our own game. I'll be back at St Bride's sooner than desired to celebrate another wonderful sportswriter, Hugh McIlvanney, who died earlier this year and who leaves behind a legacy of what some of us consider genius.
What has this to do with golf? Well, as I wandered away from the church – yes, to a pub – I reflected on why sportswriters have any relevance in this age of instant news, scores, sackings or updates on what's happening at The Masters. We may all see this stuff as we walk down any street, even watching the television pictures on our phones.
Yet while these scores and pictures tell us much, they never tell the whole story.
It's always been important to have a journalist who tells you what you either can't or don't see and even more important for him or her to tell you what this or that sports star is really like.
These days, however, when players have their own Twitter accounts and the rest of the web paraphernalia, they do not need a sportswriter to get their opinions across. The big difference is the journalist is apt to ask a question they don't expect and to elicit a reply that is not flavoured with the need to please a sponsor or dulled by the anodyne hand of a PR assistant.
While TV has immeasurably enhanced our general enjoyment of sport and especially golf, your better idea of what a supposed hero is really like will almost certainly have been offered to you by a journalist.
It's harder than ever for the sportswriter to do this today, because so many stars are barricaded by a team of helpers and press conferences are organised in such a way that any sort of close contact is frowned upon if not physically impossible. But we try.
Before so much money poured into so many games, the players and journalists would mingle socially, get to know each other and occasionally form real friendships. Although there would be occasions when one would think the other had misquoted them or made some other error, usually we got over such rifts swiftly enough.
The fact is that while television can make a golfer a bigger star, the real history of the game is still being written by a journalist who has a way with words and a keenly observant eye. The television pictures enhance this but they do not yet replace it.
This is what the team here on Golf Monthly try to do and sometimes I believe we succeed, whether it is via an in-depth interview or a personal opinion. We are all aware of the need for accuracy as well as the desire to make it entertaining and interesting. Above all we try to tell you something you would not otherwise know.
This is what Lawton and McIlvanney and the rest of us reach for every time we rattle out a feature or offer an opinion.
It is not as easy to do as some think, but then again it is not as hard as grafting away in a monotonous job that you hate. So I'm glad to say that after a couple of fortifying pints following Jim's memorial service, I concluded that sportswriters are as relevant today as ever we were.
Thanks for reading. That, really, is the whole, reassuring point.
Podcast: Bill Elliott - My Life in Golf
Bill Elliott is Golf Monthly's editor-at- large and Golf Ambassador for Prostate Cancer UK
For all the latest golf news, check the Golf Monthly website and follow our social media channels @golfmonthlymagazine on Facebook and @golfmonthly on Twitter and Instagram
Get the Golf Monthly Newsletter
Tips on how to play better, latest equipment reviews, interviews with the biggest names and more.
Bill has been part of the Golf Monthly woodwork for many years. A very respected Golf Journalist he has attended over 40 Open Championships. Bill was the Observer's golf correspondent. He spent 26 years as a sports writer for Express Newspapers and is a former Magazine Sportswriter of the Year. After 40 years on 'Fleet Street' starting with the Daily Express and finishing on The Observer and Guardian in 2010. Now semi-retired but still Editor at Large of Golf Monthly Magazine and regular broadcaster for BBC and Sky. Author of several golf-related books and a former chairman of the Association of Golf Writers. Experienced after dinner speaker.