Trophee Hassan II 2016 Blog 3
James Mason from planetgolfreview continues his trip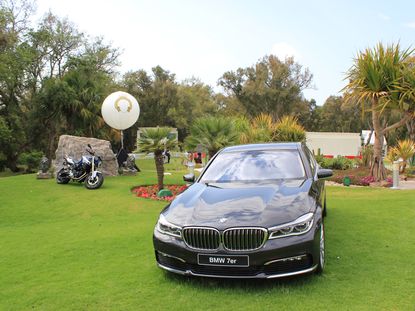 James Mason from planetgolfreview continues his trip
Its strange who you bump into during the courtesy car journey to the course yesterday it was golf artist Hubert Privé and today I was sharing a car with the wife of Romain Wattel's caddie.
She never did introduce herself and I was enjoying the conversation that much that I forgot to ask and as is a caddies want they are not mentioned anywhere on the European Tour website and they obviously don't have their own website – maybe a gap in the market there for someone!
But the Trophée Hassan ll caddies plight will be in stark contrast to their brothers on the other side of the Atlantic caddying at this week Wells Fargo Championship, check out the Caddie Confidential blog on ESPN.
The caddies there will have their own chefs, valet parking, flushing toilets and shower, the guys lugging around over 30lb of clubs, waterproofs and food for their players this week, don't have any cold food laid on for them let alone their own personal chefs.
I am sure they wouldn't complain about their lives, they all love what they do, but hot food and a flushing toilet wouldn't go a miss.
Talking of Chefs last nights Princes cocktail party went very well – well apart from the downpour that started around lunchtime yesterday and will make the courses at Royal Dar Es Salam tough going today. The food was fantastic, barbequed meats and fish, lobster paella, an abundance of fresh fruits and desserts to die for.
If any of you remember my stint behind the bar at Golf Monthly's advertisers party at Royal Liverpool during the Open Championship a couple of years ago, well I was back at it again – the Prince can send my wages through later.
The bar staff at the main entrance bar seem to disappear for a while and I decided to help myself, at which point a few French and Moroccan lads turned up. So I ended up serving some very large Jack Daniels and coke to the delight of the patron's.
Apart from myself being part of the entertainment behind the bar, there was a fire-eater and this guy must have an amazing pain threshold – a kick in the nuts in a bar fight and I think this fella will just laugh at you!!
What made me laugh even more is after his fire-eating set he turned up as the drummer in the African dance band, now that my friends is multitalented right there.
The interview with Aditi Ashok didn't take place last night, but I will be following her progress today in her first professional round of golf and will be interviewing afterwards, lets hope she has a big smile on her face.
And finally watching Alvaro Quiros crush a ball a million miles never gets tiring, I certainly wouldn't fancy my finger getting caught between club head and ball at impact, but watching him smash it off the deck with a driver, what made it even more impressive was watching the faces of the other pros near him.
James Mason is a senior contributor for Golf Monthly magazine and editor of planetgolfreview.com and has producing destination and equipment reviews for Golf Monthly, Greenside, and Middle East Golfer magazines. He has also produced destination features for Golf World and Going for Golf magazines and interviews for Middle East Golfer and Qatar Airlines. James was captain of Coventry university golf team and now plays off a 5 handicap.