Walker Cup golf preview
Our man at Merion, Alistair Tait, a senior writer for GolfWeek and former Golf Monthly deputy editor, blogs and previews the 42nd Walker Cup.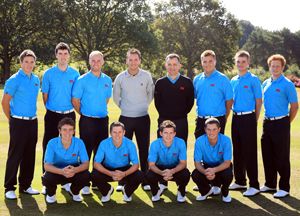 If Great Britain & Ireland win the 42nd Walker Cup then it will probably come down to one key factor: Preparation.
This GB&I team is one of the best prepared in recent years. When the gun goes off at 7:30am this Saturday to start the first foursomes session, the ten GB&I players will have spent so much time in each other's company they'll feel as if the belong to the same golf club.
Most of the ten already know the course. GB&I captain Colin Dalgleish held a squad session at Merion last year. In April this year, Dalgleish gathered potential players for another three-day session at Formby. Last month the ten who made the team spent two days at Valderrama getting used to the sort of slick greens Merion will present.
If that isn't enough, then drool over this schedule of warm-up rounds at must-play courses. On Friday 4 September the team played Sunningdale's Old Course then had dinner together before flying out to the United States the next day. September 6-7 was spent at Pine Valley, arguably the world's best course. September 8 they had their first taste of Merion as it will play for this year's match. They broke things up with a visit to the Donald Ross gem Aronimink on Wednesday, and then back to Merion for the final two practice days.
In other words, these guys should be ready to play and should know each other well.
"We've got a great bunch of guys," Wallace Booth said. "There's a great buzz about the team. We already know each other from playing amateur golf at home, but the time we have spent together in the squad sessions has just united us like you wouldn't believe."
Booth has an advantage over many of the other GB&I players. The 24-year-old Scot spent four years in the United States playing college golf at Augusta State. He is used to the sort of thick, gnarly rough around greens that awaits any missed iron shot.
"I suppose myself, Chris Paisley and Gavin (Dear) all have an advantage because we played college golf. But this team is very talented. It won't take the guys long to figure out how to handle the golf course."
The US holds a 33-7 advantage in the biennial competition with one match drawn, but the match has been much closer in recent years. GB&I has won four out of the last seven contests. However, the US has won the last two.
If GB&I are to regain George Herbert Walker's cup, then the fact they were better prepared than the US might be the all-important intangible.
Where next?
Golf betting: Mercedes-Benz Championship bets; BMW Championship bets Competitions: Win some great golf prizes Amateur news: Asian Amateur Championship announces event sponsors Equipment news: New Mizuno irons
Betting experts, writers and video producers. Couple of guys in our early 20's looking to bring the sport that we love into a new era.'