Golf Blog: My Major Disappointment
Lewis Pacelli gives his thoughts on who has not performed up to scratch at the Majors this year in this golf blog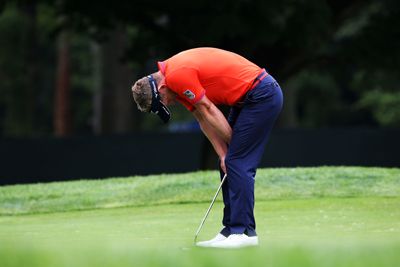 Golf Blog: My Major Disappointment
As golfing fans, we have had another exhilarating year in the 4 majors. Adam Scott, Justin Rose, Phil Mickelson and finally Jason Dufner are all deserved major winners who brought us some tantalising thrills along the way.
They all share their own Hollywood stories and reasons why they warrant their names etched in 2013 history.
Whilst these four men have and will bask in the glory of their wins, others have been bitterly disappointing.
Lee Westwood is the most obvious name that springs to mind instantly when you think of the word disappointment.
His horrendous demise on the Sunday at Muirfield proved his lack of mental efficiency and his putting on the final day at the PGA was more akin to a 30-handicapper.
Jason Day also came close in 3 of the majors, but his bottle seems to burst open when it comes to that final crunch.
He faltered badly at Augusta when he looked destined to win and the mad charges up the leaderboard at Merion and Oak Hill were halted during the final stretches when his approach shots didn't want to find a single green.
However, the biggest disappointment in the 2013 majors was Luke Donald.
His story has been brushed over by the emergence of others, yet the performances of a former world number 1 have simply not been good enough.
He missed the cut at the final 2 majors with 4 woeful rounds and he crumbled under the pressure on the Sunday at the US Open - a course that should have suited his eye perfectly.
All that being said, my personal prime disappointment was the horrendous crowds America seems to constantly attract.
I am aware this is an issue throughout many PGA Tour events, but it seemed to be beyond the usual aggravation at Oak Hill. Shouts of 'Chewbacca' and peculiarly 'Rutabaga' are pointless and utterly idiotic.
It was one thing handling the 'get in the hole' screams after a tee shot on a 600-yard par 5, but random vegetables and a Star Wars stalwart takes the biscuit.
Lewis Pacelli writes for Down the 18th "Golf Betting and Opinions from a young perspective" (opens in new tab)
Lewis was a freelance writer for Golf Monthly in 2013.