Golf - the great leveller
James Mason explains how golf really is a great leveller, in more ways than one. Golf blog and opinion from the Golf Monthly office.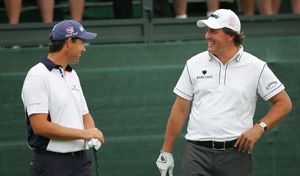 I am writing this after spending a night in the pub just down the road from GM towers, talking golf and life with the esteemed editor, Mike Harris, and his right hand man, Alex Narey, where they asked me to pen a blog about how golf is a leveller.
But, before I climb up onto my soapbox, maybe you need to know a little of my background. I grew up on a council estate in South London after my family moved from Liverpool when I was only six months old.
My dad got into golf when I was about seven and I quickly followed him. Some kids would say they were dragged along but I didn't see it that way. With my cut down clubs I was on my way, playing shots between my dads shots I became hooked.
Taking the game to a different level than my dad could imagine, I was playing off a 6 handicap when I was 14-year-old, before girls came on the scene.
Anyway, back to the point of why I am writing this column. Golf is a great game and no matter what background you come from, when you step on that first tee and utter the words, "have a great game" said with no irony or malice. You both tee off and over the course of the next few hours and 18 holes, the game brings you together.
I have played with everyone from captains of industry, directors, CEO's and chairman of boards, to my mates from council estates in Lewisham. What is the difference? Nothing. The banter might be slightly different but believe me I have heard CEO's swear as good as any lad from the mean streets of Lewisham.
What I enjoy about golf is that once you hit that first drive, it's just you and your opponent with the handicapping system ensuring you have a competitive game. I am not saying that I haven't thought about how a 9-iron around the head might be a better leveller, but thankfully I haven't got to that point yet, even playing with some people who should be ashamed of the handicaps they proclaim to play-off.
I have a niece who, at the age of nine, was playing in Under-14 tennis tournaments and winning them. Were her achievements celebrated? No, unfortunately the parents of her defeated opponents just complained. They said a nine-year-old shouldn't be playing in Under-14 tournaments! Now you have an idea why there are so few youngsters coming though the tennis ranks to compete at Wimbledon.
I am not saying golf doesn't have its problems and issues, it does. But when a club gets a golfer who is going to make it, and believe me, we all know when we have someone at our club who is going to make it, they really do have the whole membership behind them.
Before I sign off, I'll leave you with this thought. It's something my dad said to me once when I duffed a shot and slammed the club into the ground.
"You can blame what you want son. The club, the ground or the ball, but at the end of the day golf is like life - what you put into it, is what you get out of it".
I would add my own thought to that "no matter what your background once you tee it up you're the same and it's game on".
Golf truly is a leveller and like lots of sports. It brings people together to enjoy something beyond the game itself. To bring two/four people together to enjoy a great game and chill in the bar after and talk utter nonsense.
So when I do meet you on the first tee we can enjoy this great game together. But, just remember, don't get too much up yourself or I may have to get that 9-iron out. I am still a South London, Scouser by heart after all!
Where next?
Competitions: Some great prizes to be won Equipment: Odyssey White Hot Tour #7H putter review
James Mason is a senior contributor for Golf Monthly magazine and editor of planetgolfreview.com and has producing destination and equipment reviews for Golf Monthly, Greenside, and Middle East Golfer magazines. He has also produced destination features for Golf World and Going for Golf magazines and interviews for Middle East Golfer and Qatar Airlines. James was captain of Coventry university golf team and now plays off a 5 handicap.