Fergus Bisset: Posturing for success
Fergus loses his game on the wind at Trump International and goes looking for it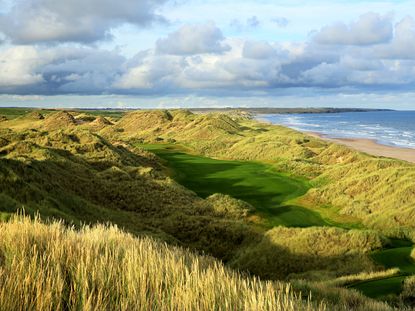 (Image credit: Getty Images)
Fergus's game was torn to shreds in windy conditions at Trump International and he's realised he needs to keep his back a good deal straighter.
My long game has been a little sketchy for the last couple of weeks but I'd largely been getting away with it, playing in relatively forgiving conditions and enjoying more than my fair share of luck.
But, last Friday, the frailties of my swing were well and truly exposed in tough conditions for the season-opening day at Trump International on the Menie Estate north of Aberdeen.
I love the course at Trump International and, as a golf journalist rather than a political one, I felt it my responsibility to take the opportunity to experience one of the most incredible modern courses anywhere in the world.
It really is spectacular. When we were standing on the 14th tee, set high in the dunes looking out towards the snaking fairway far below marking an elegant curve between the towering sand hills, we agreed it was almost surreal, as though computer generated. But, in fact, it's more stunning than that – nature has created the perfect frame for a remarkable golf hole, and that can be said of every hole on this course.
Thankfully, the 14th hole was played downwind and I actually found the fairway off the raised tee. I won't go any further on what happened afterwards, though the words: fat, thin three and stab might give you a clue.
I was pretty bad downwind, but it was really the holes into the wind that found me out properly. From the attractive, and surprisingly understated, clubhouse at Trump, the course forges out towards the Granite City for the first four holes. On Friday, these holes were straight into the teeth of a typically ferocious Aberdeenshire wind. By the time we reached the relative shelter of the 5th tee, my game and my confidence were in tatters.
Anything with the slightest hint of sidespin was gone, sailing towards hazards or dunes. I felt like a total novice by the time I picked up on the 4th – totally unable to keep the ball in play. It was rather embarrassing and I found myself uttering appalling phrases like, "I'm not normally this bad," and "I played quite well last time I was out."
It was tough though. To give an example of how strong the wind was – the par-5 18th was straight into the draft, and we played from a tee measuring it at some 575 yards. One of my partners was a top amateur who has long played off a plus figure handicap and is well accustomed to playing links golf in strong wind; hitting the low ball with little spin. On the 18th he hit driver, driver, driver – all well struck and boring through the wind – he just reached the front edge. I picked up about halfway down when I attempted to punch a three-iron and it ballooned up and travelled about 40 yards, sideways into a water hazard.
My game was a mess, but when I got home on Friday evening I was in denial. I blamed it wholly on the weather and was sure that in the first Medal of the year the following day at Banchory, things would turn out alright. After I'd struck my first and fourth shots out of bounds and racked up an eight on the opening hole, cracks started to appear in my certainty.
It turned out to be a dismal start to my 2016 campaign and I was pretty morose sitting in front of the Shell Houston Open with a bottle of Pinot Noir on Saturday evening. But then I had "one of those thoughts."
When I'm a long way from a golf course (and particularly if I'm three glasses in) I quite often have golfing epiphanies. Generally it will be to do with my putting or chipping techniques, both of which are about as solid as a battering ram made of balsa wood. But this one was to do with my posture.
I can't remember which of the pros I was watching (maybe Stenson) but I noticed just how perfect the average professional's posture is at address, with a straight back and neck set at an athletic looking angle.
I went to the hall mirror with the wedge I'd been using to hit chip shots onto the sofa and had a quick look at my posture: Not good. Somewhere between Mr Bean and the Hunchback of Notre Dame – Leaning back on my heels, knees overly bent, back curved, head down, core loose and hands too low. It's a miracle I could even make contact with the ball from such a starting point.
Yesterday evening (pre Pinot and Shell Houston) I went out for a few holes to see if I could make a change. On every shot from driver to putting, I focused on getting my back straight and my chin up, standing taller and engaging the core muscles. What a difference it made – I actually started hitting proper golf shots again. It's pretty obvious really – start in an athletic position and you (might) play a dynamic and powerful shot; start in a lazy position and you'll inevitably play a sloppy and unpredictable shot.
I've written this down so I might remember it and I've made a mental note that I must drink more red wine when watching the golf to spawn more golfing eureka moments.
Fergus is a golf obsessive and 1-handicapper. Growing up in the North East of Scotland, golf runs through his veins and his passion for the sport was bolstered during his time at St Andrews university studying history. He went on to earn a post graduate diploma from the London School of Journalism. Fergus has worked for Golf Monthly since 2004 and has written two books on the game; "Great Golf Debates" together with Jezz Ellwood of Golf Monthly and "The Ultimate Golf Book" together with Neil Tappin (also of Golf Monthly)... Fergus once shanked a ball from just over Granny Clark's Wynd on the 18th of the Old Course that struck the St Andrews Golf Club and rebounded into the Valley of Sin, from where he saved par. Who says there's no golfing god?