Fergus Bisset: Out of Africa
Fergus is just back from a golfing trip to Kenya. Here he gives us the lowdown.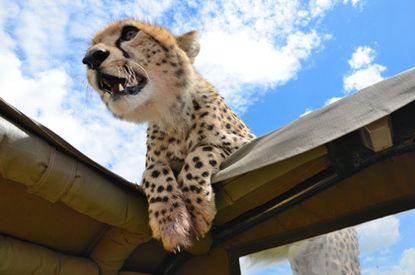 I'm a different person to the one who last wrote a piece on this website. Between then and now I've been south of the Equator for the first time in my life, I've felt the breath of a cheetah, I've been blind-sided by a lorry, I've witnessed true poverty, I've eaten a crocodile, I've been screamed at by a Masai warrior, I've hit a golf ball at a zebra and I've discovered "Tusker" beer - All in a single week in Kenya.
At Golf Monthly we often receive invitations to take part in press trips to various golfing destinations at home and abroad: To explore what the country or region has to offer in terms of courses and extra activities for the golfing holidaymaker. I've been very fortunate to see some great places and play some superb tracks, but I haven't had an experience quite like that which has panned out over the last seven days with a group of three other journalists.
We flew into Nairobi by Kenya Airways on the overnight flight, leaving Thursday night, arriving Friday morning. They're two hours ahead and the flight is eight hours, so by departing at 8pm we arrived at 6am the following day.
After the usual bun-fight to reclaim our luggage we strolled out into the early morning heat of Nairobi. I was actually expecting it to be hotter in Nairobi but a combination of: April being one of their wetter months, the altitude, (Nairobi is at 5,500 feet,) and the fact that it was only 7.00 in the morning meant the contrast from, an even chillier than usual, Aberdeenshire wasn't too extreme.
The group - the journalists and Daniella who organised the trip, were met by the lovely Helen Omukoko from the Kenya Tourist Board. She escorted us for the entire week and, without her help and guidance, we could still be out there somewhere.
Upon locating our transport, a Private Safaris (privatesafaris.co.ke) mini-bus, thankfully complete with driver, we set off into the Nairobi rush hour. The traffic in the Kenyan capital is pretty incredible and, despite on-going works to improve the road systems, there are currently too many cars and not enough tarmac to fit them all on to.
The traffic jams, although a little tiresome, do afford a great opportunity to people-watch and to see the spectrum of life that exists in Nairobi. Crawling and weaving our way into the city we saw big business sitting alongside obvious poverty. People try to make a living in every conceivable way and the streets are lined by small, makeshift outlets offering everything from haircuts to legal aid. One purveyor on the road outside our luxurious hotel, the Sankara (sankara.com), was punting a bizarre combination - fur-lined leather boots and U-bends.
It's a bustling city operating at a fast pace (apart from the traffic) where there has been significant financial growth, creating obvious wealth. Yet it sits alongside extreme poverty with an estimated 50% of the population living in slums that occupy just 5% of the city's area.
Needless to say, it's principally the better off who enjoy the golf courses here. But the sport is booming in Kenya with a fast take-up rate. New courses are appearing across the country and many clubs have full memberships.
Our first stop was Muthaiga Golf Club where there are 1,500 members. Referred to as the "Home of Golf in Kenya," the course was opened for play in 1913 - back in colonial days. The layout was remodelled by Peter Matkovich in 2004 and has been a frequent host to the Kenyan Open on both the European and, more recently, Challenge Tours.
It's a testing and strategically challenging layout with lush fairways - particularly so when we played given significant rainfall that had fallen over the preceding days. There's a fine combination of holes with water hazards and encroaching trees presenting the principal dangers.
It must be said that the course wasn't presented as immaculately as it might have been when we played, though the weather was certainly a contributing factor to that. The greens, however, were very true and a joy to putt on. This is unquestionably, a highly enjoyable golf course to play, presenting a suitable test for even the most accomplished players.
When you play in Kenya, the done thing is to take a caddy with you. There are no less than 150 of them at Muthaiga and each will only get one (at most two) jobs per week. When you consider that 1,000 Kenyan Shillings, or about £7, is the average tip they receive, you can see how challenging it is for them to eek out a living. Most are also good golfers in their own right. Every caddy I had during the week played off single figures, and each admitted they could improve were they given more than just one day to play a week and didn't have to make do with a ramshackle selection of old clubs.
Our trip was extremely fast-paced as we tried to see as much of Kenya as possible in the short time we were there. So, early the next morning we re-joined the "Nairobi Jam" to inch back to the airport and catch a flight to Mombasa.
The traffic was particularly bad and, with a policeman increasing congestion rather than alleviating it by frequently halting progress on the highway to allow cars and trucks to filter on from a relatively small side road, we arrived at the airport just 35 minutes before our flight.
But we checked in just in time and boarded what was a very comfortable and quick (just 45 minutes) Kenya Airways flight to Mombasa on the India Ocean coastline.
An historic and cultural city, Mombasa was for centuries an important trading post. It's still home to Kenya's principal port - Kilindi Harbour. Over the years many traders from the Middle East and India have settled here, so the city is a melting pot where Islam and Christianity sit side by side. Mombasa is also famed for its beaches, water-sports, coral reef and deep-sea fishing. As such it's a hugely popular tourist destination.
Unfortunately we were constrained by time so couldn't spend long exploring the ancient streets of Old Mombasa or take a boat out to try bag a Marlin. We travelled on then, in slightly more free-flowing traffic to the Voyager Beach resort (heritage-eastafrica.com) where we dropped our bags before heading to Nyali Golf Club (nyaligolf.co.ke).
Another of Kenya's older tracks, Nyali is another popular members' club with great character and atmosphere. Tree-lined and stretching to over 6,700 yards, this is a tough course and I must confess to playing it atrociously. I'll blame a combination of tiredness and the heat (much preferable to admitting my ineptitude.) The temperatures in Mombasa are higher than Nairobi with averages in April close to 30 celsius. I'd advise not to tee off at 2.30pm as we did - early morning or early evening are the best times.
Only just south of the Equator, the sun sets extremely quickly though so you have to be careful. When it starts to go down, you have just 20 minutes before it's properly dark.
We came up the par-3 18th, in front of the attractive clubhouse, with minutes to spare before being beaten by the light. I'd already been severely beaten by the course and the temperature so was determined to secure at least one small victory at Nyali.
On the clubhouse veranda, we had a moment to reflect on the round as we enjoyed a fine Tusker beer. Owned by East African Breweries and, in turn, Diageo, it's a highly refreshing lager with a sweet taste - highly palatable and an excellent post-golf tipple, as our group can attest.
On day three, yes we fitted all of the above into two days, we headed 30km up the coast from Mombasa to Vipingo Ridge (vipingoridge.com) and the wonderful new Baobab Course there - named after the iconic, huge-trunked trees, indigenous to this area.
Designed by David Jones and opened for play just three years ago, this is a layout of considerable quality. On the high ground, with views down towards the coast, and inland towards rolling hills and mango plantations, the holes rise, fall and swoop through spectacular terrain, past well-placed water hazards, trees and strategic bunkering. Fairways lead to excellent, undulating greens with well-kept run-off areas.
The course plays in two loops of nine holes with both returning to the striking and luxurious, Islamic-style, clubhouse. The finish is worthy of particular praise. The 16th, stroke index 1, turns and climbs to a raised green with a stream winding up the left hand side. The next is a gorgeous par-3 with a rock-lined water hazard protecting the front and right of the green. On the last, water lurks on the right and a straight tee-shot is demanded as you play up towards the clubhouse and a well-earned Tusker.
The Resort Director at Vipingo Ridge is St. John Kelliher. Originally from Ireland, St. John has a wealth of experience in the golf travel sector having previously worked for Dubai Golf and being involved in the recent launch of the Greg Norman-designed course in Oman. He's an excellent contact for those planning a golfing trip to Kenya having lived in the country for a number of years.
One of the great schemes at Vipingo is with regards the caddies. In support of the charity, Glad's House the resort takes a number of Mombasa Street Kids and trains them up as caddies with a view to giving them a life outside the crime and drug-abuse that plagues the young homeless of Mombasa.
Vipingo is a residential golfing development with many properties on site and membership of the golf club a pre-requisite for those purchasing a plot. But there's also accommodation for holidaymakers in the luxurious villas just down from the clubhouse. Each has opulent and well-fitted rooms, a private pool and terrace together with views out to the Indian Ocean. Stunning stuff.
We had to head back to the Voyager Hotel though for dinner on the "Captain's Table" and then a trip to the "Sports Bar" to catch the last round of the Masters.
A few too many Tuskers and a rather late finish to the golf in Augusta meant we were feeling a little jaded when we boarded the mini-bus to head back to Mombasa airport to fly to Nairobi.
We were bound for the Great Rift Valley and, in an effort to avoid the central Nairobi traffic, started out via the ring road upon arrival. An hour and a half later, we thought we were making some decent progress though we were brought back to earth when we came to a junction where a sign said "Nairobi - 8km."
But, after a heartening lunch, we were ready to make the remainder of the journey up to the Great Rift Valley Lodge and Golf Resort (heritage-eastafrica.com)
It was a pretty striking one. As the road climbs from Nairobi it crests a summit and you are confronted with a first view across the sprawling valley. It's on a massive scale, stretching some 6,000km from Syria to Mozambique. We could, obviously, only see a small portion of it, but stretching off to the horizon, it's a mighty spectacle and one worthy of a stop for photos.
Whenever you stop on the side of the road in Kenya, it's likely someone will try and sell you something. At the Rift Valley viewpoint I decided I would add to my collection of novelty ashtrays - a compilation I began as a little protest against infringements on civil liberties when the smoking ban came in.
I also thought it a good chance to test my haggling skills. In this instance they weren't bad. He started at 3,500, I countered with 500 (about £3,) he retorted with 2,750, I stuck at 500, he suggested 2,000, I suggested 500, he said he could do me a deal at 1,250, I offered him a deal at 500. 1,000? No. How about 500? Deal. So I now have a rather unattractive black and red, stone ashtray with a little map of the view of the Rift Valley etched onto it.
Heritage own and operate seven hotels and safari camps in Kenya and they are bracketed in three main grades - the Voyager (as where we stayed in Mombasa,) Intrepids and then Explorer, the latter being the top-end offering.
The Great Rift Valley Lodge and Golf Resort sits somewhere between the top two in terms of rank, although after staying there, I would have thought it deserved status as a high-end resort. It must be pretty classy as, when we arrived, former Prime Minister and defeated Presidential candidate Raila Odinga was leaving after a post-election debrief.
Just outside the town of Naivasha, you turn off the main drag and then head some 11km up an unmetalled road past zebra, baboons, rock hyrax (a funny little furry creature whose nearest relation is the elephant,) and antelope. After some bumping and grinding, you come out at the resort.
The lodges themselves look out across the valley to the Aberdare Mountains. They're beautifully appointed and supremely comfortable and just a short walk to the main building where you will receive hospitality of the highest order, excellent food and a wide selection of beverages. "Four Tuskers please!"
The course at the Rift Valley resort is great fun to play and many of the holes offer fine views out across the valley. We teed off at 7am because, funnily enough, we were on a tight schedule. I was up with fellow journos Steve Killick and Patrick Mooney and we went round in 2 hours 45 minutes - That's how golf should be played. Now, this was a longish resort course where apparently, the average round takes well over four hours. We certainly didn't rush unduly but, with no-one ahead, we were round in under three hours and had a thoroughly enjoyable time as a result.
We had to halt our serene progress early in the round as a photo opportunity arose as we passed the fourth green. Standing there, totally unperturbed on the putting surface, was a zebra. They're not at all timid beasts and you can get quite close to them before they slowly move away. By the time we came up the fourth, he had acquired a friend and they were still in residence on the side of the green. About to play my second shot, they were directly between the pin and my ball.
"I don't want to kill a zebra," I said to my caddy. "Naah, just hit it," he said without a worry.
Luckily my ball was deflected by a tree somewhat early in its flight so I didn't have to worry about how I would get a Zebra's head through customs. There are also antelope roaming the fairways at the Rift Valley Lodge and with various monkeys skipping around and an amazing array of colourful birds, it's rather spectacular.
Wildlife was to be the focus for the final element of our trip as we left the Rift Valley and made the journey into the Masai Mara National Park. Now, we did this by mini bus, giving us a chance to see some of the rural communities on the route. That might not be for everyone though as six hours on the roads (many of which are not in great condition and, later in the journey, are not tarred) could be a bit much for some. If that's the case then the best option is to fly into the Mara on a small prop plane - there are many different routes and numerous scheduled flights each day - this was how we got back to Nairobi after our visit.
We were on the road again this time though. Our progress was delayed early on when our driver was signalled to stop at a rural police checkpoint. An officious looking character dressed in a ridiculous green uniform with gold buttons and massive hat, complete with swagger stick under his arm, gestured our driver out of the vehicle. He then began pointing at various stickers and licenses on our windscreen and shaking his head. This was a job for Helen. She got out of the bus and gave the little dictator a severe dressing down and informed him her father was a former chief of police. He gave a coy smile and gestured us on our way.
But, just as we were about to pull out, a massive great lorry travelling at about 40mph scraped all down the side of our bus, smashing off the wing mirror and scaring the life of passengers and driver alike.
The police, despite having witnessed this, turned their backs and pretended they hadn't seen anything. So our poor driver had to walk up to have a lengthy and fruitless discussion with the lorry driver about who was at fault. It was clearly the lorry, but this doesn't seem to be a country where swapping insurance details is the done thing so they just had to agree to disagree and we went on our way, minus one wing mirror.
It was a long old trek into the Mara and, with sore bottoms and stiff legs we were sincerely hoping the journey would be worth it. My word, it most certainly was.
We were staying at Mara Intrepids, right in the heart of the park. It took a, decent length, 4x4 drive to reach the campsite, located on the banks of the Talek River. On the way in we spotted cheetah, elephant, ostrich and water buffalo and, when we arrived, we crossed an "Indiana Jones" style rope bridge to enter the camp.
"Camp" is really doing Mara Intrepids a bit of a disservice. Although accommodation is in tents, these are about as salubrious as tents can be, with real double beds and beautiful linen, en-suite bathrooms and writing bureaus. The main camp building has a fine restaurant and bar (more Tuskers please!) and there's a swimming pool and a private airstrip.
At dinner we were entertained by a team of young Masai who performed a ceremonial dance: the girls sang their encouragement as the boys took it in turns to show who could jump the highest (bloody high.) They then sang and bobbed their way around the table, occasionally letting out a high-pitched squeal into the ear of an unsuspecting guest. Luckily, I'd just put my glass of red wine back on the table when I received such a fright.
We managed a relatively early night as we were up at dawn for a game drive to go and see if we could spot some of the Mara's famous animals. I couldn't sleep very well, partly because I was excited at the prospect of the morning's safari, partly because of the sound of the river flowing past just 20 metres from my tent door (very relaxing, but guaranteed to intensify the call of nature) and, partly because I kept having a recurring dream about meeting a lion on the walk from my tent to the main building.
Bleary-eyed again at 6am, I dragged myself to reception to meet the team. We clambered into the open-topped 4x4 where driver, and wildlife expert, Rafael asked if we were feeling lucky. We looked at the sun showing its first rays through an acacia tree and decided we were.
Within 10 minutes we drove through some scrub to find a leopard wandering around the corner. She's called Olive and appeared in the BBC's "Big Cat Diaries." She hadn't been seen for a couple of weeks so it seemed our luck was indeed in. We saw a pride of lions, we saw two impala fighting for control of a harem, we saw elephants, hippos, hyenas, buffalo, vultures, giraffe, antelope, gazelle... the works.
But the pinnacle was yet to come. After we'd enjoyed a breakfast laid out in a copse of trees, we drove on to find two cheetahs that had obviously just made a kill - a Thomson's gazelle. They had to eat quickly before hyenas come in and see them off, so they were dedicated to their work.
But then the younger one decided to come over to our vehicle for a closer look. Deciding it would provide a good vantage point from which to scout the land for incoming scavengers, he jumped onto the back of the vehicle. He had a quick look in and put his paws into the car. At that point his face was no more than a foot from mine. Rafael told us to stay calm, that he wouldn't try to get in. But with his teeth and claws dangerously close to my soft, slightly reddened, skin, I couldn't help feeling a touch nervous.
It was a simply incredible experience though, and one I'll remember for the rest of my life. I keep re-looking at the photos to confirm it actually happened.
And that just about sums up a trip to Kenya: pretty much unbelievable. The scenery, the people, the contrasts, the wildlife, the traffic - all are epic, and each one (apart from the traffic perhaps) would be enough to draw visitors to the country. Put it all together and you have something amazing. For golfers looking for something very different from a golfing holiday, Kenya could be the very place. A visit to this captivating country will change your life.
Fergus is a golf obsessive and 1-handicapper. Growing up in the North East of Scotland, golf runs through his veins and his passion for the sport was bolstered during his time at St Andrews university studying history. He went on to earn a post graduate diploma from the London School of Journalism. Fergus has worked for Golf Monthly since 2004 and has written two books on the game; "Great Golf Debates" together with Jezz Ellwood of Golf Monthly and "The Ultimate Golf Book" together with Neil Tappin (also of Golf Monthly)... Fergus once shanked a ball from just over Granny Clark's Wynd on the 18th of the Old Course that struck the St Andrews Golf Club and rebounded into the Valley of Sin, from where he saved par. Who says there's no golfing god?