Banchory GC: There's no place like home
Some new photos remind Fergus Bisset how much he loves his home club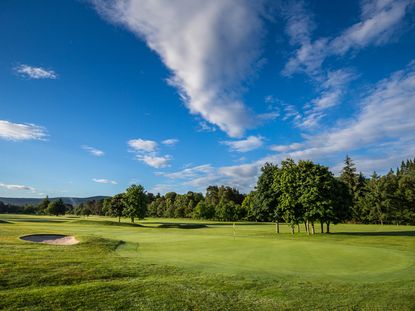 (Image credit: Kenny Smith)
Fergus Bisset pays homage to his home track. After seeing some new course photography by Kenny Smith, he's been reminded of just how great it is to have a home club and just how important good course photography is.
There's a saying that "familiarity breeds contempt." I've never really understood it. I love things I'm familiar with – my temperamental old house with its failing heating and plumbing; there's nowhere I feel happier. My family and our other animals; I love them more every day despite the increased "familiarity" … To what extent the feeling is mutual I'm not quite sure – the cat certainly detests me…
But for me, familiarity breeds contentment rather than contempt.
I find the same thing when it comes to golf. I'm fortunate enough that in working for Golf Monthly I have the chance to play a number of different golf courses; to take on new challenges and to experience varying playing conditions. I relish the chance to do that. There's nothing like tackling a course for the first time, not knowing what you're going to face, what opportunities for glory or glorious failure await. All golfers should try and play as many different courses as they possibly can.
But if I had to list my absolute favourite days in golf, quite a number would come from my home club of Banchory. I know every inch of the place. I must have played the course at least 2,000 times (easily in fact.) Actually, I can't possibly work out how many times I've knocked it round there since I first started playing aged six or seven. I've been out-of-bounds at every point it's possible, some where it would seem impossible. My eclectic best around the course is 37, I've had disasters on every hole, hit shots that have made playing partners double over in laughter, holed pitches and full shots, won matches, lost matches, broken par, broken clubs… basically it's all happened. And I keep going back for more.
When friend of Golf Monthly Kenny Smith sent me a link to some photography he'd done of Banchory, I was reminded why I love the place so much. I was also reminded just how important it is for a Golf Club to have good professional shots taken of their course! Kenny captured the peace and tranquillity to be found out there, the mix of colours, the light and shade. Banchory is just a supremely picturesque course and, although familiarity doesn't breed contempt in my mind, it does make me a little blasé on occasion. Sometimes it takes somebody else to point out just how lucky you are with what you have.
Set on the north bank of the shimmering River Dee, Banchory Golf Club dates from 1905. The course has been a little altered since those early days and the tract of land over which it's set lengthened slightly to the west end. But largely, the playing surfaces have remained reasonably consistent. It's laid out on old riverbed so it's well draining and the track can become hard and fast in the warmer months, although recent summers haven't allowed for that.
It's a relatively short course, but it's rarely taken apart as the holes mostly demand precision and a careful approach. The 1st provides a good example. It's only 315 yards and the temptation is to reach for the driver and get as close to the putting surface as possible. But out of bounds lurks close on the left side and anything leaking right could end up under trees or leaving an awkward angle of approach. The best play is to hit whatever will get you to within about 100 yards of the green and fire in with a wedge.
Starting well at Banchory is crucial but two par-3s consecutively after the opener can easily catch you out. The 2nd is a brute at 220 yards with trouble left and right of the green. Playing short is no bad option. The 3rd offers a beautiful view across to Scolty Hill with its famous tower and, although only 130 yards, there's plenty of danger: A burn short and a tall tree protecting the front right of the green. You must clear that tree or hope the golfing gods are kind when your ball ricochets about in its branches – They normally aren't.
The front nine heads to the west end of the course with great long holes like the 4th and 6th. At the 10th tee you turn and head back towards the town, playing holes alongside the beautiful river. At the 12th and 13th you'll find Banchory's own "Amen Corner" – A wonderful par-3 where a burn short of the green demands a well struck iron to the heart of the putting surface, then a testing par-4 where the tee shot must be fired through a chute of trees to a fairway turning right to left. The approach must carry a burn and find the narrow gap between bunkers left and the river on the right – two pars on these holes and you deserve a mention in dispatches.
The 16th, "The Doocot," is a quirky wee hole – just 88 yards but steeply uphill to a green looked over by our iconic white Doocot (Dovecot.) This little tester looks simple on paper but it's tripped many up over the years.
The 17th is a strong par-4 of over 400 yards before the tricky 18th takes you back to the welcoming clubhouse.
We're very lucky at Banchory to be right in the town. The clubhouse is just a few minutes walk from the High Street. That means you can have a few beers after the round and stroll home if you live, or are staying, in Banchory or get a bus or taxi back if you don't, or aren't. This also means that the clubhouse is pretty lively and people use the place to socialise as well as just to discuss the day's golfing successes and failures. Our caterer Elaine offers an excellent menu and, overall, it's just a great place to relax and unwind, whether you've played golf or not.
Last year was one of change at Banchory and in 2015 we gained a new Course Manager and a new Director of Golf. Richard Mullen has taken on the role of Course Manager and has done an incredible job of improving the aesthetics and condition of the track in a very short space of time. I would say, the course this year has been as good as I've ever seen it. Dean Vannet has come on board as our Director of Golf. Dean is doing a great job both as professional and on the administrative side. Together with his team he runs a superbly stocked shop and he's constantly thinking progressively about how the club can improve in all areas.
It's all very positive at the moment and that's perhaps why I'm feeling so content about the familiarity of Banchory Golf Club. But that's what's great about golf I think – being a member of a club, being part of something and seeing it evolve, hopefully for the better. Golf is a sociable sport and, although it's brilliant to travel and enjoy new experiences, there's nothing better than to come home and to share them with familiar faces while enjoying a relaxing game over familiar fairways.
Banchory essentials
W: banchorygolfclub.co.uk T: 01330 822365 A: Kinneskie Road, Banchory, AB31 5TA Stats: par 69, 5,864 yards
Fergus is a golf obsessive and 1-handicapper. Growing up in the North East of Scotland, golf runs through his veins and his passion for the sport was bolstered during his time at St Andrews university studying history. He went on to earn a post graduate diploma from the London School of Journalism. Fergus has worked for Golf Monthly since 2004 and has written two books on the game; "Great Golf Debates" together with Jezz Ellwood of Golf Monthly and "The Ultimate Golf Book" together with Neil Tappin (also of Golf Monthly)... Fergus once shanked a ball from just over Granny Clark's Wynd on the 18th of the Old Course that struck the St Andrews Golf Club and rebounded into the Valley of Sin, from where he saved par. Who says there's no golfing god?