Golf Monthly Editor's Letter July 2013 Issue
Golf Monthly Editor's Letter for July 2013 issue, includes Michael Harris giving his thoughts on the past month and what can be found in the July 2013 issue of Golf Monthly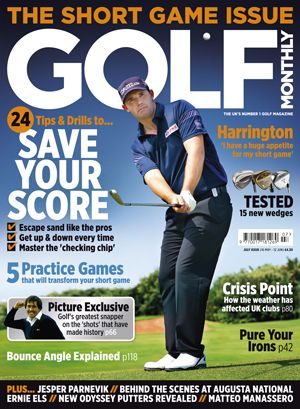 Golf Monthly Newsletter
Golf tips and expert instruction, golf club reviews and the latest golf equipment.
Thank you for signing up to . You will receive a verification email shortly.
There was a problem. Please refresh the page and try again.
Golf Monthly Editor's Letter July 2013 Issue
See what is in the July 2013 Issue (opens in new tab)
I type this issue's welcome note on a glorious evening in early May. The sun is streaming through the window and a warm breeze carries the smell of grass clippings.
By rights I should, of course, be down at the club practising, or having a pint on the patio, but deadlines are deadlines and hopefully there will be plenty more sunny evenings this summer in which to hit balls and enjoy an ale.
Goodness knows golf deserves this decent weather after what many in the game have described as the worst winter in living memory.
There were times when I thought the rain would never stop, and the courses never dry out. And while golfers can now look forward to the season, clubs are still counting the cost.
To get an insight into the true impact the weather has had on club golf, I'd point you in the direction of Jezz Ellwood's excellent "GM asks..." feature on page 80.
Be warned though, it isn't a pretty read. Looking forward I'd urge readers to make an extra effort to get down to support their clubs and PGA pros in the coming weeks and months - they've rarely needed us more than they do right now.
The improved weather coincided, as it so often does, with The Masters. However, this year it seemed as if the traditional Augusta roars were replaced by the sound of some collective sharp intakes of breath.
First when Chinese teenager Guan Tianlang was singled out and penalised for slow play, and then when Tiger Woods escaped disqualification courtesy of what seemed to be a very favourable decision by the Augusta Rules Committee.
It's fair to say these two incidents dominate this issue. We have printed a selection of the many letters and emails we received from readers on the topics; Kevin Barker of The R&A's Rules department assesses Tiger's drop; editor at large Bill Elliott gives his forthright verdicts on both incidents; and, as you'd expect, columnist Wayne Riley certainly doesn't hold back when it comes to sharing his thoughts on Guan's slow-play penalty.
For the record, I'm with Bill on his assessment of the Tiger situation, and Wayne on the slow-play penalty. But my wider view is that neither decision reflected well on the game.
I usually relish fighting golf's corner when it comes to discussions with non-golfers who often seem to delight in knocking our game. However, I have to say I didn't really feel I had much ammo in the locker this time.
At Augusta the game of golf, and its rules, were made to look, at best, inconsistent and, at worst, deeply flawed.
We haven't even had the chance to reflect on the fact that with Adam Scott's win the anchored-stroke/long-putter combo celebrated a Grand Slam of Majors and that Tianlang used an anchored stroke to great effect.
The latter is more significant in my view as it clearly underlines the governing bodies' motivations for the proposed rule change.
Finally, to complete a rather round-the-houses editor's letter, I'd like to take this opportunity to welcome one of the game's most popular figures, Ernie Els, to the fold as Golf Monthly's latest columnist.
I would have led the fanfare in the last issue, but for once I'd filed my copy early and with the ink on the Ernie deal not quite dry I didn't want to tempt fate. However, with Ernie now fully on board, I can say how fantastic it is to have a four-time Major winner and the current Open Champion giving us insight into his golfing life and sharing his views on the game.
email: michael_harris@ipcmedia.com twitter: @MikeHarrisGol (opens in new tab)f
Sharpen Up Your Short Game
Having the confidence to attack the flag from 100 yards and in, and the skills to get the ball up and down, is the secret to lower scores.
That's why we have dedicated 30 pages to the art of the short game. From tips and drills to reviews of the latest wedges, there's a wealth of information to help you improve your scoring skills.
Mike has been a journalist all his working life, starting out as a football writer with Goal magazine in the 1990s before moving into men's and women's lifestyle magazines including Men's Health, In 2003 he joined Golf Monthly and in 2006 he became only the eighth editor in Golf Monthly's 100-plus year history. His two main passions in golf are courses, having played over 400 courses worldwide, and shoes; he owns over 40 pairs.
Mike's handicap index hovers at around 10 and he is a member of four clubs: Hartley Wintney, Royal Liverpool, Royal North Devon and the Royal & Ancient Golf Club of St Andrews.