Old Head Golf Links - Take A Walk On The Wild Side
Old Head Golf Links near Kinsale is one of the most inimitable courses in the world, as the Golf Monthly team discovered on a recent pilgrimage to this sublime Irish venue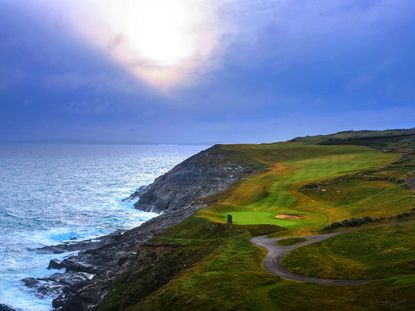 Old Head Golf Links near Kinsale is one of the most inimitable courses in the world, as the Golf Monthly team discovered on a recent pilgrimage to this sublime Irish venue
Old Head Golf Links - Take A Walk On The Wild Side
You should never judge a book by its cover, so they say, usually implying that fancy dust jackets can never compensate for inadequate content.
Judging by the collective experience of the Golf Monthly team on a recent visit to Old Head near Kinsale in County Cork, however, not only can you sometimes judge a book by its cover, but sometimes, just sometimes, even the most striking of covers – or perhaps photos in this instance – can never quite do full justice to the sheer magnificence of what lies within.
Old Head – ranked 35th in Golf Monthly's biennial Top 100 UK & Ireland Courses rankings – is blessed with a more spectacular location and backdrop than any other course in the Top 100, and if our list were decided on setting and drama alone, many would have it as the clear number one.
For those less familiar with the course, or who have never seen the incredible photos, Old Head is a 20-year-old wonder of the modern golfing world, with the course laid out over a 220-acre headland set high above the Atlantic on Ireland's southern coast.
Over half the holes play right alongside towering cliffs several hundred feet high, and the red hazard lines flanking them take on a whole new meaning here: not only is it a penalty, but such is the potential danger you are also forbidden from even thinking about crossing them in a foolhardy bid to save yourself both shots and Pro V1s!
Yes, we have other stunning links and other striking clifftop layouts in the UK and Ireland, with the holes on The Point at Nefyn in North Wales perhaps the most well-known.
But Old Head ramps up the visual drama several notches beyond anything else we have, so how and when did such a golfing marvel come into being?
Rich history
The Old Head story goes back many centuries, with the land a few miles south of Kinsale over which the course is now laid out actually separated from a larger headland by a slender strip.
Related: 8 Bucket List Golf Courses You Have To Play
This promontory, jutting out into the Atlantic on Ireland's southern coast, is one of the few landmarks in Northern Europe depicted on a map by Greek historian, Ptolemy, as long ago as 100AD.
Over the years, the land has passed through many hands, and no doubt seen a fair bit of bloodshed, with the Vikings, Celts and Normans all in control at various times.
It passed into the hands of the de Courcey family in the 12th century, and the castle they built at its narrowest point now forms a suitably stirring entrance to Old Head Golf Links.
In more recent times Old Head was farmed, until, significantly for golf lovers, brothers John and Patrick O'Connor acquired the 220 acres in 1989 with the specific intent of creating "one of the top ten international courses and ultimately the world's premier golf club."
The history page on the club's website goes on to say: "In 1993 the building of the golf course commenced, and The Links opened for play in 1997." This is a little like saying that the Egyptians set out to build some striking tombs for their Pharaohs in 2,700BC, and next minute, there they were.
Ambitious plans
In many ways, the existence of Old Head Golf Links is a tale of triumph over adversity.
There were protests over public access in the early days and some were opposed to such a historic piece of land being given over to golf.
Many consultants simply decreed that creating any golf course, let alone a world-class one, over such terrain was a physical impossibility.
The O'Connors chose to simply press on regardless.
Related: 10 Best Golf Courses In Ireland
Old Head really is testament to their vision, drive and determination, aided by impeccable timing, more than a little luck and a band of unique individuals – including a six-strong design team – who really could turn their dream into reality.
All that, and a multi-million Euro investment, which, among other things, required the acquisition of two local farms to provide the top soil neede
d to shape the course – a course which would take three years to build in often harsh weather conditions, even after the final routing had been agreed at the 54th time of asking!
Those who have visited will understand only too well that putting this golf course in must have been no easy task – just look at the aerial photo of the land in its farming days.
A unique setting
"Old Head Golf Links is the result of many stars aligning under the incredible vision of John and Patrick O'Connor," explains Old Head brand manager, Brent Dornford.
"It is unlikely that ever again, anywhere in the world, will a golf course be built upon such an incredible landscape."
That landscape is, of course, dominated by the black and white lighthouse you will have seen in photos here and elsewhere, and there's little doubt that lighthouses and golf courses are a visually arresting combination – think Turnberry; think Hilton Head.
The current lighthouse dates back to 1853, but they have been a necessity along these treacherous shipping waters for centuries, with the remains of the two previous ones – the first dating back to 1667 – located up by the 6th green.
Related: Best In Britain: Six Magnificent Golf Courses You Simply Must Play
One of the concerns of those against a golf course here was the potential impact on wildlife and landscape, but the O'Connors were at pains to ensure that not only would there be no harmful effects, but actually some positive ones.
John O'Connor travelled the world with Old Head ecologist, Tom O'Byrne, in a determined bid to find plant and flower species that would not only enhance the landscape, but actually thrive in the sometimes harsh environment.
The fruits of their endeavours are evident from the off, with a rich variety of species surrounding the 1st hole, and a real diversity of flora to be taken in as you make your way round.
Dozens of exotic plants, shrubs and bushes now adorn the fairways. Indeed, a recent survey showed there are now 111 native botanical species thriving here compared to 84 in the pre-golf days of 1992.
It's a similar story with wildlife, with any round at Old Head offering up chances to see the many seabirds whose breeding grounds lie in the towering cliffs above which you tread, as well as basking sharks, whales, dolphins and porpoises in the waters hundreds of feet below.
https://www.facebook.com/GolfMonthlyMagazine/videos/1515305541823245/
If you're lucky, you'll be accompanied on your round by one of the fairly docile hares that make their home here.
The ones that circled us from time to time were surely curious as to why anyone would be out there playing golf in some of the weather we encountered!
Boost for the economy
There's little doubt that Old Head has been extremely good news for the local economy and job market too, with the historic port and fishing town of Kinsale nine miles to the north among the chief beneficiaries.
It doesn't hurt that it is a delightful place and the gourmet capital of Ireland in its own right, but the more-than-steady stream of often wealthy visitors to Old Head over the last 20 years has brought many millions into the local economy.
Kinsale reminds me very much of Tarbert on Kintyre in Scotland, and any visitor to Old Head simply must find time for at least one visit, if for no other reason than to test for themselves the validity of those gourmet capital claims – an accolade that extends to Old Head too, where the beautifully appointed restaurant draws on the culinary expertise of the head chef and his team.
Just as with any shrewd and progressive business, Old Head isn't resting on its laurels and is evolving to enhance the visitor experience – a constant polishing of the diamond under the watchful eye of general managers, Jim O'Brien and Lhara O'Connor.
This was my third trip, and much has changed since my first, which must now be over a decade ago.
The accommodation wasn't there back then, and what a great addition that has been, with 15 spacious, well-equipped suites that look out over the 18th green and down towards the lighthouse and Atlantic Ocean.
The course itself
It's rare to get this far into a feature without the golf course and its intricacies being the primary focus, but Kevin Murray's wonderful photos have probably already painted considerably more than a thousand of my finest words.
Factor in that whatever emotions you feel looking at these photos will be enhanced yet further in the flesh, and you probably know all you need to know about this quite extraordinary course.
That was certainly the case for those on the GM team who had not previously visited.
There's no doubt that despite seeing the photos, their eyes were not quite fully prepared for what they were about to see as we drove down the headland's narrow neck flanking the 12th and 13th holes, and on through the course to the clubhouse and accommodation.
Jaws dropped; there were collective gasps of astonishment; and weary bones were miraculously revitalised to the degree that everyone just wanted to get out there straight away, even at 8pm.
Never has a group of golfers made it from car park to 1st tee so quickly.
Yet despite its dramatic setting and big reputation, the owners have never shied away from course changes in the eternal quest to further improve the layout.
In my interview here with chief designer, Ron Kirby, he refers to a constant drive to take as much of the course as close to the cliff edges as possible to eke out every last ounce of visual drama.
As we played the par-3 13th this time, I had no recollection of it at all, and this on a course where I thought nearly every inch had been stored away photographically in my mind for eternity.
The simple reason for this was that I hadn't played this particular 13th before!
The hole had been relocated to the very edge of the cliffs the other side of the entrance road.
I'd also struggled to remember the green being set right alongside those ancient lighthouse remains on the par-5 6th, again for the simple reason that it wasn't until this year, following major and costly closed-season works.
Lighthouses that once served to warn ships off now serve to guide balls in to a wonderfully located target. The real beauty of the green's new setting is that it affords the golfer a 360-degree view over the Atlantic Ocean, with the hole's new name of 'All Points' entirely fitting.
Normally at this point, my literary brain would be working overtime to conjure up a clever concluding paragraph. On this occasion there's no need, for all that really has to be said is that if you haven't yet visited Old Head, you really must.
Don't forget to follow Golf Monthly on Facebook, Twitter, Instagram.
Jeremy Ellwood has worked in the golf industry since 1993 and for Golf Monthly since 2002 when he started out as equipment editor. He is now a freelance journalist writing mainly for Golf Monthly across the whole spectrum from courses and Rules to equipment and instruction. He also edits The Golf Club Secretary Newsletter, a highly regarded trade publication for golf club secretaries and managers, and has authored or co-authored three books and written for a number of national papers including The Telegraph and The Independent. He is a senior panelist for Golf Monthly's Top 100 UK & Ireland Course Rankings and has played all of the Top 100 plus 91 of the Next 100, making him well-qualified when it comes to assessing and comparing our premier golf courses. He has now played well over 950 golf courses worldwide in 35 countries, right across the spectrum from the humblest of nine-holers in the Scottish Highlands to the very grandest of international golf resorts, but put him on a links course anywhere and he will be blissfully content.
Jezz can be contacted via Twitter - @JezzEllwoodGolf
Jeremy is currently playing...
Driver: Ping G425 LST 10.5˚ (draw setting), Mitsubishi Tensei AV Orange 55 S shaft
3 wood: Ping G425 Max 15˚ (set to flat +1), Mitsubishi Tensei AV Orange 65 S shaft
Hybrid: Ping G425 17˚, Mitsubishi Tensei CK Pro Orange 80 S shaft
Irons 3-PW: Ping i525, True Tem