Short putting fault fixer video
Clive Tucker provides some short putting fault fixer tips, as he addresses the most common mistakes from close range on the greens.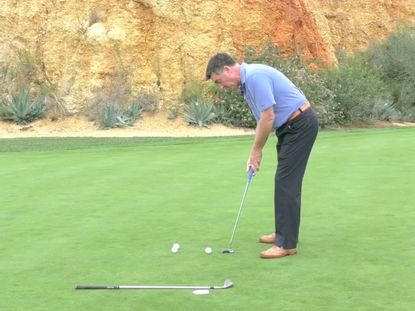 Golf Monthly Top 25 coach Clive Tucker provides some short putting fault fixer tips, as he addresses the most common mistakes from close range on the greens.
Short putting fault fixer
Being solid from short range is essential if you want to shoot good scores. Here are four keys to work on so you can turn good ball striking into great scoring.
Stay connected
Developing a good, instinctive feel on the green is key but to putt well you need a stroke that delivers consistency. One of the most important elements to get right is the connection between your arms and body.
As your upper body rocks back and though, your arms need to be linked to that movement. Get it right and the path of your stroke will have the consistency it needs to convert short putts time and again. A great drill is to put two gloves or empty ball sleeves (as I am using here) under your arms.
Do not squeeze your arms, your normal set up should hold them in place. Swing the putter back and through, keeping the sleeves in place. If you can avoid the chicken wing shown here, you'll keep the putter working on a great path.
Pace drill
When it comes to putting, there is an important balance you need to strike. You need to hit the ball hard enough so that it rolls strongly towards the hole without being knocked off line by any imperfections on the green but not too hard as to make the effective size of the hole smaller.
A great drill designed to help you develop the right pace is to place your wedge in front of the hole as shown here.
Get the pace right and the ball pops up, dropping into the centre of the hole. Too soft and it won't get there, too hard and it will jump the hole.
Hand action
Perhaps the biggest fault I see among amateurs is too much wrist action. To putt well from short range, especially under pressure, you need to rely in the bigger muscles to control the stroke.
If your hands are too active, you'll lose the pace and path of your stroke. Place a ball between your wrists at address and make a series of practice strokes.
If your wrists are too flicky either in the backswing or the through swing the ball will drop down.
Aim check
Aiming correctly is harder than it might seem. Players can sometimes set up open or closed for years without knowing.
If you want to develop a consistent stroke, you need proper alignment – both with the club head and your body. Start by drawing a line on your ball.
Find a straight putt and line this up with the centre of the hole. Now get a couple of club shafts or sticks to check your body alignment. Take your normal address position to check whether you are perfectly square.
This is one of those keys that every player, professional or amateur, needs to check from time-to-time as minor mistakes here can lead to consistently missed putts.
Shot on location at Oceanico Amendoeira, Portugal by Mark Newcombe
Tom Clarke joined Golf Monthly as a sub editor in 2009 being promoted to content editor in 2012 and then senior content editor in 2014, before becoming Sports Digital Editor for the Sport Vertical within Future in 2022. Tom currently looks after all the digital products that Golf Monthly produce including Strategy and Content Planning for the website and social media - Tom also assists the Cycling, Football, Rugby and Marine titles at Future. Tom plays off 16 and lists Augusta National (name drop), Old Head and Le Touessrok as the favourite courses he has played. Tom is an avid viewer of all golf content with a particularly in depth knowledge of the pro tour.