Danny Willett swing sequence
European Tour player Danny Willett talks to Golf Monthly about his iron play and discusses how he prepares before the big tournaments.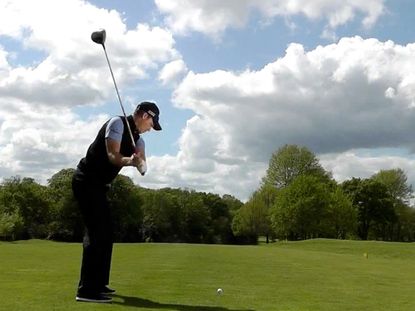 Watch this European Tour player Danny Willett swing sequence video and read about his iron play and how he prepares before the big tournaments.
Take a look at this Danny Willett swing sequence to see how he shoots the perfect drive. Read below to find out about Willett's iron play.
Everybody talks about the distances you hit the ball off the tee, but tell us why you like your Callaway irons…
Each year Callaway brings new gear out. At the moment I have the Callaway Apex irons in my bag, with a little more cavity in them than what people would think a Tour player would have. But they are very forgiving.
How often do you change your irons?
Well I change different clubs more often than others, from time to time. You'll keep the set for the year, but I will probably change my 9-iron, 7-iron and clubs like that a bit more often.
You warm up with certain clubs, and I may hit bunker shots more with my 9-iron and practice shots more with my 7-iron, so they will need changing more often.
And how about changing models?
I will always try new models when they come out and you then give your feedback. But I will try to have a new set in every season.
And how do you have your irons set up?
My irons are a quarter of an inch longer than standard, one-degree upright with X100 super light shafts. They are relatively stiff shafts, but light shafts at the same time.
I don't really like to feel any kick or torque in there if I am being honest, so as stiff as they can be, like a broomhandle!
And what about grips? Players are very picky about how they have their grips put on…
I have to put my own grips on! Square to a fraction open. I can't have anyone else putting my grips on.
Do you ever think, 'you know what, I'm just having a grip it left day, or a grip it right day'…
My grips are ribbed, which is even more important. I will have one layer of tape under the whole grip, and half a layer under my right hand as well.
Is there a specific swing thought you have or do they fluctuate?
It varies massively. If I am trying to hit a fade I will make sure I aim aiming left and try and get my arms down. It is all very simple.
What are you targeting this year?
In all fairness the target is to keep the body OK. It's about keeping fit, keeping the consistency going.
How is your game? Heading in the right direction as we come into a very important part of the year?
I feel like I have played nicely, but you also don't feel like you have got into a good run of events yet.
Finally, best moment in pro golf?
The win in Germany was pretty good [in 2012]. Plus I got a hole-in-one [at the Volvo China Open] on the European Tour at the end of April. I haven't had one of them for a few years.
Tom Clarke joined Golf Monthly as a sub editor in 2009 being promoted to content editor in 2012 and then senior content editor in 2014, before becoming Sports Digital Editor for the Sport Vertical within Future in 2022. Tom currently looks after all the digital products that Golf Monthly produce including Strategy and Content Planning for the website and social media - Tom also assists the Cycling, Football, Rugby and Marine titles at Future. Tom plays off 16 and lists Augusta National (name drop), Old Head and Le Touessrok as the favourite courses he has played. Tom is an avid viewer of all golf content with a particularly in depth knowledge of the pro tour.