Odyssey Putter Fittings: 6 and 13 Handicap Readers
Two readers go for in-depth Odyssey putter fittings in search of the perfect putters for their strokes and report back on their experiences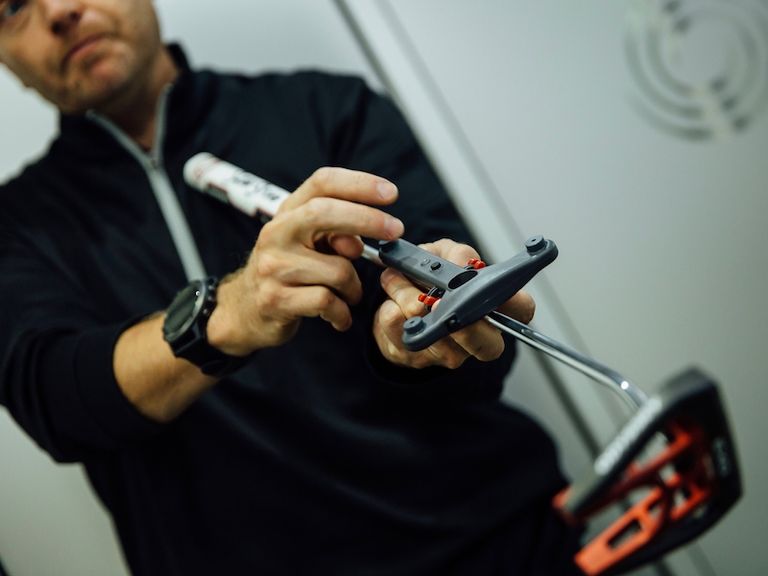 Two readers go for in-depth Odyssey putter fittings in search of the perfect putters for their strokes and report back on their experiences
Odyssey Putter Fittings: 6 and 13 handicap readers
Custom-fitting is almost taken for granted these days, with most golfers eager to take advantage of perfectly tailored clubs. But putters? Surely you just spot one you fancy, have a few putts on the pro shop carpet, snap it up and pop it in your bag. Right?
Wrong! Putter fitting has become as technically complex as full-swing fitting, for although the putting stroke might appear less complex, the margins for error are much finer. When we took two readers, who had both chosen their previous putters off the shelf, along for Odyssey putter fittings at the company's Chessington HQ, their eyes were opened to the technology and science behind a modern-day putter fitting.
Custom-fit supervisor, Mike Clark, stressed that a putter's face angle only has to be 1˚ out from eight feet for the putt to most likely miss.
Readers Cameron Roy and Mark Reddaway then entered the high-tech world of the SAM PuttLab to discover how a whole host of factors – from face aim, face angle at impact and putter path, to impact, launch, spin and face rotation – would help Mike pinpoint the ideal putters for their strokes from Odyssey's vast range of EXO, O-Works, Red Ball, Toulon Design and EXO 2-Ball models.
Here's how they got on…
Mark Reddaway Handicap: 6 Club: Silvermere GC Fitted for: Odyssey EXO Seven 33in
Fitter analysis Mark struck his putts from the middle but struggled to aim consistently. His stroke was more suited to a face-balanced design than the slight toe-hang of his current blade. We tried a couple of mallets, which felt and sounded a little firm to Mark, before hitting on a 33in EXO Seven with a White Hot insert.
Mark liked the feel, and its detailed alignment technology promoted more consistent alignment. We decreased the loft from three to two degrees to counter Mark's slight tendency to add loft at impact.
Mark's key stats Putter path Before: 2.3˚ right After: 1.3˚ right
Launch at impact Before: 2.5˚ up After: 3.9˚ up
Mark's custom-fitting and on-course feedback My putting problems have been mainly alignment-based, especially on shorter putts, with some speed control issues from longer range. Switching to a 33in shaft was a surprise, but as soon as I had a shorter putter in my hands it felt much more comfortable.
The White Hot insert felt just right and the improvements in my alignment were very pleasing. I couldn't have wished for a better start when it arrived either, taking 28 putts en route to a two-over par 72 and 40 Stableford points first time out - my lowest ever competitive round. I never gave myself a hard second putt and there were no three-putts either.
Overall, I'm extremely happy and knowing it's fitted for me gives me a huge amount of confidence.
Cameron Roy Handicap: 13 Club: Nene Park GC Fitted for: Odyssey O-Works Tank Versa #7 38in
Fitter analysis Cameron's existing blade had nearly 6.5˚ of loft, so he was launching the ball too high, creating excess backspin. His aim tendency was too far right, and he was missing the centre of the face by some margin, causing ball speed to drop off significantly.
A 38in putter (Cameron is very tall!) with 3˚ of loft brought instant improvements, with his relatively straight-back-and-through stroke suiting the high-MOI O-Works Tank Versa #7. He decelerates a touch through impact and its heavier head and shaft stabilised his stroke. His aim improved dramatically too.
Cameron's key stats Face aim Before: 1.3˚ open After: 0.2˚ open
Impact spot Before: 4.9mm towards toe After: 2.5mm towards toe
Cameron's custom-fitting and on-course feedback My putting has been woeful, costing me five or more shots a round. I'm very tall and had sensed my standard-length blade wasn't quite right, but I had no idea loft was so important. With too much loft I was losing distance and making the ball bounce erratically. It was a real eye-opener to discover I was consistently striking it from the toe too.
The longer and heavier mallet Mike has fitted me for has proved very easy to align and given me complete confidence at set-up, with the heavier head making it feel more stable and balanced. In my first three rounds with it, my putting has been excellent.
Jeremy Ellwood has worked in the golf industry since 1993 and for Golf Monthly since 2002 when he started out as equipment editor. He is now a freelance journalist writing mainly for Golf Monthly across the whole spectrum from courses and Rules to equipment and even instruction despite his own somewhat iffy swing (he knows how to do it, but just can't do it himself). He also edits The Golf Club Secretary Newsletter, has authored or co-authored three books and written for a number of national papers including The Telegraph and The Independent. He is a senior panelist for Golf Monthly's Top 100 UK & Ireland Course Rankings and has played all of the Top 100 plus 89 of the Next 100. He has played well over 900 courses worldwide in 35 countries, but put him on a links course anywhere and he will be blissfully content. On his first trip to Abu Dhabi a decade ago he foolishly asked Paul Casey what sort of a record he had around the course there. "Well, I've won it twice if that's what you mean!" came the reply...