Mizuno #YourGame2016: 15-handicap Dan Barlow's progress updates…
15-handicapper Dan Barlow reports on his progress following a full custom-fitting at Mizuno's Celtic Manor Performance Centre for our #YourGame2016 project...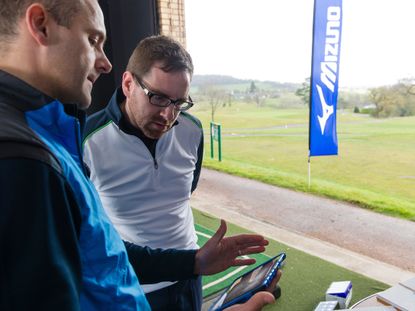 (Image credit: Tom Miles)
15-handicapper Dan Barlow reports on his progress following a full custom-fitting at Mizuno's Celtic Manor Performance Centre for our #YourGame2016 project...
Dan Barlow
Handicap: 15
Home Club: Mellor and Townscliffe
Mizuno #YourGame2016 goal: To make it down to single figures.
Monday 27th June 2016: progress update… the start of something?
I have to be honest and let you know that I have become a little bit obsessed with protecting my new Mizuno clubs. Usually my clubs live in the garage and get cleaned on the course when it rains! I enjoy these clubs so much that they are now living under the stairs. I have had to undertake a military reorganisation of this space to fit them in without disturbing the hoover and ironing board equilibrium.
I have also, to my shame and a little bit of ribbing, purchased a set of iron protectors as I noticed a little nick in my MP5 wedge! These clubs are great. One quiet evening I hit three balls to one of the par 3s and the balls ended up on the green within a putter length of each other.
The balls I usually use are a mix of finds, random gifts (a 'friend' got me two dozen balls with "You have been hit by Dan Barlow" stamped on them!), or twos comp prizes. The first one that comes out of the bag is in play until it goes flying into the trees OOB (usually down the left on the 6th at Mellor and Townscliffe).
Now however a shiny new Mizuno MP X ball is produced. My favourite so far is a number 7 which lasted nearly three competitions and three sets of nine holes (still shiny). It is unheard of that a ball lasts 18 holes without being lost by one of my wild drives! This number 7, however, was not lost in the trees, but retired after a full 8-iron hole out for Eagle on our par-5 16th.
The most noticeable improvement has been being pin-high with iron shots and having the luxury of a few makable birdie putts per round. These are great and with a few tweaks to my putting will really help my scores. I have managed a run of six pars in a row which was great for me. I'm actually showing some consistency!
The driving is still a bit erratic and I managed to NR again after firing four balls in a row OOB (in the same place) off our 12th tee. Strangely however, I am gaining some confidence with my Mizuno JPX Driver and it is behaving, on the whole, with a nice little fade.
My enthusiasm levels for the challenge of getting down to 9 this season are still high. I am getting down to the driving range for an hour a week and playing most weekends. If I can get some more practice in, especially on my short game, then 9 really could be achievable following my disappointing 18 to 14 in four years.
My handicap has come down by 1.4 to 13.3 in the last four comps following scores of net 76, 68, 66 and the one blip of an NR. If this could continue - and I appreciate it will get harder - then my handicap at the end of each month will be... July 12.9, August 11.5, September 10.1 and October 8.7!!
Handicap from 14.7 to 13.3
Monday 30th May 2016: progress update… settling in to the new equipment
What a whirlwind! In the six weeks that I have had my new shiny Mizuno clubs I have been working hard to groove my swing and get some feel back out on the golf course ready for the forthcoming season.
I build up brownie points over the winter by not golfing so I can spend some of the long spring and summer evenings playing golf. It usually takes until mid-May to feel comfortable on the course after the winter break, even if I am hitting it well on the range.
The videos from our fitting day with Mizuno and Golf Monthly at Celtic Manor, as well as the article in Golf Monthly have also come out, which has been interesting with lots on comments and congratulations. I have even been asked to sign a copy of the magazine!
One thing that has struck me with all the inclement weather, especially in April is how good the Mizuno clothing range is. I have the usual mismatch of gear and can rarely get to be the right temperature taking jackets on and off during a round. The best compliment I can give to the Mizuno range of clothing is I have not noticed it! There is no feeling of restriction, no feeling too hot or too cold. It has been just right.
I have been practising a couple of hours a week, playing in the Saturday competitions and getting nine holes in midweek. The focus has been on my short game, and the MP-T5 wedges are fantastic. Even a couple of scratch golfers have commented on the amount of spin and control I seem to have around the greens.
The MP-5 and MP-25 irons are lovely to hit still and have that stable feeling that the custom fitting gave me, so I feel I can hit flat-out, high-floating, low punch, draw and fade shots without the fear of big misses.
The JPX driver and 3-wood are performing fantastically on the range, but I am still freezing and thinking too much over tee shots on the course. This is leading to me double-crossing myself on some tee shots and hitting a couple of big misses leading to some big numbers.
As usual my handicap has slowly increased over the first few competitions of the year at Mellor and Townscliffe. Some net 78s as well as 29 and 30 points in Stableford competitions have seen to that. However I have had a couple of top ten finishes at the end of May with 32 points and 35 points on a couple of windy days, so confidence and comfort levels are increasing. Roll on June.
Handicap from 14.4 to 14.8
Wednesday 26th April 2016: full custom-fitting session at Celtic Manor…
Fitted for
Driver: Mizuno JPX EZ 9.5˚ draw, Speeder stiff
3-wood: Mizuno JPX EZ 15˚, Speeder stiff
Irons 3-6: Mizuno MP-25, KBS Tour stiff
Irons 7-PW: Mizuno MP-5, KBS Tour stiff
Wedges: Mizuno MP-T5 WS 51˚/8˚ and 56˚/10˚, KBS Tour stiff
Standard length, 1˚ upright
Fitter analysis Dan liked the MP-5s, but in the end we added a little more long-iron help with MP-25s from 3- to 6-iron He tends to get a bit ahead of it, with a shallow attack angle and a heely, spinny strike. The shafts on his charity shop MP-32s weren't right – ball flight was too high and spinny. Finding the right shaft via the Swing DNA reduced spin and tightened dispersion. The JPX EZ driver proved more stable with less torque, straightening Dan's drives up dramatically.
Dan's feedback My first custom-fitting was fascinating. My MP-32s didn't suit me apparently, but I was amazed how much difference various shafts made. I've always looked to get it out there as far as possible off the tee, but the JPX EZ gave me a straighter, more penetrating flight and better performance on mishits, without costing me distance.
Jeremy Ellwood has worked in the golf industry since 1993 and for Golf Monthly since 2002 when he started out as equipment editor. He is now a freelance journalist writing mainly for Golf Monthly across the whole spectrum from courses and Rules to equipment and instruction. He also edits The Golf Club Secretary Newsletter, a highly regarded trade publication for golf club secretaries and managers, and has authored or co-authored three books and written for a number of national papers including The Telegraph and The Independent. He is a senior panelist for Golf Monthly's Top 100 UK & Ireland Course Rankings and has played all of the Top 100 plus 91 of the Next 100, making him well-qualified when it comes to assessing and comparing our premier golf courses. He has now played well over 950 golf courses worldwide in 35 countries, right across the spectrum from the humblest of nine-holers in the Scottish Highlands to the very grandest of international golf resorts, but put him on a links course anywhere and he will be blissfully content.
Jezz can be contacted via Twitter - @JezzEllwoodGolf
Jeremy is currently playing...
Driver: Ping G425 LST 10.5˚ (draw setting), Mitsubishi Tensei AV Orange 55 S shaft
3 wood: Ping G425 Max 15˚ (set to flat +1), Mitsubishi Tensei AV Orange 65 S shaft
Hybrid: Ping G425 17˚, Mitsubishi Tensei CK Pro Orange 80 S shaft
Irons 3-PW: Ping i525, True Temper Dynamic Gold 105 R300 shafts
Wedges: Ping Glide 4.0 50˚ and 54˚, 12˚ bounce, True Temper Dynamic Gold 105 R300 shafts
Putter: Ping Fetch 2021 model, 33in shaft (set flat 2)
Ball: Varies but mostly now TaylorMade Tour Response