Control The Clubface To Stop Slicing Drives
In this short video, Clive Tucker explains how a clothes hanger can help you control the clubface and stop slicing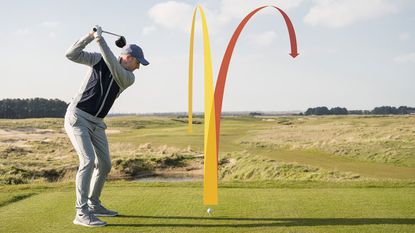 Slicing saps distance and confidence, so in this video, PGA pro Clive Tucker explains how a clothes hanger can help you control the clubface and straighten up your shot shape.
If you struggle with losing the ball to the right, you need to think about how to control the clubface to stop slicing drives.
One of the tell-tale signs among players is when the clubface opens at the top of the backswing – you can see if this is you as the toe of the club will be pointing straight at the ground.
This position makes it harder to return the club square and therefore makes it more likely you'll swing 'over the top' and cut across the ball, the result being that weak slice that sacrifices both distance and accuracy.
So, if you want to fix your slice, you need to find a way to get control of the clubface.
And like anything in golf, that starts with the basics. It's vital you keep on top of things like your grip, alignment and posture if you are to have any chance of getting this shot out of your game.
But, presuming you've got all that covered, a great and easy drill to help you create a better feeling involves making some swings while holding a clothes hanger.
Hold the hanger within your normal grip as per the video, making sure it is in contact with the inside of your left forearm as you settle into your normal address position. Don't alter your grip to allow for the hanger.
Now make a normal backswing and stop at the top. If your wrists have cupped, which causes the face to open, the hanger will have come away from the inside of your left forearm.
To solve the issue, simply try to retain the contact between the hanger and your inside left forearm. If done correctly, the back of your left wrist will be in a nice flat position at the top.
Repeat the swing as often as you can – in fact this is a great drill you can do at home. The more you repeat it the more you are likely to control the clubface to stop slicing drives.
Once you return to hitting balls for real, make some slow swings with a 9-iron or wedge to start with. Concentrate on rotating your body to help get the club in a good position at the top and when you feel happy that you're succeeding, move up through the bag. If you can retain this feeling during the swing itself you should see stronger ball flights and straighter golf shots.
Location: Mannings Heath
Clive spent ten years as a playing professional before making the move into elite coaching. He's worked with a number of Tour professionals, and one of his great strengths is being able to tailor his instruction for each student no matter what their level.
Teaching philosophy:
Make changes and growth pertinent, measurable, simple and enjoyable. Give students the skills to develop and manage their game as well as possible. Ultimately, help them to become independent.
Significant influences:
I was taught by some very gifted coaches whilst playing on Tour, and have watched teachers with all kinds of philosophies whilst I've been coaching for the last 20 years. All have had such a positive effect. George Robb had a very keen eye; David Leadbetter was extremely diligent; Denis Pugh, generous and encouraging; Mac O`Grady was a fountain of knowledge, and Pete Cowen an inspiration. Michael Dalgleish was also a world class physio.
Greatest success story:
Working with Graeme McDowell and David Howell have been particular highlights. During my time working with them, they rose from roughly 150th in the world to 4th and 9th, respectively, and competed in six Ryder Cups between them.