Martin Kaymer: Ready to defend
The German won the US Open title at Pinehurst last year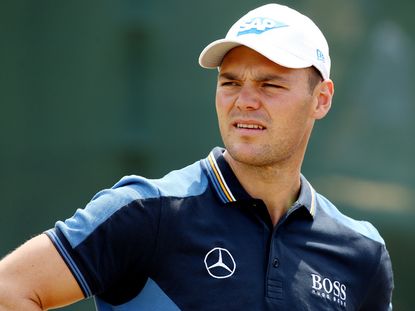 Martin Kaymer could have a lot to look forward to this year after suffering disappointment in the Masters, as Robin Barwick reports.
Sometimes, when things are not going your way, the only thing for it is gardening. Millions of people around the world find solace in gardening, and Martin Kaymer is among them.
The reigning US Open champion suffered another torrid trip to the Masters in April. Kaymer geared his early-season schedule around what he hoped would be ideal preparation for the first major of the year, and for a tournament in which the former world number one is yet to shine.
He has won two major titles, yet Kaymer has never finished inside the top-30 of the Masters. Scores of 76-75 this time scratched the German golfer's weekend plans and left an exhausted and deflated golfer with one destination in mind: home.
"I thought I would be ready, but I practiced too much, too hard, too long," a demoralised Kaymer told Golf Monthly at Augusta. "I wanted it too much, and sometimes you can be your own worst enemy. I just need rest and I don't know if I will even play golf over the next two weeks."
And he didn't. Kaymer, 30, landed in Dusseldorf, Germany on the Monday morning and picking up a golf club was furthest from his mind.
"I did not play golf for about 12 days," says the golfer who was born in Mettmann, outside Dusseldorf in Germany's west, where he still lives.
"I helped my grandma in her back yard, mowing the lawn and trimming the hedges. It was lovely, with the smell of freshly cut grass. We also trimmed back some of her trees in time for spring. She lives just five minutes away, and every time I am home she calls me and says, 'Well, as you are at home, you'd may as well come and help.' Sometimes that is just what you need.
"When I landed in Germany on the Monday I could feel it was where I wanted to be. Even though I was tired I gained a lot of energy from being home again.
"It was so nice to be there and know that I did not have to practice for the next week. I spent some time with my cousin's kids, saw some friends and went to the cinema. It was brilliant, very refreshing."
Tiger Woods talked about working from "sun up to sun down" in preparation for the 2015 Masters, and he was not the only one. But there is a fine line between training, practicing and playing to find peak form, and overdoing it. It is about finding the optimum, not the maximum, but that optimum can be elusive.
"I have always been one of those people who would rather do a little bit more, than do a little bit less," reflects Kaymer. "The truth is that it is not always necessary to do more work.
"When you are playing well you feel you need to keep up the work to keep the form going, but if you don't play well there can be the inclination to practice even harder to get the good form back.
"It can be a vicious circle and hard to get out of, and I have been in that circle for the past four of five months. There comes a point where you just can't push any more."
Kaymer's Masters malaise could not be further from the comfort he found 12 months ago, in storming to victory in the Players Championship at Sawgrass, before heading to Pinehurst, amid the sandhills of North Carolina, where he set a US Open scoring record for 36 holes with scores of 65-65 in the first two rounds.
Like at the Players, he completed a stunning wire-to-wire triumph, this time by a winning margin that was hard to fathom: eight shots. The US Open is simply not designed for that kind of scoring.
"I knew I was playing well at Pinehurst," admits Kaymer, "but I did not expect to lead the US Open by six shots after two rounds. It would have seemed too far- fetched beforehand.
"I putted really well at Pinehurst. Within 10 to 15 feet I did not miss many putts and that was really the key. I hit a lot of greens too, and when I missed the green I always had a very good chance for the up-and-down, but overall those putts kept my momentum going.
"My putting saved a lot of pars, I holed the odd birdie chance and the result was a good score."
Sounds a bit like Jordan Spieth at the Masters doesn't it? Spieth also shot 130 for the first 36 holes—64, 66—to set a new Masters record for rounds one and two.
"It was similar because Jordan did not hold back," agrees Kaymer. "He got into the lead and kept going, and he did not play defensive golf. Even with a big lead he kept going for the par-five greens in two, and then his putting was brilliant. It was impressive how Jordan kept going until the end."
Kaymer says this week's US Open venue, Chambers Bay, reminds him of Whistling Straits, the Wisconsin course that will receive its third PGA Championship in August. Kaymer won the last PGA Championship at Whistling Straits in 2010 – outlasting Bubba Watson in a playoff - so this week's challenge setting up well in his mind's eye.
If that gardening leave has had its desired affect, Kaymer could have a lot to look forward to.
Martin Kaymer is an ambassador for Mercedes-Benz, and Mercedes-Benz is Global Sponsor of the Masters and Patron of The Open and the PGA Championship
Will Medlock graduated from UEA with a degree in Film and Television before completing a Masters in Sports Journalism at St Mary's in London. Will has had work published by The Independent and the Rugby Paper.