A Major loss
GM's editor at large feels pity for the man who once lit up leaderboards on Sunday afternoons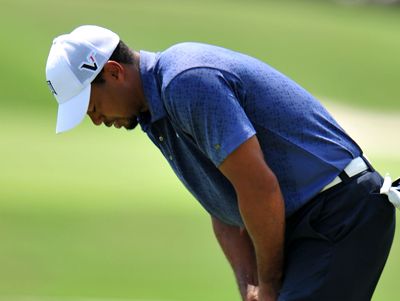 So there we are then, 18 holes to go in Atlanta and we have a leaderboard like no other Major has been able to boast this season. Just look at it - up top and tied for the lead we have B.Steele and J.Dufner. Tucked in behind is K.Bradley.
Never mind who are they, how about where am I? Neverland? Dreamland? Poundland?
Well, anyway, good luck to them whoever they might be. There is still a chance that an Adam 'Stevie Williams' Scott, a Luke Donald or a Lee Westwood will come bounding through but I wouldn't bet on it. Maybe even Anders Hansen, bless him.
It really is a funny, old game and the USPGA always has been towards the centre of being the funniest even if, often, nobody is laughing very much. It is a matter of historical record and some arbitary judgement as to why this particular week was annointed elite status when it came to deciding who the better players on the planet are.
For me it always has been the runt of the litter and right now it feels more runtish than ever.
In recent times the PGA has glittered a bit more then usual but this has mostly been because T.Woods took it seriously back in the days when he was focused on winning more Majors than J.Nicklaus. Right now, however, Tiger is focused on just trying to claw back at least 50 per cent of the golf game he used to embrace with casual delight.
I will be watching the end-game tonight (if only to giggle at Monty's continuing battle with the English language and his own haphazard thought processes) but a part of me will be lamenting what used to be.
Let me explain...I never thought I would ever feel sorry for Woods. I expected to feel admiration and irriation in almost equal measure but not pity.
And yet pity is exactly what I feel right now for a man brought so low so swiftly by self-inflicted damage. His was a brain programmed to succeed, what he wasn't programmed to do was to deal with any sort of lasting failure.
Now there will be those who are presently taking some sort of pleasure out of Tiger's present decline, those who feel this to be some sort of divine punshment for his lack of moral compass.
Well, count me out of this lot. Golf was a lot more interesting when Woods was in his pomp. He was, arguably, the very best of all time but what is without debate is that he brought excitement and drama to many Majors over the last 14 years, that his presence at the sharp end of the sharpest weeks added lustre to the cluster.
No-one, not Rory, not Matteo, not Ryo, will ever replace him. Not really. Tiger may yet win a few more Majors but he will never again light up the sky as before. That is the relevance of this USPGA. It is no longer about who will win but more about what we as golf fans have lost.
Bill has been part of the Golf Monthly woodwork for many years. A very respected Golf Journalist he has attended over 40 Open Championships. Bill was the Observer's golf correspondent. He spent 26 years as a sports writer for Express Newspapers and is a former Magazine Sportswriter of the Year. After 40 years on 'Fleet Street' starting with the Daily Express and finishing on The Observer and Guardian in 2010. Now semi-retired but still Editor at Large of Golf Monthly Magazine and regular broadcaster for BBC and Sky. Author of several golf-related books and a former chairman of the Association of Golf Writers. Experienced after dinner speaker.