Is This The Ultimate Winter Sun Getaway For UK Golfers? South Africa, Western Cape Review
Monty McPhee travels to the Western Cape in South Africa to play the spectacular Arabella, Clovelly, Erinvale and Pearl Valley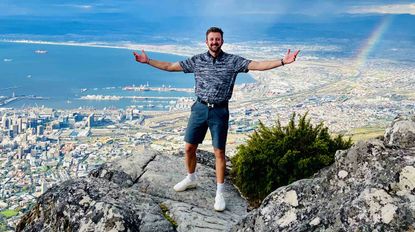 (Image credit: Monty McPhee)
It was a miserable winter's day in the UK when I received the offer to travel to Cape Town, South Africa to play some golf. Was this really happening? Yes. There it was in black and white - the chance to play golf somewhere quite incredible.
Due to some surgery, it had been a while since I had last picked up a golf club, so I made it my mission to make sure I could swing well by the time the trip came around; and I also gave the old golf travel bag a good dusting off.
This golf getaway consisted of playing four golf courses – four top-quality courses at that: Clovelly, Erinvale, Arabella and Pearl Valley. After 12 hours on the big bird, I touched down in Cape Town and was met by the tour guides, who whisked me away and began showing me the sights - of which there were many.
Image 1 of 10
On our way down to Cape Point, we passed through Muizenberg, Fish Hoek Bay, Kale Bay and False Bay. On the return, we stopped off at Boulder Beach, a very popular destination as it offers you the chance to get up close to the African Penguin - definitely something you have to do. I would highly recommend a tour guide. In fact, I would recommend Brian Talbot, a thoroughly nice guy and someone who is extremely knowledgeable and passionate about the country.
My accommodation for the first two nights was Table Bay Hotel, where you can choose from Sea View or Table Mountain View rooms, the latter of which, unsurprisingly, sell out rather quickly. The 5-star establishment also boasts access to the city mall, a gym, spa and pool and, most importantly, an all you can eat breakfast. I must say, this was well needed.
Clovelly Country Club
The first course on the agenda was Clovelly, which sits in the Silvermine Valley between Fish Hoek and Kalk Bay. Driving in you get a fantastic view looking over the practice facilities, and the clubhouse sits above the course, which offers up more stunning views. What a place to sit and watch golfers teeing off.
If you're feeling brave, you can definitely take on the corner with a driver at the short par-4 1st; I hit a low, stinging 2-iron with a slight fade that got around the corner to leave me a short iron in. Clovelly rewards accuracy off the tee with tight, bent grass fairways. This type of grass gives the fairway a bit of bounce, which adds to the difficulty of hitting your approach. In other words, it was very easy to get the club caught and catch it heavy.
The greens use Poa annua grass and they received approach shots like you see on Tour. If you want to feel like you are playing on professional greens, this is the course to play. Nothing beats watching your golf ball rip back towards the hole as you fire a shot in just over the top of the flag. The greens rolled fast and true, too - every golfer's dream.
One of my personal highlights of Clovelly was the halfway house. Here, they really do it properly. I tucked into a beef and red wine pie with gravy. Honestly, it was the best pie I've ever eaten. Hands down.
Erinvale Country & Golf Estate
The third day required an early rise as we were to head to the Gary Player-designed Erinvale, which is located 30 minutes from Cape Town on the boarder of Somerset West. I'd soon discover why it has hosted some top golfing events, such as the Golf World Cup in 1996, which was won by Ernie Els and Wayne Westner.
Erinvale was in immaculate condition with neatly cut Kikuyu grass fairways. The greens are a combination of bent and pop grass, and it was like putting on glass. The first nine is flat and meanders its way through the Erinvale estate, where accuracy off the tee was key. The back nine takes you up to the foothills of Helderberg, where you can look out across False Bay coastline. Simply gorgeous.
This was by far the most well groomed course I have ever played. If you want to experience playing golf in conditions that the professionals play on, this is another one of those.
Arabella Country Estate
Arabella is situated in Hermanus, 90 minutes from Cape Town. On arrival, you walk into a huge open plan reception, the glass from floor to ceiling allowing you to look out over the golf course and the river that it neighbors - Bot River Lagoon.
I was asked to leave my clubs at the door and they would be taken down to the short game area. This left me time to wander the vast halls of the hotel and clubhouse, before heading to the short game area, where I had a few putts on the bent grass greens. After acknowledging that they meant business, I went to the chipping green and holed two chip shots back-to-back - a good place to leave it and head to the 1st tee.
Arabella is ranked the 4th best golf course in South Africa and the best in the Western Cape. You can see why. The layout keeps you thinking. Holes 8, 9, 17 and 18 bring Bot River lagoon into play, so I would definitely make sure you have plenty of golf balls. The 7th is a par 3 which borders a nature reserve. Here, I ripped a 7-iron with a slight draw - close to a hole in one but, alas, it did not drop.
The 18th hole has been voted the best finishing hole in South Africa. The long, snaking par 4 neighbors the estuary's shoreline meaning a slice off the tee here will result in a reload. It's a truly a gorgeous finishing hole that plays back towards the hotel. I hit a driver off the tee, followed by a flush 3-wood to reach the green in two. Between the fairway and the lagoon is a bunker that winds itself all the way up the hole, so if you're lucky your ball may get caught in there before reaching the water.
I was fortunate that my accommodation for the night was the Arabella hotel. Once I finished my round, it was just a short walk back to the hotel where I dropped my clubs off in my room and went straight to the spa. There really is no better way to forget all the bad shots than relaxing in a sauna or chilling in a plunge pool.
Pearl Valley Golf Club
On the last day I got to play Pearl Valley, a Jack Nicklaus signature golf course - my number one of the trip. The design is intriguing and keeps you thinking with traps constantly lurking in your ideal landing spots - sand and water. South Africa loves a water hazard, as does Jack.
The clubhouse is magnificent and the service we received was first class. The staff and organisation at Pearl Valley are excellent - they keep to a tight schedule using walkie talkies to communicate so they know exactly where each group is at any one time. Very efficient.
The day started off a little overcast but as the minutes passed, and a few holes went by, the sun burned the clouds away and we were left surrounded by the most spectacular scenery. South Africa's Top 100 Golf Courses ranked Pearl Valley as the third best in the country for 2023. That's how good it is.
As you approach hole 7, the buggy pops up with a warning: "You are now entering the toughest stretch of the course, good luck!" That's just what I wanted to hear having already lost a handful of Pro V1s in the drink.
Holes 7 and 8 share what I can only describe as an ocean. If you can find the fairways off these tees, you have produced excellent golf shots. On the latter, the next battle is making sure you can carry the water which runs right across the front of the green. There's no room for error.
Pearl Valley is an excellent challenge for every golfer, and once you finish your round you can browse the extensive range of merchandise available in the pro shop. I did, and my bank balance proves it.
All the courses that I played had one thing in common - fast greens. If South Africa is on your golf bucket list, then make sure your putting is up to scratch, because the greens will test you. No matter which courses you choose to play, Cape Town has a lot to offer golfers of all abilities. A golfing trip to South Africa will guarantee memories that you'll treasure for a lifetime - that's for sure.
Monty is an upcoming golf journalist having completed his Multimedia Journalism degree at Bournemouth University; where he was also apart of the University's well renowned golf team. He has had a passion for golf ever since he picked up a club at 12 years old and this love for the sport only grew stronger over time as his game developed and he pursued golf through different avenues. His game took him over to the United States on a golf scholarship and has had him travelling the UK to take part in competitions like the Nick Faldo series and general club scratch matches. Monty worked on 'The Open' radio team when it was hosted at Royal St George's getting to walk inside the ropes with some of the top players like Justin Thomas, Rory McIlroy and of course that year's winner - Collin Morikawa. Monty has been lucky enough to have three holes-in-one in his short golfing career and he looks to continue growing that number. Monty believes the ability to continue playing golf well lies in his dedication to keeping fit through his other passion, which is CrossFit.
What's in the bag:
Driver: Srixon Z 765
3 wood: Taylormade AreoBurner
2 iron: Srixon Z U65
Irons: Srixon Z765
Wedges: Titleist Vokey SM6 (50°,54°,58°)
Putter: Odyssey White Hot Nano 7