Etretat Golf Club Course Review
Boasting a breathtaking clifftop setting in Normandy, the delightful course at Etretat offers excellent holiday golf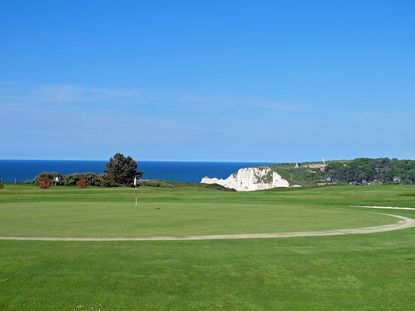 Contributing Editor Rob Smith reviews the beautiful clifftop course at Etretat
Etretat Golf Club Course Review
Because of the rigours of playing beautiful courses for Golf Monthly, it is sometimes a pleasure to go away with friends and play golf completely off-duty. So it was that I headed via the Eurotunnel in May to northern France to spend a few days in the delightful harbour town of Honfleur with a dozen friends from my home club, Tandridge. (opens in new tab)
Despite the petrol shortages and a sat-nav based on medieval trading routes, we found the charming clubhouse at Etretat Golf Club (opens in new tab) which looks out over the closing hole and the dramatic tee on the tough par-5 10th.
Weather Conditions
A bright, sunny late Spring afternoon but with a stiff breeze that cooled substantially in the late afternoon
FootJoy Outfit (opens in new tab)
Shoes: Hydrolite, Shirt: Smooth Pique, Mid Layer: Chill-out Pullover, Trousers: Performance, Glove: Sci-Flex Tour (opens in new tab)
Suitably fortified by omelette and fizzy drinks, we headed out onto the course which begins with a short uphill par-5 and a tree-shrouded par 3 before opening up onto more exciting terrain out along the cliffs. The 4th is your first chance to hit into the sea, though you would have to thin your approach pretty badly to reach the 250-feet high cliff-edge beyond the green.
There are several good holes before you reach the best on the front nine, the dogleg left 8th which has fine views to the cliffs beyond the town.
This is followed by a tricky short hole which, at over 180 yards and in any kind of a wind, belies its index of 18.
The back nine begins with a huge question mark over how much of the dogleg to take on. In retrospect, the answer is very little as most of us drove over the brow to find knee-high rough and worse still, white posts. Nonetheless, it is a hole full of character with more superb views back down to the town.
The 11th is an excellent but demanding par 3 played over a severe dip which for some of us called for driver.
The next three take you right along the cliff-tops; a par 5 followed by a tough par 3 and a short par 4. The middle of these, the 13th is the same length as the 11th but in the opposite direction - on the former I took a 5-wood, on the latter, a 7-iron.
Into the wind, the closing four holes are a very tough proposition with the final par 5 at 18 about 550 yards and playing roughly twice that.
Overall, Etretat (opens in new tab) is a very enjoyable course in a magnificent location. Dating back to 1908 but with many modifications over the years, it makes for an ideal stop-off en route to or from north-west France.
Rob Smith has been playing golf for more than 40 years and been a contributing editor for Golf Monthly for over ten years, specialising in course reviews and travel. He has now played more than 1,170 different courses in almost 50 countries. Despite lockdowns and travel restrictions in 2021, he still managed to play 80 different courses during the year, 43 of them for the first time. This included 21 in 13 days on a trip to East Lothian in October. One of Rob's primary roles is helping to prepare the Top 100 and Next 100 Courses of the UK&I, of which he has played all but nine. During the 2021-22 review period, Rob has played 34 of the Golf Monthly Top 200. He is a member of Tandridge Golf Club in Surrey where his handicap hovers around 16. You can contact him at r.smith896@btinternet.com.