Gallery: Tiger Woods among those at first Masters practice day
We round-up the action on the first practice day at Augusta National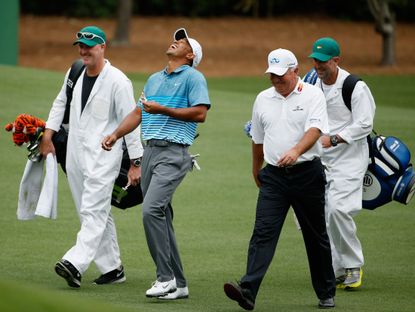 (Image credit: Getty Images)
We round-up the action fromthe first practice day at Augusta National
Tiger Woods greets his good friend Mark O'Meara on the practice range.
Tiger Woods shares a joke with Mark O'Meara during practice. They played the front nine together, before Woods played the 10th and 18th holes alone. Woods showed no signs of the "yips" which had inflicted his chipping at the Phoenix Open. "I felt good. It was nice to get out here," said Woods afterwards. "Chipping is fine. I wanted to test out some wedges out here. That was why I was chipping a little bit more. It came down to a couple of different bounce settings because it's different from Florida. We figured the right one out."
Tiger Woods signing autographs.
Ben Crenshaw with his caddie Carl Jackson . Jackson is caddying at his 53rd and final Masters. Jackson was 14 when he caddied in his first, in 1961. It will be Jackson's final Masters as Ben Crenshaw, whose Augusta caddie (opens in new tab) Jackson has been since 1976, has decided it will be his last Masters as a player. Jackson was on Crenshaw's bag for both his Masters wins (opens in new tab) - "everything I've achieved at the Masters I owe to Carl Jackson," Crenshaw has said.
"All seven of my brothers caddied at one time or another," Jackson explains. "We played a lot of golf. But until I was 18 I couldn't play anywhere in Augusta, not even on the public courses. So I played on playgrounds or fields instead."
In 1961, Jackson started caddying for future club chairman Jack Stephens, but President Dwight D Eisenhower, an Augusta National member, believed Jackson was too young to be working at Augusta. "This caused the club some problems," says Jackson. "They considered running me away but Mr Stephens stepped in and saw to it that I got a home education."
Rory McIlroy practising his bunker play.
English pair Lee Westwood and Danny Willett during their practice round. Do you think synchronised putting will become as popular as synchronised swimming?
Chris Kirk receives his club in unorthodox fashion while standing in a bunker.
Picture credits: Getty Images
Contributing Writer Golf courses and travel are Roderick's particular interests and he was contributing editor for the first few years of the Golf Monthly Travel Supplement. He writes travel articles and general features for the magazine, travel supplement and website. He also compiles the magazine's crossword. He is a member of Trevose Golf & Country Club and has played golf in around two dozen countries. Cricket is his other main sporting love. He is the author of five books, four of which are still in print: The Novel Life of PG Wodehouse; The Don: Beyond Boundaries; Wally Hammond: Gentleman & Player and England's Greatest Post-War All Rounder.