US Masters Top 10 moments
Bill Elliott takes us through his Top 10 US Masters moments after 29 years of covering golf's first Major of the year at Augusta National, Georgia.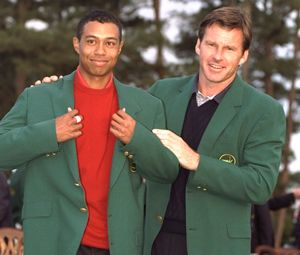 Here, in no particular order, are my top 10 moments, places and people that have influenced me during the 29 weeks of my life spent watching someone else win an unfashionably constructed green jacket:
1. Sitting on the first floor veranda of the clubhouse early on a Monday morning, ordering corned beef hash and watching the good and the irritatingly dodgy of the golf world gather on the lawns beneath. Sometimes finishing off with a Bloody Mary while absorbing the waiter's advice to have a nice day and to take it easy on the booze. Usually, I do. Have a nice day that is.
2. Standing on the same veranda in 1997 as Tiger Woods awkwardly stepped forward to receive his blazer after winning by 12 strokes. This was Tiger's first Major and for me, his most important, certainly his most relevant victory. On the one hand it cemented the view that he possessed an unnatural talent for the game and on the other he struck a huge blow for non-white people everywhere. As I watched that evening a posse of young black waiters jigged and high-fived each other down beneath where I stood. Somewhere a bloke called Barack Obama sat up straight and began to plan his own journey as suddenly a lot of previously unthinkable things began to seem possible.
3. Wandering down the 10th fairway in the early 1980's and coming across a well-known American golfer who had pushed his drive into the trees. Only a few of us observed his recovery and of these, perhaps I was the only one who spotted a moving ball offence as he swung at his ball. He failed to call a penalty on himself and so I was left wondering what to do. Was it any of my business really? Well, he ended that day just one shot off the lead and so I took advice from Tony Jacklin, who urged me to see how he finished, before opening up a very big can of worms. Fortunately, this guy slipped down the field, a collapse I put down to the bad karma I was flinging in his direction.
4. Sitting with Arnold Palmer on the veranda outside the clubs barber shop – yes, they have their own barbers – for an interview with the great man. I was told that he could spare me ten minutes max and that I should have my questions well prepared. Arnie emerged from the barber's – he always used to have his haircut at the same time each Tuesday afternoon – and greeted me in his usual friendly fashion even though we had never met properly before. I had questions arranged in careful order, but after the first half-hour I screwed them up and just enjoyed the moment as one of the most charismatic sportsmen I have ever interviewed chatted to me about his life, my life and everything in between. In the end, this ten-minute chat turned into a two-hour conversation complete with beers that Arnie had ordered from the clubhouse bar.
5. Walking 18 holes watching Sandy Lyle during his second round in 1988. This was the greatest display of Major golf I have ever seen anywhere, any time, by anyone. Right from the start Sandy was splitting fairways and zeroing in on flagsticks no matter how pernicious their placing. He was that day, as never before and never since, truly in the zone. Everything I have seen since has been second rate by comparison. If he had holed all the genuinely makeable putts available to him that day then Sandy would have broken 60. Everyone else remembers his 7-iron out of the bunker at the last on Sunday, but I recall all play on that golden Friday.
Bill has been part of the Golf Monthly woodwork for many years. A very respected Golf Journalist he has attended over 40 Open Championships. Bill was the Observer's golf correspondent. He spent 26 years as a sports writer for Express Newspapers and is a former Magazine Sportswriter of the Year. After 40 years on 'Fleet Street' starting with the Daily Express and finishing on The Observer and Guardian in 2010. Now semi-retired but still Editor at Large of Golf Monthly Magazine and regular broadcaster for BBC and Sky. Author of several golf-related books and a former chairman of the Association of Golf Writers. Experienced after dinner speaker.