Masters traditions: Skimming
Robin Barwick on one of Augusta's great traditions, skimming the ball across the 180-yard, par-3 16th hole during the practice rounds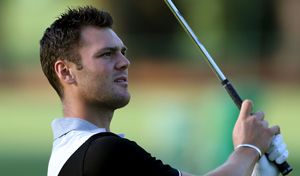 It is a tradition during practice rounds at the Masters that once golfers have teed off on the 180-yard, par-3 16th hole, they walk down to the water's edge in front of the tee, and attempt to skim a ball across the lake - a distance over water of around 100 yards - and onto the green.
Even on practice days a substantial crowd assembles around this iconic hole, and a lively atmosphere surrounds the golfers. Having struck their conventional tee shots, if golfers start to walk around the lake without attempting a skim, they soon hear boos reverberating across the water.
Skimming on the 16th is an appealing sideshow to Masters practice, particularly as the outcome of each attempt is so unpredictable. Tiger Woods, a man capable of pulling off the most exotic of trick shots, saw his skimming attempt sink well short of the green yesterday, while Germany's Martin Kaymer set off the first Augusta roar of the week when his attempt not only cleared the water, but rolled up the green and right into the hole.
Skimming on the 16th receives variable enthusiasm from the players. Argentine Angel Cabrera sent his half-hearted attempt plunging into the dark depths this morning before marching around the lake to continue his tournament preparations in a more solitary manner. Give him a blond mop of hair and it would have been the spitting image of Colin Montgomerie after a double bogey.
Sergio Garcia was happier to get into the spirit, asking the Masters patrons beside the 16th tee to count down "three-two-one" before successfully delivering his ball on the green.
Kevin Na, the American of Korean descent who is appearing in his third Masters, started to walk away from the unofficial chipping zone before his caddie Kenneth Harms diverted to the water's edge, planted Na's bag on the ground and insisted that Na relent to the rising calls of the patrons. "Let your caddie hit it," shouted one patron.
Na's first skimming attempt didn't quite reach dry land, and then he was about to try again when he decided he didn't like his ball and threw it into the lake. In a ''aurel and Hardy' moment, Harms mirrored his golfer's actions by chucking another ball into the lake. Eventually, on his third attempt, Na's ball skimmed across the water and onto the green, earning the morning's biggest ovation yet.
Article courtesy of Mercedes-Benz, International Partner of the Masters Tournament