Dustin Johnson keeping quiet at The Open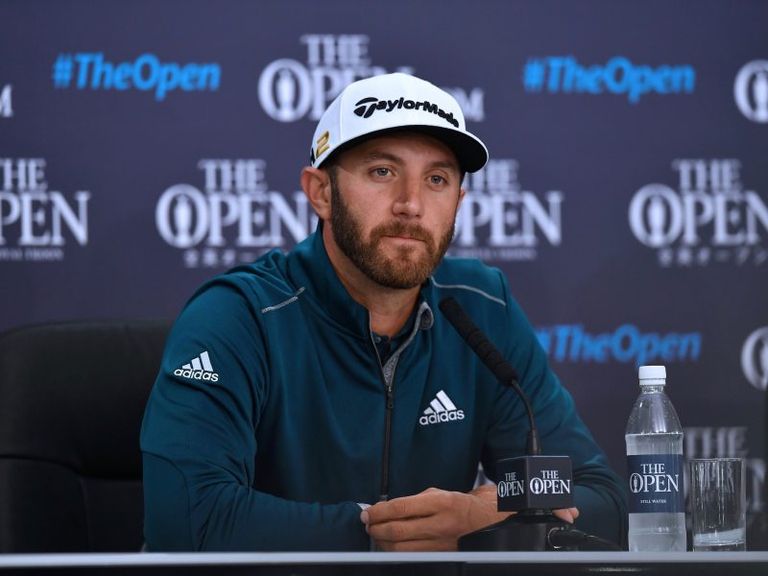 (Image credit: AFP/Getty Images)
Dustin Johnson is a man of long drives and short answers at The Open
Dustin Johnson keeping quiet at The Open
A new record may have been set at The Open today, for the most questions asked in a 15-minute press conference: 40 questions at a rate of 2.67 per minute. Dustin Johnson—U.S. Open champion, WGC Bridgestone Invitational champion and the world's in-form golfer coming into The Open—has a pretty good short game but he is master of the short answer. Some of his responses are so short they are not really answers at all. And that suits him fine.
Q: Now that you're a major winner, is the level of attention towards you difficult to manage? Have you had to change your mind-set?
DJ: "I haven't noticed."
Q: Is there a trait with American golfers that suits this course?
DJ: "I have no idea. I mean, I like the golf course. Obviously they do too."
Q: If you bring your best stuff do you think you will win?
DJ: "If I have my best stuff, I believe so."
Q: Is there a chance you might consider playing in the Scottish Open [next year]?
DJ: "Yeah, I'd consider it, for sure."
Q: Jason Day has talked about the stresses of being world number one. Do you think being world number one would be stressful to you?
DJ: "I don't know. I'll let you know when I get there."
Excuse me, can someone check Johnson's pulse?
He doesn't give much away, least of all a good line for a story, but perhaps this flat-lined personality is the key to Johnson's recent success on the golf course.
Q: Can you think of anything that has ever stressed you out?
DJ: "Yeah, but on the golf course, not really. It's a game and I love playing it. For me, coming down the stretch, I definitely feel it because I want to win and it means a lot to me. I do get nerves or stress or whatever you want to call it, but I like it. It's a good thing. If you don't get nervous then something is wrong. It's just something that you've got to figure out a way to deal with."
Johnson, 32, is the clearest illustration of a golfer who wants to let his clubs do his talking. And of course when he unleashes his driver on a golf ball everyone listens. Johnson is ranked second on the PGA Tour in driving distance—with an average of 312.5 yards he is 30cm behind J.B. Holmes—and Johnson's prodigious long game provides the foundation to his unparalleled success in recent weeks.
Not only has Johnson won his last two starts—the U.S. Open at Oakmont and the WGC Bridgestone Invitational at Firestone CC, Ohio—but he has finished in the top-five in seven of his last 10 starts and he did not finish outside the top 30 in the three others. No wonder William Hill has installed him as 9/1 favourite to win this week.
Q: Is it a positive for you to be pre-tournament favourite?
DJ: "Honestly, I don't care… I like my chances but I go into every tournament liking my chances."
And as for being world number one, the Official World Golf Ranking has confirmed to Golf Monthly that it could happen to Johnson this week if he wins and if Day finishes outside the top-10. Just don't expect him to talk about it.
Story courtesy of Mercedes-Benz, Official Car and Official Patron of The Open