Mental training for golf
Golf Monthly's assistant editor Alex Narey caught up with mental game expert Gary Leboff to see if he could learn to overcome his on-course demons. Here are some mental tips for golf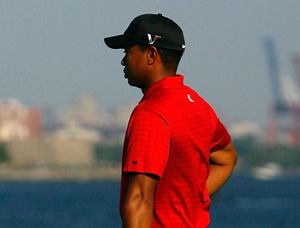 Although a golf fanatic, I'd readily admit that facing Andrew Flintoff in the nets would be more appealing than standing over a tricky four-footer for par. It's not really a case of suffering the yips, more that I get the odd case of on-course demons.
So, deciding that enough was enough and seeking help from external sources, I headed off to spend a day under the watchful eye of Golf Monthly's very own mental expert, Gary Leboff. The venue was Hartsbourne Country Club, where Gary offers mental therapy (sorry, that sounds a bit deep, doesn't it) to those who struggle with the psychological intricacies of the game.
If you're one of those people, then following mental game golf tips may be of some help…
1. 80% - no golf shot should ever be struck at more than 80%. Start by hitting 60% shots in the net to generate tempo and rhythm.
2. Breathing - a) breathe in, b) breathe out, c) take your shot in the 'gap' before the next 'in' breath.
3. At address - aim at the highest leaf on the tallest tree directly above your intended line.
4. Remember how I got you to throw a ball towards me? - get your attention OUT towards the target.
5. Over the ball, golfers have a choice - to trust in or doubt their ability. Practise trust.
6. Pitching: Use the clockface. Do you want to hit a 9/10/10.30 etc? Your tendency to decelerate is caused by an overlong backswing
7. Putting:
a. pre-shot: take a practice putt from behind the line of the actual putt (not from the side)
b. Entrainment: Thoughts have an effect on the heart and put body systems out of sync. Heart-rate influences human ability to read putts/execute physical activity.
Entrainment brings together the major systems in the body: heart/brain/respiratory system. This is the optimal state for peak performance. T
Think of the green as separate from the rest of the course (like a ring in boxing or the square in cricket).
a) as you walk onto the green, look down at the fringe. Notice the change in colour and length of grass
b) look up
c) as you look up - for 10 seconds - breathe through the heart.
Where next?
Short game: The hybrid chip Mental: Improve your focus on the green
Alex began his journalism career in regional newspapers in 2001 and moved to the Press Association four years later. He spent three years working at Dennis Publishing before first joining Golf Monthly, where he was on the staff from 2008 to 2015 as the brand's managing editor, overseeing the day-to-day running of our award-winning magazine while also contributing across various digital platforms. A specialist in news and feature content, he has interviewed many of the world's top golfers and returns to Golf Monthly after a three-year stint working on the Daily Telegraph's sports desk. His current role is diverse as he undertakes a number of duties, from managing creative solutions campaigns in both digital and print to writing long-form features for the magazine. Alex has enjoyed a life-long passion for golf and currently plays to a handicap of 13 at Tylney Park Golf Club in Hampshire.