8 Quickest Ways to Improve At Golf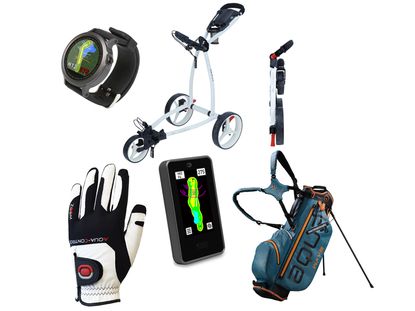 Improving your handicap doesn't always require endless hours on the range. Here we have come the 8 quickest ways to improve at golf to get you shooting lower scores today!
There is no doubt that golf is a sport that rewards hard work and dedication. The more focused effort you put in, the greater rewards. However, improving your handicap doesn't always require endless hours on the range. Here we have come the 8 quickest ways to improve at golf to get you shooting lower scores today!
1 Know Your Yardages
For any improving golfer, this is a must however it is really important to understand that we are not talking about overall yardages here. Ultimately, the ground conditions will determine how far each shot travels once the ball hits the deck and you will need to make a judgement call about that as you play. What you DO need to know is your carry yardages throughout the bag. Whether it's a bunker off the tee or a water hazard short of the green, you need to be able to select a club that will take the danger out of play. Knowing that your 7-iron goes 150-yards overall is of little use when you need to carry the ball 140-yards to avoid a pot bunker. The other thing to remember is that your on course yardages might well vary from the distance you hit the ball on the range. The quality of the golf balls and adrenaline can both play a part. Using a distance measuring devise, like the Golf Buddy VTX, out on the course will give you a much better awareness for how far you are able to carry different clubs.
2 Save Energy
Contrary to what many people think, golf is an extremely athletic sport. In a recent R&A experiment it was discovered that you walk around 6 1/2 miles during a round, that's about 66% further than the yardage on the scorecard. This equates to something in the region of 1,500 calories burnt over a four or five hour period. Golf is a tiring sport and the further you travel around the course, the more likely fatigue will impact both your physical and mental performance. That's why it makes sense to take hydration and nutrition seriously, before, during and after the round. You should also try to switch off between shots. Stop thinking about the game and engage in conversation with your playing partners or simply just try to enjoy your surroundings. This will help you maintain your concentration for when you need it most. It is also worth thinking about investing in a good, lightweight trolley, like the Big Max Blade IP, to take the strain of your clubs. This way you can pack everything you need into your bag without worrying about the impact on your body during the round.
Watch: Big Max Blade IP Trolley Review
3 Short Game Focus
For the majority of amateurs, around 80% of their practice time is spent hitting full shots on the range. This is sensible during the off-season as you look to build the foundations for a better long game but as the season starts in earnest, you need to switch these percentages in favour of the short game. Very few amateur golfers do. Make an effort to focus on your short game and as you practice, use drills and games that create an element of pressure. Whilst it is fair to say that you can never truly recreate the stress of trying to build a score for real, practice games work well as a dress rehearsal. Build a simple, quick short game routine and stick to it – it will certainly pay off as you strive to shoot lower scores.
4 Marginal Gains
One of the most popular phrases within the modern sporting world is 'marginal gains'. This refers to the art of taking care of all the smaller details, that when combined, can add up to a huge difference. It might seem like an approach designed for elite performers but it can also work as you aim to improve your golf. Take a few minutes before you leave the house to ensure your clubs, grips and shoes are all clean. Make sure you have a relatively fresh glove that offers a tight fit, like a second skin. These are some of the smaller elements that are easily ignored but are crucial within our list of 7 quickest ways to improve at golf. However, they are each designed to perform in a certain way and ensuring they do, is key.
5 Avoiding Card-Wreckers
One thing professional golfers quickly learn is the winner is often not the best ball-striker but the player who makes the fewest mistakes. In the amateur game, avoiding those card-wrecking disasters that can turn a good round into a terrible one in a matter of minutes is essential. A clever approach is to look at the hole map on the tee and pick out where the danger zones are. Whether it is out of bounds down the right, pot bunkers in the middle of the fairway or gorse bushes on the corner of the dogleg, identify the danger and devise a strategy based on how best to avoid it. Another useful tip is to look at the green on the hole map and note where the bunkers are. More often than not, the majority are short of pin high. If you choose a club that's guaranteed to carry them, you'll take the trouble out of play.
Gear Review: Golf Buddy WTX watch
6 Weather watcher
As golf is played in a natural environment you will often face changing conditions. Paying close attention to what the weather is doing is a must. If you are playing a tree-lined course, don't forget about the wind. Whilst you might be sheltered at ground level, once the ball gets up, the wind will come into play. Look at the tops of the trees to give you an idea for the strength and direction. Also, remember the ball will not travel as far in cold temperatures and moisture on the ground will slow your putts and reduce the amount of break you can expect. Finally, be prepared for inclement weather. Modern day waterproof technology is so good that, as long as you're prepared, you should be able to continue to perform regardless of the rain!
7 Mental Notes
In any sport, confidence is fragile and if you are trying to improve your handicap, it makes sense to take the mental side of the game seriously. A great way to build confidence is, after each round you play, to make a note of the three best shots you hit. Think about them in as much detail as possible and as jot them down, relive them. Try not to think about the bad shots you hit but linger on the best ones. Of the 8 quickest ways to improve at golf, this one could make the biggest difference.
8 Know the rules
As golf is played on a natural landscape, the rules that govern the sport are a minefield of potential mistakes. If your knowledges is lacking it is incredibly easy to pick up penalty shots without intending to break or bend the rules. Most golfers learn this lesson the hard way but the smart approach is to develop a sound understanding of the rules. Whether it be knowing how many club lengths to take when dropping, what a lateral water hazard is or the laws associated to abnormal ground conditions there are a host of ways in which knowing the rules can actually work in your advantage.
Get the Golf Monthly Newsletter
Tips on how to play better, latest equipment reviews, interviews with the biggest names and more.
Articles created in partnership with Golf Buddy, Big Max, Zoom Gloves and Golftech.