7 Ways To Play More Golf
If you want to play more golf but don't want to commit large amounts of time and money to the game, these are some great options to help you get your golf fix...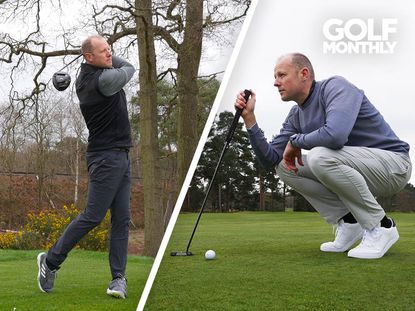 If you want to play more golf but don't want to commit large amounts of time and money to the game, these are some great options to help you get your golf fix...
7 Ways To Play More Golf
1 Flexible memberships
Flexible memberships were invented to help non-traditional, time-limited and pay-and-play golfers enjoy the advantages of being attached to a specific golf club, ie gaining entry into competitions, social events and, crucially, an official handicap.
There are a whole host of these non-traditional options available that mean laying down huge sums for a joining fee and costly monthly fees can be avoided.
These range from things like weekend memberships to credit systems to one club that even offers a £1 yearly fee plus reduced green fees for each round.
It is worth checking with your local clubs to see if they do indeed offer a flexible membership and what type is available.
2 Golf simulators
Simulators have been a revelation with golfers being able to play, practice and even get custom fitted indoors.
You can play a round with your mates at Pebble Beach, work on your swing or get a lesson, all without the need of taking half a day out of your busy schedule.
They're also great for when the weather is poor or the golf course is closed, meaning you can still play golf during the bitter coldness of winter or on a rainy day.
VIDEO: adidas Codechaos shoe review -
3 Driving ranges
There are hundreds of driving ranges up-and-down the country offering golfers the chance to hone their swings or for non-traditional golfers looking to get a much-needed foothold in the game.
Some great new technology has come in over the past decade or so, with the introduction of TopGolf and TopTracer that have taken the range to a completely new level.
They offer a relaxed, social environment with technology that gives players of all abilities the chance compete together in various different games and challenges.
It's also a great place to relax and have a few drinks and good food with friends!
4 After work
If you work a standard 9-5 job, that gives you six months worth of evening after-work golf, with daylight allowing for nine or a full 18 holes after the office.
Courses are also quieter in the evenings so there's no need to worry about a five-hour round, if it's just you and a mate you should be round quite comfortably in three hours, that's if you opt for a full 18.
Remember to keep the clubs in the boot of the car, because you never know when you might play.
You don't want to make the schoolboy error of missing the chance to play golf on a beautiful summer evening if the situation arises!
5 City golf courses
There are plenty of golf courses in city locations, meaning it may be worth getting a flexible membership or just pay green fees at a course local to your work, as oppose to your house.
Or perhaps even if you live in a city and think golf as a more countryside or suburb pursuit, you'd be surprised by how good some city offerings are.
For example, Royal Mid-Surrey in Richmond is barely a 10-minute walk from the train and tube station.
It's definitely worth exploring the options local to your office.
Get that pencil bag ready!
6 Being ready for golf
Golf apparel and footwear has changed an awful lot in recent times, as well as many golf clubs' attitudes towards extremely strict dress codes.
There are so many golf style options that allow you to work and socialise in golf apparel without anyone even noticing.
This is the same with footwear. The introduction of spikeless shoes and the development in that area allows you to turn up to the golf club in footwear that can be worn in everyday life and on the course.
Make sure that you've got a wardrobe that works for both on-and-off the course so you don't need to change when going to work or if you're heading to the pub after your game.
Related: adidas Primeblue Apparel and Footwear Range Unveiled - Made from upcycled marine plastic
7 Crazy golf
Crazy golf is now trendy and can be played by people who have never picked up a golf club in their life.
Newly-opened establishments like Swingers, Junkyard Golf, Puttshack and more are trendy crazy golf/nightclub bar hybrids, offering up great atmospheres and cocktails along with the chance to experience a very fun form of the game.
Articles created in partnership with adidas golf.