Boom Boom 2 driver
Golf Monthly Senior Staff Writer Paul O'Hagan tests the Lynx Boom Boom 2 driver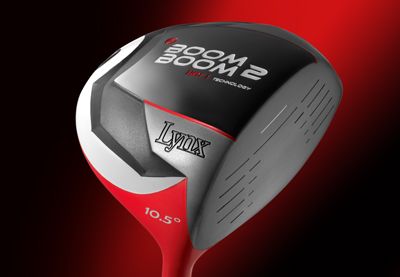 GM verdict: It's impossible to know how much impact the gasses inside the head have on performance, but the head and shaft combination does produce impressive distances. Shots that slightly miss the centre of the club still deliver very solid results. The red crown might look extreme to begin with, but it isn't off-putting at address. The design helps to keep spin down, to the point that most will want to go up a degree in loft to get the most out of the club. But... the price tag is very high for a driver with no adjustability and just one stock shaft offering. Visually, there didn't seem to be a huge amount of loft on the 10.5-degree model. The Boom Boom 2 is a good option for those seeking added distance rather than all-out forgiveness. PGA pro verdict: If bright colours equalled performance, this would be hard to beat! A bright red crown and matching grip, plus contrasting white shaft, does give it shelf appeal. However, I was disappointed with the feel and sound at impact, which was very tinny. The flight was solid, though, and better than the feel would suggest. It's not an adjustable model, so being fitted for the right loft and shaft combination is even more important. Test team rating: Performance: 4/5 Visual Appeal: 3.5/5 Innovation: 3.5/5 Value: 3/5 Overall: 3/5
Why you can trust Golf Monthly Our expert reviewers spend hours testing and comparing products and services so you can choose the best for you. Find out more about how we test.
Key technology:
The Boom Boom 2 follows on from last year's original, but it no longer sports a battery-operated heated headcover - these have been banned from competition golf. They can still be bought separately for non-competitive rounds, though. The head is made from two types of titanium, and a mix of gasses are injected inside, to offer extra support across the face for more distance.
Will suit: players after distance from an eye-catching head.
Paul joined Golf Monthly in 2006 in a junior role and has since worked as senior staff writer and now as technical editor. He writes equipment and instruction content and tests the vast majority of golf clubs that are introduced every year.