Odyssey Backstryke 2-Ball putter
Odyssey Backstryke 2-Ball putter review. Odyssey golf putters reviews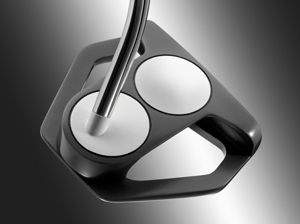 Odyssey has never been afraid to introduce new ideas into the putter market and the Backstryke certainly caught the eye when it first appeared on tour. Although it looks bizarre the shaft and head design did not feel as strange as you would expect. It helped to promote an in-to-square-to-inside putting stroke. The shaft design gives the feeling the hands are pressed forward, but this did not seem to affect the roll. The design encourages a confident stroke, particularly on short testing putts. An improvement in stability compared to a standard 2-ball. The shaft gives the feeling of a forward press at address. Fighting against this adds unwanted loft. (Reviewed by GM's Paul O'Hagan) PGA Pro verdict I really liked this putter, considering my initial impression. I didn't think that this design looked usable, but how wrong I was. Its shape really made me concentrate on the face alignment, taking the shaft out of view. It did sit very square at address for me. The feel off the face was solid and firm, a characteristic I like. This may well find its way into my bag. Excellent product! (Reviewed by John Jacobs)
Why you can trust Golf Monthly Our expert reviewers spend hours testing and comparing products and services so you can choose the best for you. Find out more about how we test.
The shaft of the club has been moved to the back of the head to place the axis of the shaft as close as possible to the centre of gravity. This helps to produce a stable stroke and gives clear sight of the top line and the alignment aids to help square the putter. The design also helps set the hands in the correct position to provide a better roll for added consistency.
The Odyssey Backstryke 2-Ball putter will suit those who can't consistently produce a smooth roll, even on good greens and/or anyone looking to make a more confident, committed putting stroke.
Paul joined Golf Monthly in 2006 in a junior role and has since worked as senior staff writer and now as technical editor. He writes equipment and instruction content and tests the vast majority of golf clubs that are introduced every year.