GolfForever Swing Trainer Review
We test the GolfForever training program and swing trainer as Mike Bailey puts the workouts into play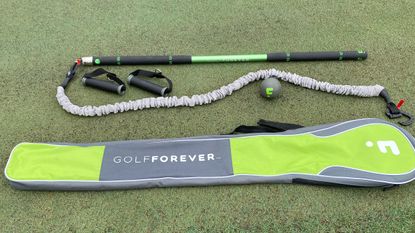 (Image credit: Mike Bailey)
GolfForever is an organized system that's easy to use and will produce improvements on the golf course as well as overall fitness gains.
Reasons to buy
+

An all-around balanced fitness program

+

Helps prevent injury on and off the golf course

+

Should produce more easy distance on the course
Reasons to avoid
-

Not easy to use if you don't have adequate space or a place to anchor the trainer
GolfForever Swing Trainer Review
A hot topic in the last few years and even more recently has been the increased driving distance at the professional level. While golf's governing bodies are considering dialing back the ball for elite competitions, what isn't debatable really is that today's golfer is capable of generating more clubhead speed in large part to being in better shape, much of that due to strengthening, stretching and balance training that are specific to golf as well as nutrition.
While this type of training has been around for years in some form or another - the Titleist Performance Institute and Yoga for Golf are a couple of examples - the average golfer hasn't exactly taken advantage of these training techniques. More recently, however, the GolfForever Swing Training System is something that makes it easy for average golfers to reap benefits from easy, at-home training.
The company was founded in 2019 in Aspen, Colo., by Jeremy James, a doctor of chiropractic and certified strength and condition specialist who has worked with scores of elite athletes. He brainstormed with Justin Leonard, now playing on PGA Tour Champions and one of the heroes of the 1999 victorious U.S. Ryder Cup Team. Besides Leonard, GolfForever gets a big boost from brand ambassador Scottie Scheffler, the no. 1 player in the world, Scheffler also appears in some of the videos in the programe, as does Leonard. PGA Tour players Zach Johnson and Ryan Palmer are also officially affiliated, and GolfForever also claims many more players on the PGA Tour and LPGA Tour are using the program.
The swing trainer wasn't offered in the beginning - it was just training videos that combined yoga and strength techniques, taught by an array of terrific personal trainers. The Swing Trainer, however, is a game changer. Using resistance bands that you connect to a 44.5-inch bar, you're able to work through different positions in the swing. By moving away from your anchor point or repositioning your hands, you can vary the difficulty of the workouts. You can also configure the Swing Trainer as a warm-up tool before rounds, making it one of the best golf training aids.
The workouts are all available online and through the GolfForever App. You start out with a fitness assessment, and the app can create a program specific to your level. There's also an extensive library of sessions that are divided into three categories - fundamentals, rotational power, and injury prevention. But again, if you simply follow the program, you will be presented with different workouts each day, usually one fundamental session and a rotation session that will last somewhere between 45 minutes to an hour total. Of course, you're free to do more if you like, and the workouts are divided according to fitness levels.
The Swing Trainer retails for $199, and it does come with a 30-day free trial on the video training portion. If you dive into it hard enough in that first month, I don't see any reason why you couldn't develop your own routine to use the trainer indefinitely. But if you want access to the hundreds of training videos that come with the app, the membership is $24.99 a month or $199 annually.
As for my own experience, I have definitely seen an increase in clubhead speed and flexibility since I started GolfForever a couple months ago. I use it on my patio when the weather is nice and take it to the gym as well. And I haven't been super vigilant about the workouts, probably averaging around three per week. Using the same launch monitor before and after, I've probably increased my clubbed speed by four or five miles per hour.
And I'm seeing gains on the course as well, as I am starting to reach par 5s with my second shots more frequently. In fact, in my last round, I had two eagle putts (didn't make them, of course). I also believe it can translate into improvements in other sports as well, like tennis, for example. As I write this, however, I'm looking forward to continuing the training, so I can, of course, play golf forever.
Mike has worked in the golf industry for nearly 30 years with full-time staff positions at publications and websites that include PGA Magazine, the Golfweek Group, and GolfChannel.com. He is currently writing for several different sites and magazines and serves as a contributing equipment writer for Golf Monthly, focusing on irons, shoes and the occasional training aid or piece of technical equipment.
Mike has experienced a number of highlights in his career, including covering several Ryder Cups and PGA Championships, writing instruction pieces and documenting the best places for golf travel for more than a decade.
Mike carries a 7.6 handicap index and has two hole-in-ones, the most recent coming in February 2022. A resident of Texas for more than 40 years, Mike plays out of Memorial Park Golf Course (home of the Houston Open on the PGA Tour).