Yonex Ezone SD
Yonex Ezone SD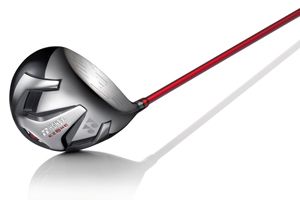 The original Ezone comes at a higher price and those with fast swing speeds will benefit from the design. Players with slower swing speeds could benefit from the SD design. One of the highest launching on the market compared to others with the same loft. The forgiveness was impressive, with strikes slightly high and low off the face still flying nicely. Height weighting combined with the shaft helped to produce consistent results. Strikes out of the toe area of the club stayed particularly straight, where other models may struggle. Yonex has its own shaft manufacturer to match its heads. In this case the SD head and Nanospeed 200 shaft combine to create a firm feel off the face, even on slight mishits. PGA pro verdict I really liked the Yonex Ezone SD. Not only was the design pleasing on the eye, but the flight was superb and it improved my consistency. It was easy to launch from various tee heights and it gave great feel through impact. It's nice to see a genuine 10.5˚ loft that gives confidence when placed behind the ball and this made me feel that I could shape it with consistency. (Golf Monthly Top 25 Coach John Jacobs)
The headshape of the Yonex Ezone SD is much improved now that the pentagon shape has been replaced with a more traditional look. Shaft technology has also been improved since the VMX was released and has led to more consistent results, particularly on mishits.
The new Nanospeed 200 shaft is created by Yonex and designed to produce faster head speeds while reducing shaft deformation. This means added power and consistency.
While many are opting for lightweight grips the Yonex Ezone SD feels thick in comparison. This isn't a negative though and there is plenty of grip on offer in the rain.
The centre of gravity is precisely in the middle of the face. This helps to expand the sweet spot of the Yonex Ezone SD so that it covers more of the face. The face is also designed to be more powerful.
A lightweight, but strong, carbon graphite crown is combined with an inner-weighting system designed to produce a high flight while keeping spin down. This should increase distance.
Compared to some of the more outlandish designs on offer the Yonex Ezone SD won't be the first to catch the eye in store. Once spotted though, the black and red colour scheme has a high-quality finish.
A classic headshape that gives the impression there is plenty of loft behind the ball. The square leading edge helps to set the club on the intended line. The hosel blends the head into the shaft.
See also: