Ping G20 driver
Ping G20 driver review. Review of Ping's new G20 driver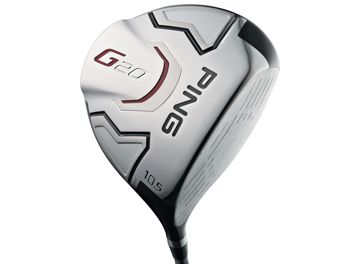 This is an evolution of the G15 rather than a complete overhaul. The impact sound is more powerful and the larger head and face are confidence inspiring. It is only when you compare the G20 to the G5 and G2 that you realise how much this family has advanced. The head is much more forgiving than older models. With the right shaft this will suit almost all standards of golfer. The finish looks excellent and is combined with a powerful impact sound. The new TFC 169D Tour shaft gives a decent added stock option for those looking to keep their spin down. Those with a G15 won't see enormous advances in performance. Ping's driver performance has developed a strong reputation and the G20 will only add to that. A fixed head keeps this driver simple and straightforward. The head, although mass has increased, feels the same weight as a standard driver, due to the shaft being lighter. I really liked the feel of this driver along with the yardage. It was also extremely easy to use. (John Jacobs, Golf Monthly Top 25 Coach)
Why you can trust Golf Monthly Our expert reviewers spend hours testing and comparing products and services so you can choose the best for you. Find out more about how we test.
An external weight in the back of the head of the Ping G20 driver is designed to produce a high launch and optimal spin. Compared to the G15 the Ping G20 features a larger face to provide added forgiveness. The head is made from a light, high density Ti811 alloy that allows for additional weight to increase MOI.
The Ping G20 will suit anyone who wants a neutral sitting head that is forgiving and/or those wanting to upgrade their G2, G5 or G10.
See also:
Mike has been a journalist all his working life, starting out as a football writer with Goal magazine in the 1990s before moving into men's and women's lifestyle magazines including Men's Health, In 2003 he joined Golf Monthly and in 2006 he became only the eighth editor in Golf Monthly's 100-plus year history. His two main passions in golf are courses, having played over 400 courses worldwide, and shoes; he owns over 40 pairs.
Mike's handicap index hovers at around 10 and he is a member of four clubs: Hartley Wintney, Royal Liverpool, Royal North Devon and the Royal & Ancient Golf Club of St Andrews.