FT Optiforce driver: 10 point test report
Golf Monthly Senior Staff Writer Paul O'Hagan tests the Callaway FT Optiforce driver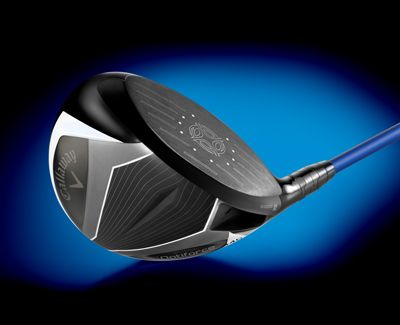 PGA PRO Verdict: This 440cc model was appealing to look at and performed fantastically well on test. I could shape the flight both ways, alter the hosel to assist this, if required, and it was still forgiving. Its aerodynamic design did assist head speed, and coupled with lightweight components, it definitely added yardage off the tee - By Top 25 Coach John Jacobs Test team rating: Performance: 4/5 Visual appeal: 5/5 Innovation: 4/5 Value: 4/5 Overall: 4/5
Why you can trust Golf Monthly Our expert reviewers spend hours testing and comparing products and services so you can choose the best for you. Find out more about how we test.
Components:
1) Shaft options - there are two different stock shafts, the 43-gram Project X Velocity 43, designed to help generate faster clubhead speeds, and the 64- 67-gram (depending on flex) Diamana S+ for those who prefer a more traditional weight.
2) Grip - any grip that Callaway stock as standard can be offered, but the very dependable Golf Pride New Decade offering will be the one for those who don't request anything specific.
Technology:
3) Adjustability - the new Advanced OptiFit Hosel allows the loft to be changed while the directional bias can be independently set to either Draw or Neutral. The 9.5° version can be set in 8.5°, 10.5° and 11.5°.
4) Head design - the head has been made more aerodynamic than previous drivers to help increase head speed without the need to swing the club harder. There is a 440cc head designed to produce a penetrating flight and the 460cc head is more forgiving.
Aesthetics:
5) Shelf Appeal - the graphics, shape and colour combination make the 440cc model we tested a great-looking driver. The improved aerodynamics have been achieved without sacrificing the classic shape.
6) Address - while some 440cc models still manage to look oversized, this looks considerably smaller than the 460cc version. It's a driver clearly designed for the better player who seeks workability.
Performance:
7) Flight - there are plenty of loft settings available to control the flight, but it's also worth noting the big difference between the flight of the 440cc and 460cc heads. Weight positioning is also different and so the smaller head produces less spin and a lower flight.
8) Distance - this is where Callaway is promising big improvements compared with the RAZR Fit Xtreme and X Hot. The flight was excellent; penetrating but not too low, with plenty of run on the ball. Distance was also impressive on shots that didn't quite find the middle of the face.
9) Forgiveness - although this might not be a key point in the marketing of the Optiforce driver, there was noticeably more forgiveness on offer compared to the RAZR Fit Xtreme. This broadens the appeal of the driver, particularly in the 460cc model.
10) Impact sound - the sound off the face is excellent - powerful without being overbearing. A model that signals further leaps for Callaway in the driver market after an impressive offering last year.
Paul joined Golf Monthly in 2006 in a junior role and has since worked as senior staff writer and now as technical editor. He writes equipment and instruction content and tests the vast majority of golf clubs that are introduced every year.