Srixon Q-Star Tour Divide Ball Review
In this Srixon Q-Star Tour Divide ball review, we test out this outlandish design to see if there are performance gains to be had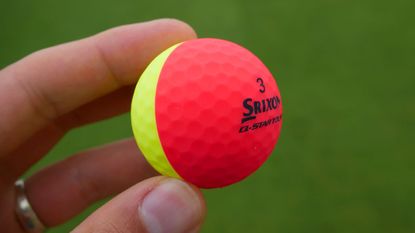 At first, the visual noise seems like something extra to think about, when you're teeing it up or lining up a putt. But by about the fifth hole, you tend to just forget about the aesthetics and instead focus on your shots. We found it to be especially useful on the greens and was more effective than the traditional line to help with aim.
Reasons to buy
+

Assists with aim on the greens

+

Provides visual feedback on chips

+

Easier to spot and track than white ball
Reasons to avoid
-

The colour pattern is alarmingly bright and may be off-putting on full shots when not lined up
Why you can trust Golf Monthly Our expert reviewers spend hours testing and comparing products and services so you can choose the best for you. Find out more about how we test.
Srixon Q-Star Tour Divide Ball Review
Its bright colours are what you first notice when you pick up this ball. Fluorescent yellowish green, and pinkish orange or bright blue. It's as far removed from the traditional all white as you could imagine.
The second thing you notice is that there is no sheen on the outer layer, but rather a matte finish. In fact, the colours are not painted on the ball as usual. Instead, its entire thermoplastic urethane cover is infused with bright pigments, so that the colour won't scratch or tear.
We get the purpose of this product - just as with the old two-toned Ping ball, you can set up the ball on the green to visually divide the hemispheres down the middle. The divide provides an effective alignment tool and then when you take your putting stroke, you get an idea of how straight-through you rolled it. The more off-kilter your roll, the more you'll see the colours rotate.
If you putt it on a perfectly straight path, all you will see are the two colours stay divided down the middle - as that seam line runs 360 degrees around the entire ball. Srixon claims this is a "powerful tool" for tracking and improving your consistency.
It works for practicing chip shots, as well, according to the company. This seems a little far fetched, as out on the course you have to play the ball as it lies. So it's not like you can pick it up and re-orient it for your chip shot, to make the two-tone effect work, but during practice it allows you to see how much sidespin or backspin you are generating a little more clearly.
The ball is still the popular Q-Star Tour, so it performs wonderfully in all areas of the game like the best mid-priced golf balls. Its premium urethane cover adds spin for plenty of greenside control. A resilient mid-layer increases speed off the tee. We had no problem maxing out tee-shot distance, in our testing.
It's the FastLayer core, which is soft at its centre but gradually becomes firmer toward its edge, that provides the distance and soft feel. Speaking of, it emits a satisfying impact feel on full-swing shots that lets you know you middled it. You might think that the colours and divided design would be off-putting but we actually got used to it quickly and it didn't detract from the experience, although traditionalists are sure to quickly dismiss such a radical deviation from the norm.
Scott Kramer is a freelance writer based in Southern California. He carries a 5.2 index, along with a hacker's short game. Yet the former Senior Editor of GOLF Magazine always tries to bring his "A" game to his writing.
Here's what's in Scott's golf bag: Driver: Callaway Epic Speed driver Fairway wood: Titleist TSi2 4-wood Hybrid: Titleist H1 hybrid Irons: Titleist AP1 irons Wedges: Vokey wedges Putter: An old Odyssey Versa putter that's been refurbished twice!