Stitch Golf MUT Bag Review
Mike Bailey tests this unique, multi-purpose travel bag option from Stitch Golf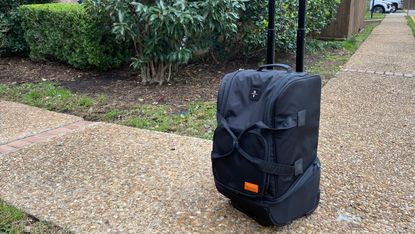 (Image credit: Mike Bailey)
The convertible Multi-use Traveler Bag (MUT) from Stitch Golf is a good space-saving solution for golfers who take an occasional airline trip with their clubs.
Reasons to buy
+

Clever design

+

Makes sense for golfers who only occasionally fly with clubs

+

Easy to convert to travel cover and vice-versa
Reasons to avoid
-

Bar in the middle of bag makes it a little more difficult to pack clubs
Why you can trust Golf Monthly Our expert reviewers spend hours testing and comparing products and services so you can choose the best for you. Find out more about how we test.
Stitch Golf MUT Bag Review
Golf travel covers can be bulky when not in use. You have to find a place to store them, and for many that's either in the garage or the attic. When it comes time to take a golf trip, you have to retrieve it, dust it off, and put your clubs in it. But what if you had a wheeled duffel, suitable for all your non golf trips? And what if you could convert that duffle into a golf travel cover when needed. That's the idea behind new MUT (Multiuse Traveler) bag by the North Carolina-based, innovative golf company, Stitch Golf.
By unzipping the bottom, the MUT expands into a golf bag travel cover. It only takes a couple of minutes to get it ready, and it's pretty quick to turn it back into a duffel. Now granted, when you use it for your golf clubs, you're going to need another piece of luggage to replace your duffel that once housed your clothes and other travel necessities. But this isn't designed for the golfer who flies with clubs frequently. It's for golfers who fly occasionally for golf trips.
I put the MUT to the test recently in a trip to Scottsdale, and found it fairly functional. There's enough room for an average stand bag, shoes and a little outerwear. It rolls through the airport like a standard golf travel bag. And it provides adequate protection in terms of padding. It also comes standard with a torsion bar, which is a great feature to prevent shaft breakage and club damage.
The biggest drawback on this bag is that you can't simply lay your clubs down in it and zip up the bag. You have to slide your golf bag underneath a bar that comes across the bag. That bar is necessary to convert it back into a duffle. I actually had more in my bag returning from my trip than going out, so it was a snug fit getting my golf bag back into the cover. As it turned out, it became a two-person job, as I enlisted some help from outside services at the last course I played. Next time I will not try to stuff too much in my golf bag.
I also used it as a rolling duffel for an overnight trip. The dimensions as a duffel are around 23 inches by 12 inches by 12 inches, so you could conceivably bring it as a carry-on or easily throw it in your trunk or back seat of your car for an overnighter. It's also surprisingly not that heavy, a little over seven pounds empty, which is about the same weight as my normal carry-on suitcase. So even if you never or rarely used it as a golf bag travel cover, it makes for a pretty nifty piece of luggage for everyday use.
Again, if you fly often with your clubs, the MUT probably won't fill your needs. But for those who don't frequently fly with their clubs, this is a pretty clever concept.
Mike has worked in the golf industry for nearly 30 years with full-time staff positions at publications and websites that include PGA Magazine, the Golfweek Group, and GolfChannel.com. He is currently writing for several different sites and magazines and serves as a contributing equipment writer for Golf Monthly, focusing on irons, shoes and the occasional training aid or piece of technical equipment.
Mike has experienced a number of highlights in his career, including covering several Ryder Cups and PGA Championships, writing instruction pieces and documenting the best places for golf travel for more than a decade.
Mike carries a 7.6 handicap index and has two hole-in-ones, the most recent coming in February 2022. A resident of Texas for more than 40 years, Mike plays out of Memorial Park Golf Course (home of the Houston Open on the PGA Tour).