Solheim Cup in need of a contest
Bill Elliott gives his honest verdict on how the Solheim Cup desperately needs a more competitive contest this week in order to avoid drifting away from everyone's gaze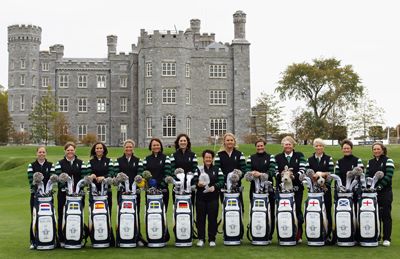 Okay, it's Solheim Cup time and that means one of the rare opportunities for women's golf to have some facetime in the public gaze and more importantly in the media gaze.
This, of course, is a good thing. Indeed it is a very good thing because women do not usually receive the publicity they crave although they may get what they deserve. Problem is that there are not enough top quality golfers. The top 20 players in Europe, for example, are brilliant at what they do but beneath them there are too many who, frankly, would not persuade me to cross a short street to watch them play.
However, there is another dilemma to consider this week. When this Solheim Cup begins at Killeen Castle in Ireland at stake is not just bragging rights from a biennial match but the very future of this match itself. Put simply, the Europeans better make a fist of this one or the Solheim Cup may swiftly fade away from everyone's gaze as sponsors and public lose interest in what has become recently a rather weary walkover for the Americans.
Consider this: the USA has won the last three with a points total of 47½ to 36½. Cut this any way you like and it adds up to a series of numbing thrashings by the Yanks. In these commercial and hard-pressed times this cannot continue.
Only one European woman, Suzann Pettersen is even in the top 20 of the world rankings and although these rankings are heavily weighted towards the LPGA Tour in the States this is a poor state of affairs.
The European women's circuit limped into life 32 years ago and, mostly, it has been limping ever since. Internal strife on top of an occasional lack of business nous has meant that while the professional men's game here has grown hugely, the female equivalent has barely survived.
Some will say it has been the lack of oxygen provided by high-level publicity that has hampered the women's tour and they are probably correct. But the harsh fact is that publicity will come only when there are players good enough and personalities big enough to feed the beast that is the media.
For a time the eternally admirable Laura Davies did her impressive best to offer something worth reporting and her stint was followed by the remarkable Annika Sorenstam. This week Laura is playing while Annika is a vice-captain for Europe. I hope these two stars join forces to instil some genuine passion into their teammates and to help them believe that they are in Ireland to really compete and not merely to provide something for their American rivals to walk over.
I wish Europe the very best of luck because this just might be the last chance they will have to give the Solheim Cup a future.
See also:
Bill has been part of the Golf Monthly woodwork for many years. A very respected Golf Journalist he has attended over 40 Open Championships. Bill was the Observer's golf correspondent. He spent 26 years as a sports writer for Express Newspapers and is a former Magazine Sportswriter of the Year. After 40 years on 'Fleet Street' starting with the Daily Express and finishing on The Observer and Guardian in 2010. Now semi-retired but still Editor at Large of Golf Monthly Magazine and regular broadcaster for BBC and Sky. Author of several golf-related books and a former chairman of the Association of Golf Writers. Experienced after dinner speaker.