Maybank Malaysian Open: Day One
Defending champion Lee Westwood and Graeme McDowell are tied for the lead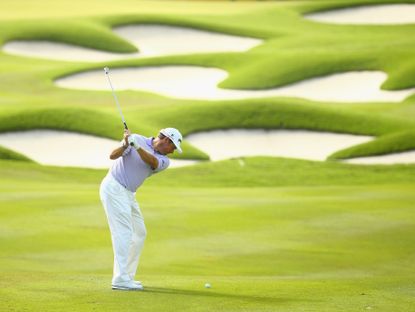 (Image credit: Getty Images)
Defending champion Lee Westwood and Graeme McDowell are tied for the lead at five under par after a hot and blustery day in Kuala Lumpur
Lee Westwood and Graeme McDowell are tied for the lead in the Maybank Malaysian Open at six under par after the first round at Kuala Lumpur Golf & Country Club.
Defending champion Westwood made seven birdies in his round, six of them at par 4s, with his other birdie coming at the par-5 3rd, which he played 12th having started at the 10th. His only dropped shot came at the par-4 6th, which was the same for Graeme McDowell.
Westwood finished 2014 with a victory in the Thailand Golf Championship and then tied for ninth with McDowell at last week's Dubai Desert Classic. "I'm playing well at the moment," he said. "I was hitting the ball well over winter. I putted very nicely today and started the ball on line well. I left a couple short in the middle when I was fooled by the grain, but overall I'm very happy. It's probably the toughest I've ever seen this golf course play."
McDowell was also pleased with his play in the breezy conditions: "I hit the ball great today - drove it well and gave myself a lot of looks for birdie. Generally I'm very, very happy with that start. I've enjoyed the way this course looks and I enjoyed playing it. It's tough to pinpoint what you have to do right on this course because you have to do everything right. You have to drive it well, hit your irons well, and chipping and putting around the greens is tough as well. It really is an all-round golf course, and the guys who have won round here are good all-round players. I think when I'm on, I'm one of those players as well."
England's Tommy Fleetwood, France's Grégory Bourdy and India's Anirban Lahiri are tied in 3rd place after the first round of the Maybank Malaysian Open.
Maybank Malaysian Open leaderboard (opens in new tab)
Contributing Writer Golf courses and travel are Roderick's particular interests and he was contributing editor for the first few years of the Golf Monthly Travel Supplement. He writes travel articles and general features for the magazine, travel supplement and website. He also compiles the magazine's crossword. He is a member of Trevose Golf & Country Club and has played golf in around two dozen countries. Cricket is his other main sporting love. He is the author of five books, four of which are still in print: The Novel Life of PG Wodehouse; The Don: Beyond Boundaries; Wally Hammond: Gentleman & Player and England's Greatest Post-War All Rounder.