Live at the Solheim Cup
Our man in Sweden, Robin Barwick gives you the stories behind the scores at the Solhiem Cup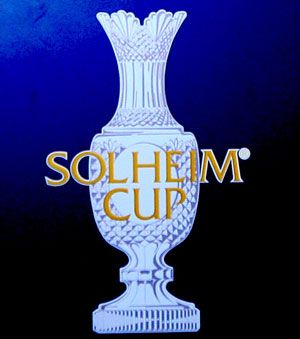 Sunday Sept 16
Getting herself into the news rather than reporting on it, the Golf
Channel's Dottie Pepper, once the heartbeat of the US Solheim Cup team,
thought she was off-air when she accused the American team of being "chokin,
freakin, dogs" as they let their Saturday foursomes advantage slip. Although
she was not supposed to be on air, Pepper's comments were mistakenly
broadcast live.
US captain Betsy King held her tongue on Saturday but promised to comment
once the tournament was over, and although she tried to avoid the subject in
her post-tournament press conference this evening, her true feelings
eventually spilled forth: "Golfers commentate because they are past their
prime and their abilities," started King, with the Solheim Cup sparkling in
front of her and her victorious charges whooping in support behind her.
"That's just an age thing, which happens to us all, but as a commentator you
can sometimes forget what it's like out there on the course. The older you
get the better you used to be - you think you were perfect. This victory is
about us, not about Dottie. This is the Solheim Cup and it's a lot bigger
than one commentator. We played well today and we proved we are good
pressure players."
"It's totally inappropriate, no matter what," added European skipper Helen
Alfredsson. "We're all together in this. At the end of the day, it's all for
women's golf, and Dottie, as much as anyone, should know how tough things
are."
Pepper first gained Solheim Cup infamy in 1994 when she did a fist-pumping
celebration at a Laura Davies missed putt at The Greenbrier. Mickey Walker
was the European skipper at the time: "I was on the first tee seeing matches
off when Laura missed a 6-foot putt on the third," recalls Walker. "A
British journalist came up to me and asked what I would think if a member of
my team had punched the air and said "yeah", if an American missed a putt. I
said, "I can't imagine any European player doing that". The journalist said,
"well, they haven't, but that is what Dottie has just done to Laura."
Annika Sorenstam, the highest ranked golfer in the Solheim Cup with a Rolex
World Ranking of third, ultimately brought humour to a European mood that
matched the colour of the grey autumn skies, by wearing a curly clown's wig
in her national colours - blue and yellow - to the closing ceremony. "It's
Ralph Lauren," she quipped. "It also keeps my head warm, but humidity makes
it go curly."
Saturday at the Solheim Cup
Halmstad Golfklubb was a dangerous place to be first thing this morning as high north-westerlies tore through the golf course and caused a two-hour delay to play. Railings were blown over, fallen branches littered the course and when the organisers tested the greens, golf balls wouldn't hold still. Even the media centre was declared O.B. after the sign above its entrance crashed to the ground in smithereens at dawn and power was cut. The damage could have been worse however, as all the on-course Rolex clocks remained unscathed.
On-site meteorologist Guy Nestor reported winds of up to 40mph, peaking at first light, and while the conditions settled to a playable level for a 10:15 start, the winds caused havoc for the golfers during the morning foursomes.
Tournament officials were tense before play started as it become apparent fourballs would not finish today, whereas Nestor was in his element, so to speak: "I'd much rather have some interesting weather to forecast than just day after day of calm sunshine," he told Golf Monthly. "If we had got westerlies they would have been fine as they would have been blocked by Denmark, but these north-westerlies come across the Atlantic with less land to block them, so Halmstad is feeling their full force."
You can understand why Nestor craves more extreme conditions, bearing in mind he was a storm chaser during his college days at the California University of Pennsylvania remember the film Twister? That's what he did. Nestor took a class called Storm Intercept, to make storm-chasing sound more academic, and he once witnessed ?twin¹ tornados in Texas and took a walk in the middle of Hurricane Isabelle in North Carolina in September
2003. "We had gusts up to 105 miles per hour," he recalls. "It was a Category Two hurricane and I wanted to experience it first hand. I saw trees snap and power lines come down." All in the name of education. "I would draw the line at Category Three hurricanes," he concedes.
Golf Monthly can reveal that 2007 will go down as the most viewed Solheim Cup yet. A Solheim Cup insider has confirmed this year's event is being broadcast in over 200 countries around the world for the first time, reaching a possible 400 million homes, which eclipses the 2005 reach of 300 million homes. More hours of live coverage than ever are being broadcast this year, and the crowds at Halmstad are expected to match the 100,000 that poured into Barseback near Malmo in 2003, which was a record mark at the time. Just think, when the first Solheim Cup was played at Lake Nona, Florida in 1990, an estimated 3,000 spectators turned up (at best).
Friday at the Solheim Cup
While the 2007 Solheim Cup is forging its way through a rain-soaked Sweden,
John Solheim, son of the tournament's founding father, the late Karsten Solheim, has told Golf Monthly of his desire for the Solheim Cup to follow in the footsteps of the Women's British Open and be played on the Old Course, St Andrews: "I would like to see the Solheim Cup played in other European countries but I would like to return to Scotland first," says the PING supremo, having seen the tournament played at Dalmahoy in 1992 and Loch Lomond in 2000. "I understand there is an opportunity to play at St Andrews, and for the ladies to play an event like this on the Old Course would be exceptional."
If the Solheim Cup does head up to the Home of Golf it will have to wait until 2015 at the earliest, as it visits Rich Harvest Farms outside Chicago in 2009 before going to Ireland for the first time in 2011, to Killeen Castle.
Obviously a man who likes to plan far in advance, Solheim also has his eye on the traditionally rowdy home of the Phoenix Open: "I would love to get the tournament onto the TPC at Scottsdale too, where they get galleries of 500,000 for the Phoenix Open. We are sure going to push for that. It's a great course and it has the biggest golfing crowds in the world."
A word of caution to those who think the playing career of Annika Sorenstam is winding down. The Swede, 37, was ranked number one in the inaugural Rolex World Rankings last year, but has slipped to third behind Lorena Ochoa and Karrie Webb in 2007, with injuries and a subsequent loss of form limiting her success on the course, while Ochoa has looked ever more invincible since she won her first Major in that Open at St Andrews. Sorenstam herself has talked about dedicating more time to her off-course business interests, such
as her academy at the Reunion Resort in Orlando, and then the recent announcement of her engagement to her business manager, American Mike McGee, has further fuelled speculation that the Swede no longer has the same focus on her golf. However, Swedish website www.golf.se has revealed that Sorenstam and McGee have decided to delay their wedding until Spring 2009 so Sorenstam can concentrate fully on re-establishing herself at the top of the women's game next year, before worrying about the wedding invitation list,
dress fittings and flower arrangements.
"The wedding is not until 2009 now," Sorenstam said at Halmstad. "I have
decided to put everything into my golf for 2008. I will play at least 18
events next year and I will start my season earlier than usual. I1ve got to
take things one step at a time and make sure I am 100 per cent physically
and then I can find my best form again. 2007 has been a difficult year but a
lot of good things are happening and I am very happy. My ambition is to win
again and whether I can become number one in the Rolex Rankings again I
don't know. In recent months I have not been able to challenge Lorena
seriously, and it would be great be able to do that again."
Thursday at the Solheim Cup
They just don't make them like Laura Davies no more.
The highlight on the eve of the 2007 Solheim Cup was the press conference held by Davies. The English golfer started by batting away any ideas of grandeur derived from her epic achievement of becoming the only golfer to compete in all 10 Solheim Cups, which will be confirmed in tomorrow morning's foursomes. "It just means I am the oldest," said the self-deprecating Davies. "If you haven't been around long enough, you can't have played in all 10."
The predictable trend this week has been for the golfers to claim how well
they all co-exist on Tour, no matter their nationality. Not Davies: "We're
all good friends, apart from one [American] who I don't get on with, but I
would never tell you who that is. You can guess, but it's not Juli [Inkster]." Much guessing ensued, but the name of this golfer remains Davies' big secret. It doesn't compare to how European skipper Helen Alfredsson once famously described US Open champion and American team member Cristie Kerr: "She used to be a fat bitch and now she's a skinny bitch."
Then the subject turned to one of Davies' pet hates, practice rounds: "They
are just misery for me," she declared in another break from convention. "I
try to inject a bit of enjoyment by taking money off my team-mates, but even
that backfired today [Davies and Becky Brewerton each lost 500 Krona to
Suzann Pettersen and Sophie Gustafson]. Whether that makes me a bad
professional I have no idea. All I know is I'll be ready tomorrow morning
and that's what matters."
The crowning glory came when Davies was asked if she thought this would be
her last Solheim Cup as a player. "God, no," she said. "I'm playing as well
now as I have ever played. Age is nothing. Everyone goes on about all this
fitness but I don't buy into it at all. Golf is just about walking and
swinging a club. If you think I can't walk 36 holes a day because I'm 44,
you're wrong."
"I'm not 44," added Davies. "I'm 43." She turns 44 next month, God bless
her.
Funny or not, all the talk is nearly over as play gets underway at 7:05am
(GMT) tomorrow, and here is a clear illustration of the mountain the
European team has to climb, be it on home territory or not: the Americans,
with their personalised hair ribbons and glittering Stars n' Stripes ball
markers, have an average Rolex World Ranking of 19.5. The plucky Europeans,
captained by self-professed "goofball" Alfredsson, have an average Rolex
Ranking of 59. That is over three times higher than the US mark.
Mickey Walker, the down-to-Earth skipper of the European team in the first
four Solheim Cups from 1990 to 1996, offered some soothing words of
reassurance to Golf Monthly: "In match play anything can happen. It's a
totally different form of golf than the medal play that the Rolex Rankings
are based on. Match play is all about what's in your heart and how tough you
are mentally."
You have to admire her optimism.
Wednesday at the Solheim Cup
Here at Halmstad, to the south of Gothenburg on Sweden's west coast, the
official hotel of the 2007 Solheim Cup is a bit different, even by Swedish
standards.
The 230-room Hotel Tylosand is partly owned by Halmstad's most
famous son: none other than ... Per Gessle. You'd have to be a real groupie
to know who he is, but Gessle is a household name in Sweden and gained
international renown as half of 1990s rock duo, Roxette. Some of you might
remember Gessle and his co-singer Marie Fredriksson ? with a blonde flat-top
? belting out a pop-rock hit that went: Nah-nah-nah-nah-nah [repeat, repeat],
she's got the look [repeat, repeat etc etc]. Roxette is no longer, but
Gessle remains popular in Sweden as a solo artist, now concentrating on
penning lyrics in his native tongue.
While the Hotel Tylosand is famous for its open air rock concerts and
massive beach parties, it is most notable for serving as the largest art
gallery in Sweden, with 450 works of contemporary art decking the walls and
filling floor space.
The collection is called "Tres Hombres Art" and has
been Gessle's personal labour of love. It includes some very peculiar
objects, including one sculpture that was diplomatically removed from the
hotel reception prior to the Solheim Cup, of a man exposing a lot more to
all passers-by than most would care to see. A hotel spokesperson preferred
not to comment.
The four-star Tylosand is essentially the home of women's professional golf
for the week, as its guests include both teams, representatives from the
LPGA, LET and sponsors including Rolex and PING.
It could be a good omen for Europe's Solheim Cup underdogs that the junior
home team prevailed in the PING Junior Solheim Cup. The European teenagers
won 14-12 in the two-day event that finished this afternoon at nearby and
unfortunately-named Bastad Golfklubb [it's pronounced "Borshted"]. This was
the fourth staging of the junior event and every time in the past, victory
by whichever junior team has been followed by triumph for the grown-ups in
the same colours.
Junior Solheim footnote: on the losing American team was Isabelle Lendl, daughter of Ivan Lendl, the former tennis world number one. Llendl won points in foursomes and fourballs but lost in the singles.
Robin has worked for Golf Monthly for over a decade.