Ernie Els hurt by Wentworth criticism
Ernie Els has responded to criticism of his redesign at Wentworth after many high-profile players made disapproving comments throughout the duration of the BMW PGA Championship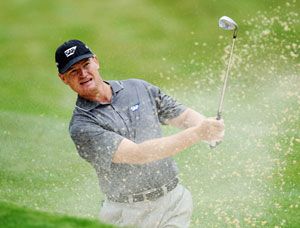 Ernie Els has responded to criticism of his redesign at Wentworth after many high-profile players made disapproving comments throughout the duration of the BMW PGA Championship.
Els said: "Obviously the 18th didn't quite come out the way we wanted, but the sad part of the whole week was that a lot of the guys I've known for a long time came out and basically put the knife in and I don't appreciate that."
Richard Caring spent £6.5m renovating the West Course at Wentworth and admitted he had not quite got it right first time.
World number three Lee Westwood voiced his concerns, hinting that the par-5 18th had lost its drama, as the new stream in front of the raised green made it much harder to reach the putting surface in two shots.
Els reached the 18th green, ironically, in two shots on Friday. An unexpected bounce saw his 3-wood tee shot jump along the fairway, before he hit his 7-iron approach to within 15 ft of the pin.
The South African has also commented that he would like to make changes on the eighth hole, saying: "I don't like the heather on the mounds there."
Both Els and Caring have said that more changes would be made before the European Tour's event returned in 2011.
Caring admitted that he and Els had been at odds with some of the changes, but said that he would take the blame for the look of the last hole.
Els summed up his feelings following the week's play, saying: "If they had criticisms they could've handled it differently."
Where next?
Tour news: Jason Day wins HP Byron Nelson Championship Equipment: Galvin Green Maddox shirt review Equipment gallery: Callaway FT Tour driver
Betting experts, writers and video producers. Couple of guys in our early 20's looking to bring the sport that we love into a new era.'