Abu Dhabi HSBC Championship preview
A high quality field will contest the 10th running of this event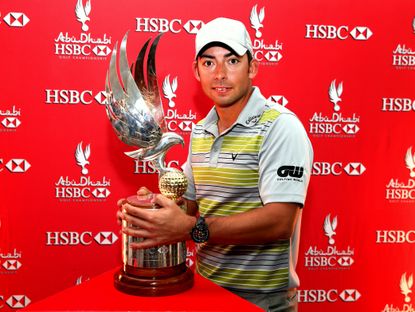 (Image credit: Getty Images)
A high-quality field including the world numbers one and two will contest the 10th running of this European Tour event which starts the Desert Swing
Lowdown: The Abu Dhabi HSBC Championship see world numbers one and two, Rory McIlroy and Henrik Stenson, heading the list of entrants. McIlory, three times a runner-up in the event, is still searching for a win in the tournament that has traditionally kicked off his European Tour season.
McIlroy has started his season in Abu Dhabi for the past seven years. He was runner up in the Abu Dhabi HSBC Golf Championship in 2011, 2012 and 2014; in 2010 he came third. But if McIlroy is an expert performer around this layout, his record here cannot compare to that of Martin Kaymer.
Kaymer's debut tour win came at the Abu Dhabi Golf Championship, in 2008, and also won here in 2010 and 2011. Moreover, Kaymer holds the record for the championship's largest winning margin of eight strokes, as well as the combined score of 24 under par over four rounds, achieved in 2011. The low-scoring record he broke was one he had jointly held with two-time winner Paul Casey.
Also teeing it up for the 10th running of the Abu Dhabi HSBC Championship will be Ernie Els who has a trio of Dubai Desert Classic titles and has also won the Qatar Masters, and Ricky Fowler .The American is making his debut in the event. His two tour victories this far have been on the PGA Tour - and in both of them his good friend McIlroy was runner-up.
Venue: Abu Dhabi GC, Abu Dhabi, United Arab Emirates Date: January 15-18, 2015 Course stats: par 72, 7,600 yards Purse: $2,700,000 Winner: € 328,779 Defending Champion: Pablo Larrazábal (-14)
TV Coverage: Thursday 15 - Sky Sports 4 from 5.30am Friday 16 – Sky Sports 4 from 5.30am Saturday 17 – Sky Sports 4 from 9.00am Sunday 18 – Sky Sports 4 from 8.00am
Player Watch: Rory McIlroy - "Over the past few months I have been mentally strong and I feel very good about my game at the moment. Greatness in golf is winning Major championships but after playing in Abu Dhabi for so many years and having come so close in the past, I would love nothing more than to win at the event's ten year anniversary."
Martin Kaymer - "It's no secret that I love playing there," the German says. "The people behind it, and the crowds make for an incredible experience every year. I always feel comfortable in Abu Dhabi."
Ernie Els - "I've always felt at home playing in the Gulf. I won my first European Tour event in the UAE and since then have loved playing in the region. I'm just one Falcon Trophy short of winning every 'Desert Swing' title, something I hope to rectify this week at the Abu Dhabi HSBC Championship."
Key hole: 18th. This hole has new elevated tee further to the left which has shortened the hole by five yards and straightened the tee shot.
Contributing Writer Golf courses and travel are Roderick's particular interests and he was contributing editor for the first few years of the Golf Monthly Travel Supplement. He writes travel articles and general features for the magazine, travel supplement and website. He also compiles the magazine's crossword. He is a member of Trevose Golf & Country Club and has played golf in around two dozen countries. Cricket is his other main sporting love. He is the author of five books, four of which are still in print: The Novel Life of PG Wodehouse; The Don: Beyond Boundaries; Wally Hammond: Gentleman & Player and England's Greatest Post-War All Rounder.