'This Time Rory Lost Because He Wasn't Quite Good Enough'
Bill Elliott pens his thoughts on Rory McIlroy's disappointing 150th Open finish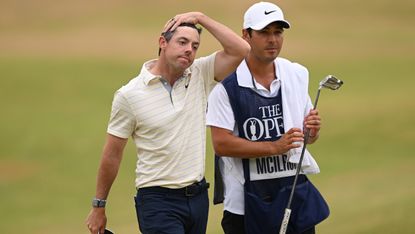 (Image credit: Getty Images)
Sometimes it's not smart to be right. Sometimes you really do want to be wrong.
Driving up to this 150th Open with two colleagues the question was posed: Can Wee Rory win this one? Can he? Of course he can but he won't, was my answer.
Why? Too much expectation from too many people, especially Rory McIlroy himself. He knew that winning this one would bring him back up to Major speed, bring the 2023 Masters into sharper, finger-licking focus and much else. For Rory this St Andrews gig offered the biggest prize of his life, not just the present but the future.
Video: Things you didn't know about Rory McIlroy
Turned out I was correct but for different reasons. Rory's final round 70, two under par, was okay, not great but okay. Fact is that for Rory on a calm Sunday summer's day the realistic par of the Old Course is 68.
Not this Sunday it wasn't and up ahead of him Cameron Smith reached the turn two-under and then switched on the afterburners to come home a further six-under-par. Behind him Rory could only watch and grit his teeth.
This time he didn't lose it, didn't crumble, didn't lose his inner belief. McIlroy lost because when push came to shove, the Australian with the Metallica tribute hairstyle eloquently underlined his reputation as the best putter on the planet this year.
This time Rory lost because he wasn't quite good enough. I never expected that to be the reason. At least I was wrong about that.
Get the Golf Monthly Newsletter
Tips on how to play better, latest equipment reviews, interviews with the biggest names and more.
Bill has been part of the Golf Monthly woodwork for many years. A very respected Golf Journalist he has attended over 40 Open Championships. Bill was the Observer's golf correspondent. He spent 26 years as a sports writer for Express Newspapers and is a former Magazine Sportswriter of the Year. After 40 years on 'Fleet Street' starting with the Daily Express and finishing on The Observer and Guardian in 2010. Now semi-retired but still Editor at Large of Golf Monthly Magazine and regular broadcaster for BBC and Sky. Author of several golf-related books and a former chairman of the Association of Golf Writers. Experienced after dinner speaker.