Tenby Golf Club president in hole-in-one drama
Tenby Golf Club president, Mervyn Tucker, recently made a hole-in-one on the course's notoriously difficult the par-3 12th hole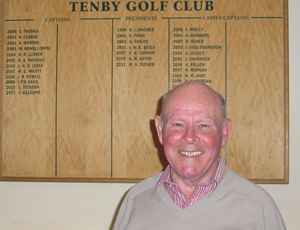 Tenby Golf Club president, Mervyn Tucker, recently made a hole-in-one on the course's notoriously difficult the par-3 12th hole.
Tucker, aged 76, was playing off the back tees into a head wind and pulled out a 3-wood for what would become the eighth hole-in-one of his golfing career.
His playing partner, Heather Morgan, was the one to discover that he'd aced the 12th after Tucker - a decent single-figure handicapper - had sent his tee shot arrow straight at the pin.
Tucker's first ever hole-in-one was at the old 15th, which was the other side of the path to the 12th in the days when Tenby had no holes over the line and Ernie Fitchett remodelled the course.
Playing alongside Tucker was Paul Jenkins and his wife, and Paul had already found the green at which point he had started to tease his opposition.
Tucker still holds a good single handicap, having never played off higher than eight.
After his hole-in-one, Tucker returned to the clubhouse where fellow members were only too pleased to congratulate their popular president.
Betting experts, writers and video producers. Couple of guys in our early 20's looking to bring the sport that we love into a new era.'