Exclusive interview with Al Zorah GC Project Manager
Mike Knudsen talks about his role in the construction of the course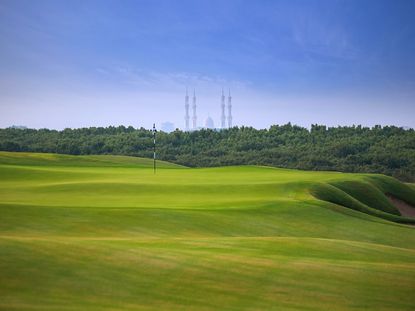 (Image credit: Kevin Murray)
Mike Knudsen, Al Zorah Project Manager, talks about the biggest tasks he's faced while in charge and what's so unique about the course.
Mike Knudsen, Al Zorah GC Project Manager, talks about what it's like to oversee operations on the construction of a golf course...
Q: Mike, as Project Manager here at Al Zorah, could you give us an idea of the timescale of operations since you started working here?
Mike Knudsen: Well I got here December 4th (2013) and we started moving dirt pretty much right away. December 9th we started, which is pretty ironic because we open December 9th this year – so it's exactly two years to the day. The earth work lasted about a year to a year and a half. It was an ongoing proposition, we had to dig some lakes and we had to work around the tides, so it was a bit of a challenge in that regard.
Q: You mentioned challenges, what's been the main one for you as Project Manager?
MK: The main challenge is the tides and working around them, because they're such a unique feature. The golf course couldn't be shaped randomly – we had to work around the tidal schedule and the earth work was related to the tidal schedule. The boardwalks that you see out on the golf course, they were created according to the tidal schedule, so it really drove the whole process.
Q: How has Al Zorah differed from other courses you've worked on?
MK:There's a lot of similarities with other projects in a sense that a lot of the time we're dealing with clients that have never done golf before and that was the case with Al Zorah. Fortunately, we have a CEO at Al Zorah that is very, very dialled in and switched on to what we need to make it work. They hired a great architect and they've really left us alone.
It could easily have gone the other way, where there would be a lot of micromanagement going on and not really having an appreciation of what we do – but those fears went away pretty quick. They left us to our own devices and the challenge from the Al Zorah standpoint was constantly keeping them updated on what was going and why we were doing it the way we were doing it.
To the uneducated people that don't have a background in the business, a lot of times they don't understand what it is we're doing.
Q: This is a Nicklaus Design Golf course – how has that partnership worked and how often have you been meeting with them in the planning process?
MK: Well, first of all, they've been great to work with. Dirk Bouts from Nicklaus Design out of the European office has been absolutely amazing. He's been here, on schedule, about once a month, but other than that we are in constant contact.
It's amazing these days with digital photography and videos what you can accomplish over a phone line or over an internet connection. So he's been really engaged in the whole process from start to finish. The process here is really a hybrid construction process in the sense it wasn't a true tender – we didn't have one contractor for everything, we had multiple teams responsible for different things.
Nicklaus Design helped us out quite a bit with getting some really good shapers in here, because that's what really what makes or breaks these projects, is the shapers. And from there on in, it was really a case of keeping up to speed and every time he would come out to look at things, look at progress, make suggestions on the way we go. But they have been great.
Q: And in terms of your team on the ground here, how many green staff have you got working on the course in the build up to the opening?
MK: Troon is responsible for the agronomy. They've got about 30-40 people working right now, full time. We have a lot of hired labour to help us make the course in time for the opening. But during the construction phase we had well over 300 people here working on different things – whether it was civil works with retaining the walls and boardwalks; the golf contractor had his people out here; we had a fencing contractor and we had a lot of things going on.
Q: How has the weather played a part in your role here?
MK: Well, one thing about working in this part of the world is there's no rain days, so we're pretty much going seven days a week during construction. The tides don't know what day of the week it is and the grass doesn't know what day of the week it is, so we have to be ready to go.
Q: What are the main tasks you have left before the official course opening in December?
MK: The big one for us is getting all the white sand into the bunkers. We'll probably be putting the last bit of sand into the bunkers the day before opening, but we will get it done, there's no doubt about that. Really we're just putting makeup on the golf course now. The grass is in good shape. There is pretty little actual grow-in to do now, it's just a case of cosmetic work and making sure it's presentable.
Q: You mentioned the sand there. Just how much sand will you have used on the golf course by the time it opens?
MK: Not including the native sand that we built out of, there's close to 300,000 cubic metres.
Q: And just looking around, the golf course looks absolutely fantastic. In your opinion what do you think the most unique feature is that golfers coming here can look forward to?
MK: That's probably the easiest question I've had in weeks! The tidal flow is without doubt the characteristic of the golf course. I've been asked that question numerous times and I what I find quite unique about it is that it changes how you play a hole. The area we're in now, when high tide is up, this area floods and the water is unplayable.
When the tide recedes, you can actually walk through these flats and play a ball if you happen to be in them. But what makes it genuinely unique is that golf is usually a repeat customer situation. So if somebody plays Al Zorah once and they happen to play it at low tide, when they come backto play it a second time – and I'm sure they will – they might get a completely different golf course.
You don't get that very often and I think it's something people are going to talk about for a long, long time.
Q: Finally, just how excited are you about the official opening of the golf course next month?
MK: I'm extremely excited. It's not very often the construction guys get to stick around for the opening. I'm lucky the Al Zorah management wanted me to stick around until at least the opening and help them get it open properly. I get asked all the time what my job is, and I really I'm the guardian of the architect's design and the client's resources.
Not all the time do those two match up, but in this case it's been great. There's been very little changes to the golf course from the original plan, the resources have been there from the client and I'm happy to say that everyone is leaving with a smile on their face.
Will Medlock graduated from UEA with a degree in Film and Television before completing a Masters in Sports Journalism at St Mary's in London. Will has had work published by The Independent and the Rugby Paper.