Gareth Bale Hits Stunning Cart Path Chip Shot In Team 65 At Pebble Beach Pro-Am
Retired Wales captain Gareth Bale hit a miraculous chip shot from the cart path as his team shot 65 in the first round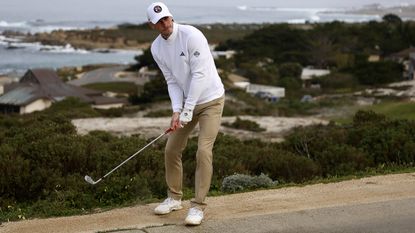 (Image credit: Getty Images)
Gareth Bale insisted he meant his miraculous chip shot that highlighted a combined round of 65 alongside Joseph Bramlett on the opening day of the AT&T Pebble Beach Pro-Am.
The retired Wales captain also admitted to feeling the nerves on the first tee at Spyglass Hill, traditionally the toughest of the three courses used for the PGA Tour event, despite being used to performing in front of hugs crowds.
Bale and Bramlett shot a seven-under round of 65 to sit in a tie for 18th on the amateur team leaderboard - which is littered with celebrity names – with Pebble Beach and Monterrey Peninsula still to play before the top 25 make it through to the final round.
It was Bale's up-and-down from the cart path that was the highlight of the round, as he stunned his effort into the huge bank guarding the green before the ball bounced softly and rolled up nicely for a shot putt he'd make for par.
Gareth Bale that is ridiculous 😯😅pic.twitter.com/hJOviskf2IFebruary 2, 2023
See more
"I think straight away it was, I asked the cameraman, I was like, I walked up and said, Did you get that? He was like, I did. And I was like, Yes. It was a good laugh," said Bale, who insisted he meant to play that shot, even it the end result required a slice of good fortune.
"So, I couldn't play it proper because there was a curb in front of me. In my practice swing I hit the curb. So I was like I have to really like dig it. I put it back in my stance and hit it into the bank.
"So of course there was a lot of luck involved, don't get me wrong. But, yeah, the shot that I guess I tried to play and you need a bit of luck along the way.
"I guess a lot of amateurs find themselves out of position. Yeah, it was a great shot. Just tried to put it into the bank and hope for the best, like most amateurs do. It was nice to see it roll up nice and close. It was a great shot. I can't really say much more."
Playing partner Bramlett was already in for par, but made Bale putt out to complete the up-and-down just for the experience.
"Oh, my gosh," was Bramlett's post-round reaction to the chip. "It was funny because I didn't know where he hit it and then I saw where he was taking his practice swings and I was a little concerned.
"Next thing I know the ball's bouncing up through the rough and he's got three and a half feet. And then he came up to me and he's like, Hey, I think I'm just going to pick it up.
"And I'm like, No, you got to finish that up-and-down. It's going to be one of the best up-and-downs that we've ever seen. So it was awesome. Yeah, that was cool."
Bale admitted to more than a few first-tee nerves, even though he had no problem getting underway at his first hole – with golf again proving to be a great leveller even for experienced sports stars who have won it all in their respective discipline.
"I think every amateur will tell you, even though we're used to playing in front of 80,000 or more live on TV, it's a completely different sport," Bale admitted.
"Like I said, outside your comfort zone and something that's just different. It's a cool experience. Lucky that I hit one of my best shots down the first fairway, which was nice."
Paul Higham is a sports journalist with over 20 years of experience in covering most major sporting events for both Sky Sports and BBC Sport. He is currently freelance and covers the golf majors on the BBC Sport website. Highlights over the years include covering that epic Monday finish in the Ryder Cup at Celtic Manor and watching Rory McIlroy produce one of the most dominant Major wins at the 2011 US Open at Congressional. He also writes betting previews and still feels strangely proud of backing Danny Willett when he won the Masters in 2016 - Willett also praised his putting stroke during a media event before the Open at Hoylake. Favourite interviews he's conducted have been with McIlroy, Paul McGinley, Thomas Bjorn, Rickie Fowler and the enigma that is Victor Dubuisson. A big fan of watching any golf from any tour, sadly he spends more time writing about golf than playing these days with two young children, and as a big fair weather golfer claims playing in shorts is worth at least five shots. Being from Liverpool he loves the likes of Hoylake, Birkdale and the stretch of tracks along England's Golf Coast, but would say his favourite courses played are Kingsbarns and Portrush.