Florida Golfers Move Plane Off Putting Green To Finish Hole After Emergency Landing
Golfers at Del Tura were shocked to see a plane making an emergency landing, but calmly moved it aside to finish off their hole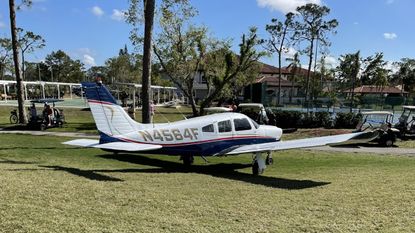 (Image credit: Twitter: @SheriffLeeFL)
Some Florida golfers got the fright of their lives when a plane was forced to make an emergency landing on the golf course – but it didn't put them off too much as they politely then helped push it away from the green to finish off the hole.
While members at Del Tura Golf & Country Club in Fort Myers will have been used to seeing the odd rocket of a tee shot blazing down the ninth fairway towards the hole, they had a rude awakening when a low-flying light aircraft came chugging down their track.
The shout of 'fore!' doesn't quite cut it when a stricken aircraft with engine trouble is forced to touch down on the nearest long, straight, flat surface – and you can only imagine the looks of disbelief as the pilot set it down and trundled up towards the green.
Lee County Sheriff's Office deputies responded to the Del Tura golf course in North Fort Myers this morning for an emergency plane landingThe pilot was the only occupant on board & was uninjuredThe plane was moved off the course & no golfers were forced to take a mulligan⛳️ pic.twitter.com/NxqILKXrPuFebruary 2, 2023
See more
A tweet from the Lee County Sheriff confirmed that nobody was hurt and only the pilot was on board, but their quip about "no golfers were forced to take a mulligan" was actually bang on the money.
Golfers being golfers, this hardy lot were not about to let the small matter of a plane sitting on the putting green stop their round, nor where they about to resort to a Happy Gilmore inspired "play it where it lies" scenario and putt their way around it.
Instead, the golfers gathered together to push the plane off the green and to a safe spot were it would not interfere with anyone else's round and duly putted out to finish off the hole and move on!
A plane made an emergency landing on the 9th hole Del Tura Country Club in Florida. Like any good golfers would they pushed the plane off of the green so they finish the hole. pic.twitter.com/GLHkm7SngqFebruary 2, 2023
See more
Fire Pit Collective's Ryan French, of the Monday Q Info (opens in new tab) account on Twitter fame, even managed to get more details on just how close the plane had come to some golfers on the fairway.
A note delivered in a humorous fashion typical of the golfing community, a no-nonsense approach to something that could have been a serious incident, which thankfully nobody was hurt in, and importantly no mulligans were taken!
Paul Higham is a sports journalist with over 20 years of experience in covering most major sporting events for both Sky Sports and BBC Sport. He is currently freelance and covers the golf majors on the BBC Sport website. Highlights over the years include covering that epic Monday finish in the Ryder Cup at Celtic Manor and watching Rory McIlroy produce one of the most dominant Major wins at the 2011 US Open at Congressional. He also writes betting previews and still feels strangely proud of backing Danny Willett when he won the Masters in 2016 - Willett also praised his putting stroke during a media event before the Open at Hoylake. Favourite interviews he's conducted have been with McIlroy, Paul McGinley, Thomas Bjorn, Rickie Fowler and the enigma that is Victor Dubuisson. A big fan of watching any golf from any tour, sadly he spends more time writing about golf than playing these days with two young children, and as a big fair weather golfer claims playing in shorts is worth at least five shots. Being from Liverpool he loves the likes of Hoylake, Birkdale and the stretch of tracks along England's Golf Coast, but would say his favourite courses played are Kingsbarns and Portrush.