1 in 50 Americans Would Put a Child Up For Adoption To Play Augusta National - Survey
In a survey of more than 1,000 American golfers, 2% said they would give up their kids to play at the home of The Masters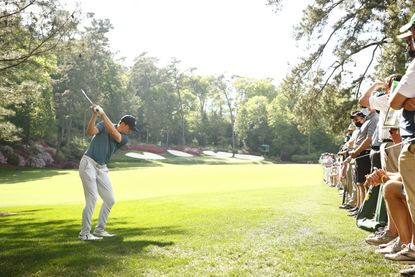 (Image credit: Getty Images)
What would you do in order to be allowed a round of golf on the hallowed turf of Augusta National? Would you shave your head? Get a tattoo? Even put a child up for adoption? A survey of American golfers found some would do all of these, and more, just to play one round at the home of The Masters.
Almost half of the 1,047 surveyed would shave their head, while more than a third would give up drinking for a year. Almost one in 10 would give up sex for a year, one in 20 would wave goodbye to their pets while one in 50 would happily put their kids up for adoption. Amazingly there were some (0.7%) who would give up their house to play, while others (0.8%) would lose a finger, though not until after the round, they're not stupid!
Of course membership of Augusta National is not for sale, but if it was, how much would you pay? Those earning over $100k said they would stump up an average of $3,189, while even those on under $20k would pay $388 for the once in a lifetime opportunity. A friend was the top choice of playing partner, followed by their father, but the spouse had to make do with 4th spot, just behind Tiger Woods!
The full results of the survey of 79% men, 21% women, carried out by time2play.com, showed:
43% would shave their head
36% would give up drinking for a year
35% would give up video games for three years
28% would quit golf for a year (after the round)
21% would give up drinking for three years
17% would get a tattoo that was visible while clothed
12% would give up watching sports for three years
10% would give up TV and movies for three years
9% would give up sex for a year
9% would give up driving for a year
6% would put their pets up for adoption
5% would quit their job
3% would miss the birth of their child
2% would give away their car
2% would give up their kids for adoption
0.8% would lose a finger (after the round)
0.7% would give away their house
Jeff graduated from Leeds University in Business Studies and Media in 1996 and did a post grad in journalism at Sheffield College in 1997. His first jobs were on Slam Dunk (basketball) and Football Monthly magazines, and he's worked for the Sunday Times, Press Association and ESPN. He has faced golfing greats Sam Torrance and Sergio Garcia, but on the poker felt rather than the golf course. Jeff's favourite course played is Sandy Lane in Barbados, which went far better than when he played Matfen Hall in Northumberland, where he crashed the buggy on the way to the 1st tee!