Bill Elliott Open blog: Alliss Award
Bill Elliott reports on Peter Alliss receiving an award from the Golf Foundation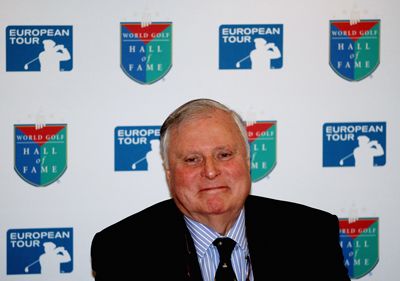 AS Tiger Woods comes into the Media Centre for an interview I leave. I think he noticed but he managed to conceal his disappointment that I wasn't going to be around to listen to his sensational revelations.
Truth is he is usually boring as hell. Instead I went down to the R&A Game Zone where I listened to a man who can give sensational quote. Peter Alliss has been around forever. Now in his eighties he remains a bit of a national treasure as well as a unique commentator on the old game for the BBC.
I live quite close to him in Hindhead but there the similarity ends. Put it this way, he could put my house in the kitchen of his house. I often wish he would.
The other thing I can tell you is that Peter is a bonzo bloke. He always has been enthusiastically ready to speak his mind but now he is an older man he has reached that wonderful point in life when, frankly my dear, you don't give a toss. Anyway, Pete was this year's recipient of the Golf Foundation's Spirit of Golf award, an annual piece of booty given to people who, er, encapture the spirit of the game.
Colin Montgomerie, as president of the GF, handed over this handsome piece of cut glass while pointing out that he hoped Alliss would continue in his role as head jester and mass communicator as well as a man who realises this is only a silly game and not life or death. Peter responded by admitting that he felt blessed, that he "had been around the world fourteen times and never had to put his hand in his pocket".
Asked what his career highlight had been he thought for a few seconds before saying that "playing Arnold Palmer when the great man was at his best in a Ryder Cup match is quite close to the top of that list". He also mentioned that the growth of the European Tour has given him much pleasure even if the money on offer occasionally offers him the chance to hiccup in envy. He is, of course, an effortless speaker. I've been fortunate enough to have had several meals with him and lord knows how many drinks and he is never short of an opinion.
Many of these I disagree profoundly with, especially the political ones, but I forgive him those trespasses because he is never, ever boring. If only the same could be said about Mr Woods. Sadly it can't.
Bill has been part of the Golf Monthly woodwork for many years. A very respected Golf Journalist he has attended over 40 Open Championships. Bill was the Observer's golf correspondent. He spent 26 years as a sports writer for Express Newspapers and is a former Magazine Sportswriter of the Year. After 40 years on 'Fleet Street' starting with the Daily Express and finishing on The Observer and Guardian in 2010. Now semi-retired but still Editor at Large of Golf Monthly Magazine and regular broadcaster for BBC and Sky. Author of several golf-related books and a former chairman of the Association of Golf Writers. Experienced after dinner speaker.