Old Favourites
Quite simply, there is the Open Championship, and there is the Open Championship at St Andrews. Bill Elliott paints a unique and truly spiritual picture of the home of golf...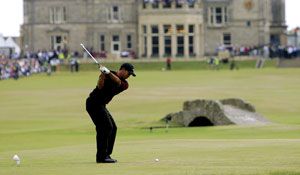 However, his will not be the only story in town. Tom Watson is back and after his heroics at Turnberry last summer who would doubt his ability to at least contend again as he searches obstinately for that epoch-sealing sixth Open win. Lee Westwood, Rory McIlroy and perhaps Ian Poulter will carry much support as will Padraig Harrington, who is aware he is swiftly becoming the almost forgotten man of recent golf history.
There are many others who may make their mark at this Open. Much will be determined if the wind blows, when the wind blows, how hot or cold, wet or dry the week is. At this range it is impossible to forecast. Even during the week itself it will be difficult to see much further than what is happening before our startled eyes.
Realistically, however, if the days are calm then the Old Course will be trampled beneath many feet. Birdies will be the norm, eagles available to the gustily talented. The Old Course without wind is like a supper without wine... it does a job, but not much of a job.
In many ways this course is unsuited to the demands of modern golf where technology rules, the gym beckons and power is almost everything. At least that is the theory of those who would see the Open retreat from its regular five yearly pilgrimage to the East Neuk of Fife. If so, count me out.
Whatever happens I remain confident that the old girl will rise to the challenge, that the backdrop will continue to ignite the senses, that the town will whirl and gig as always and that the pubs will be too full for comfort, but remain too beguiling to ignore.
Starting in the town and finishing in the town will still send a shiver of anticipation into everyone's soul, spectator and competitor alike. The knowledge that this Open marks the 150th anniversary of the competition will add some lustre to the cluster of many thousands who will gather to witness what occurs.
Among these, hopefully, will be Seve, who has signed up to play in the Champions' Challenge that is to be staged over four holes - 1, 2, 17 and 18 - on the Wednesday. Now it may be that cancer prevents him making the trip, but if he does arrive then he will be coming to say both hello and, sadly, some sort of goodbye.
I can think of no better place for such a thing to happen even if his presence will veil the old town in tears. That's the trouble with spiritual places, they make you come over all sort of, well, spiritual. Be there if you can.
Bill has been part of the Golf Monthly woodwork for many years. A very respected Golf Journalist he has attended over 40 Open Championships. Bill was the Observer's golf correspondent. He spent 26 years as a sports writer for Express Newspapers and is a former Magazine Sportswriter of the Year. After 40 years on 'Fleet Street' starting with the Daily Express and finishing on The Observer and Guardian in 2010. Now semi-retired but still Editor at Large of Golf Monthly Magazine and regular broadcaster for BBC and Sky. Author of several golf-related books and a former chairman of the Association of Golf Writers. Experienced after dinner speaker.