Golf Pride Introduces New Oversized Putter Grips
New tour-proven thick putter grip series annoucned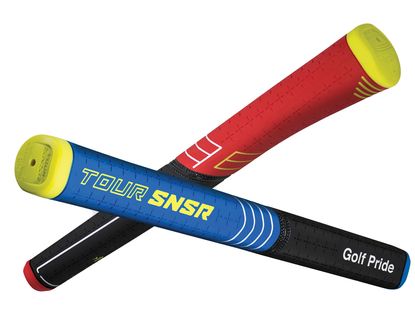 Golf Pride Introduces New Oversized Putter Grips the new series called TOUR SNSR
Golf Pride Introduces New Oversized Putter Grips
Golf Pride Grips has introduced an all-new oversized putter series called TOUR SNSR.
The new grips are larger than previous models, but are still very much the shape and feel that have made them such a hit on Tour.
The new TOUR SNSR Series features a soft-tuned rubber formulation that gives these grips a a great feel, and encourages a lighter grip pressure that golfers seek in creating a smooth stroke.
Players can dial in the feel that fits them best with two Tour proven shapes, the TOUR SNSR CONTOUR and the TOUR SNSR STRAIGHT.
RELATED: HOW DO THICK PUTTER GRIPS IMPROVE YOUR STROKE
What Golf Pride says about the new grips
TOUR SNSR CONTOUR is an evolution of the classic tapered pistol profile that is the shape preference of over 75% of Tour players. The pistol allows golfers to "lock in" their upper hand for consistent hand placement that translates to more confidence in every stroke.
TOUR SNSR STRAIGHT offers a contemporary, non-taper shape promoting a consistent hand pressure and feel. The straight taper design features soft, rounded edges that are strategically beveled for palm and finger pad comfort.
All four TOUR SNSR models feature a wide paddle front, sculpted to promote lighter grip pressure and consistent hand placement.
Additionally, they are each finished with a traction-textured design that provides heightened feel and moisture control. Each shape is available in two oversize options, 104cc and 140cc.
"Our new TOUR SNSR Series is arguably our most distinctive and innovative new putter grip line ever produced," said Brandon Sowell, global director of sales and marketing.
"We worked extensively with Tour players and amateurs for input during development and they clearly highlighted a need for enhanced feel and feedback with larger putter grips. Our R&D team took the challenge and produced a new soft rubber formulation that re-defines excellence for feedback and Tour performance."
The TOUR SNSR Series will be available at retail in April.
Tom Clarke joined Golf Monthly as a sub editor in 2009 being promoted to content editor in 2012 and then senior content editor in 2014, before becoming Sports Digital Editor for the Sport Vertical within Future in 2022. Tom currently looks after all the digital products that Golf Monthly produce including Strategy and Content Planning for the website and social media - Tom also assists the Cycling, Football, Rugby and Marine titles at Future. Tom plays off 16 and lists Augusta National (name drop), Old Head and Le Touessrok as the favourite courses he has played. Tom is an avid viewer of all golf content with a particularly in depth knowledge of the pro tour.